Student Athlete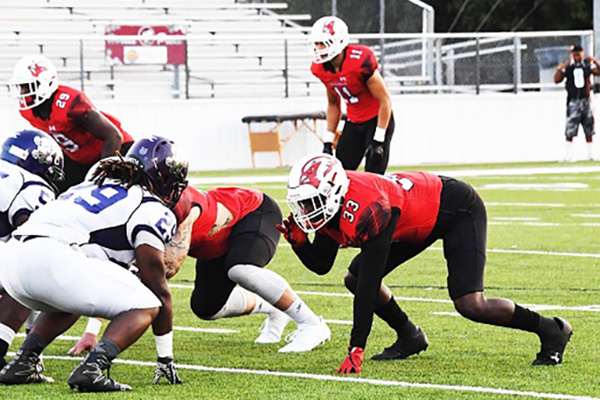 1

Apply to TVCC

Students can apply online through applytexas.org by creating an account, and filling out the "New Student" application through Apply Texas. You will receive a confirmation email upon creating your account, as well as a confirmation that we have received your application for TVCC. A paper application is also available to turn in on any campus, or mail to the registrar's office. To ensure that you are eligible for your athletic program, be sure to submit your application at least 30 full calendar days PRIOR to your arrival to campus; failure to apply in a timely manner may negatively impact your eligibility status.

Apply Online Paper Application
2

Apply for Financial Aid

TVCC recommends all students visit the financial aid department. Whether you qualify for aid through FAFSA, or are a candidate for scholarship, check with financial aid each semester to see what sort of tuition aid might be available to you.

The Financial Aid department can only guarantee processing for students who have submitted their aid requests and documentation by the priority deadline each semester. Please never assume that financial aid/scholarship will cover an entire statement; it is vital that all students double check to ensure they have met any financial responsibilities they incur to avoid being dropped for non-payment.

The priority deadlines for aid processing are:

Spring Session - Nov 1

Summer Sessions - Apr 1

Fall Session - July 1
3

Submit your shot record

Texas state law requires all student sunder the age of 22 to submit documentation of their bacterial meningitis vaccination. Students who will reside in campus housing should submit this shot record at least 15 business days prior to arrival on campus.
4

Submit your Transcripts

For full admission to TVCC, students must submit a high school or GED transcript, as well as any transcripts from previously attended institutions of higher learning. As a prospective athlete, eligibility requirements stipulate that TVCC must receive all transcripts officially at least 1 week prior to your enrollment date; TVCC recommend sending these documents as early as possible to protect your eligibility status. Please inquire with your previous institutions as to how to go about sending your transcripts to TVCC.

TVCC Registrar's Office
100 Cardinal Dr.
Athens, TX 75751
5

Submit testing

To pursue a degree with TVCC, students should submit testing scores. If you are unsure if you are required to test or submit scoring from a previously taken test, contact the registrar or advisement center. If student testing is required, TVCC gives the TSI (Texas Success Initiative) exam on the Athens, Palestine, and Terrell campuses. Visit the Testing Center for information on the TSI exam schedule. If you are unable to travel to TVCC for testing, please call early during registration to discuss alternative ways you may test.

Already Sure you'll need to test on campus? Be sure to complete the Pre-Assessment Activity online; print and take your Pre-Assessment Certificate with you on testing day.

Tested already? You can submit your scored to the registrar's office.

If you plan to participate in athletics, please know that there is no possibility for being registered in TVCC courses of any kind, until you have submitted proof of TSI status.
6

Housing

Any student who wishes to reside in campus housing during a semester should reserve a dormitory as soon as possible. Room reservation , background check, and meal plan selection forms can all be filled out electronically. You must be a fully accepted TVCC student to apply for housing. All dorms are first come first serve. While most athletes are reserved a dorm early, official reservation cannot occur until background check and deposit have been received by TVCC. This should be submitted at least 15 calendar days prior to planned arrival on campus.
7

Advising

All students new to TVCC must visit with an Academic Advisor prior to their first registration. This meeting may serve as a dual purpose of establishing your degree plan, in addition to your first registration. It is vital to our students' success that we discuss degree plans, career goals, and your academic needs prior to enrollment in courses. TVCC has advisors who specialize in the scheduling and educational needs and challenges that our athletes face juggling their educational and athletic goals each semester. You may have a specific advisor that handles your extra-curricular.
8

Register and Pay

Student registration may occur any time after or during an initial advising meeting, typically with your designated advisor. Extra Curricular students who receive scholarship will need to confer with the department awarding the scholarship for registration deadlines, as they may be much earlier than the regular registration deadline.

Payment for tuition and fees is typically due a week or two before the semester start date; exact payment due dates can be found on the TVCC Calendar. Be sure to double check with the Financial Aid Department to ensure any aid awarded is distributed. Please never assume that financial aid/scholarship will cover an entire statement; it is vital that all students double check to ensure they have met any financial responsibilities they incur to avoid being dropped for non-payment.
9

Log Into Your Cardinal Email and Student Portal
Now that you are accepted with TVCC, it is time to familiarize yourself with your Cardinal Email and your My Cardinal Connect student portal. TVCC provides students with a unique student email account so that we may communicate with you securely; be aware that any communications from TVCC will go this email address. Check your Cardinal Email regularly to stay up to date and informed.
The My Cardinal Connect student portal is your resource for most school related tasks, from viewing and accepting your financial aid awards, making tuition payments or installments, registering for classes, and one day applying for your graduation. Once you have successfully logged in, it is best to take a look around and explore all of the resources and tools you have as a student right at your fingertips.
10

Get ID and Books

All students are required to carry their student ID on campus. Student IDs are required for admittance into many school facilities, such as the library, Cardinal Success Center, or our testing centers. TVCC student ID cards can be obtained at the following locations during normal business hours (Monday - Friday, 8 a.m. - 4:30 p.m.).

Athens - Campus Security, Math/Journalism Building

Palestine - Learning Resource Center

Terrell - Learning Resource Center

Terrell HSC - Please visit the Terrell campus Learning Resource Center

To purchase your textbooks, visit the TVCC bookstore on the campus that is most convenient for you. If you are enrolling in a campus-specific course, be sure to call ahead and ensure that your required textbooks are available.
11

Attend Class

TVCC has several locations as well as an abundance of online courses available through Distance Learning. Good luck with your first semester!
---
Important Considerations for Prospective Athletes:
Complete your admissions process as early as you are able. It is free to apply to TVCC, so even if your plans to attend change, being prepared to attend TVCC as early as you can will best protect any eligibility status.

If you are a scholarship recipient, that scholarship may have a registration deadline to be eligible to receive those funds. This deadline is typically much sooner than the regular registration deadline, so once you are good with admissions, get registered for classes as soon as you can.

Never assume that an athletic scholarship has covered every single expense. Even "full-ride" scholarships may have limits to what types of tuition and fees they may cover. It is each student's responsibility to ensure your whole statement has been paid, or payment plan set up, by the tuition deadline.

As part of a team, you may have a specific advisor that you are required to work with each semester. This may mean that you and the rest of the team are all attempting to register simultaneously; reach out to your advisor early and communicate often to ensure that you get registered properly.

If you find that your plans change suddenly, be sure you visit with both your coach AND your advisor. It is the responsibility of the student to withdraw from classes if you are leaving or will not be attending.