---
First, I want to THANK YOU for your love and support of Trinity Valley Community College. Together, we make dreams come true because of alumni, friends, and donors like you. Our shared connection to our life-changing college, along with your financial support furthers our mission of being a life-changer for so many.
The news about COVID-19 has upended life on campus. The situation and our responses are changing rapidly, sometimes by the hour. I am sure you have received many emails from companies and organizations detailing their business continuity plans so I want to assure you that we also have continuity plans to continue the critical business of teaching our students as they progress toward graduation. We are confident and well-positioned to deliver on a transformational education whether online or face-to-face. We always make decisions with the safety and health of our students, faculty, and staff in mind.
Because we want to be sensitive to the impacts of the pandemic, we will not have as many opportunities to see and talk with our alumni, friends, and donors this spring. Many of our events have been postponed or cancelled. We are currently delaying our face-to-face fundraising and as you know our Foundation golf tournament has been cancelled. However, I want you to know that we continue to press forward in our mission to be a beacon of hope for our current and future Cardinals.
Many of you have reached out concerning the impact of COVID-19 on TVCC and asked how you can help. Our greatest concern is that many of our students are going to need our support now more than ever. To support our students during this time of need, I encourage you to give to our Emergency Assistance Fund for Cardinals. EVERY SINGLE DOLLAR COUNTS! This fund provides short-term financial assistance to our students who are unable to meet immediate, essential expenses due to an unexpected emergency or crisis situation.
If you are interested in more updates about TVCC during this time, I invite you to visit our TVCC COVID-19 information page.
I hope you are staying safe and healthy.
With love,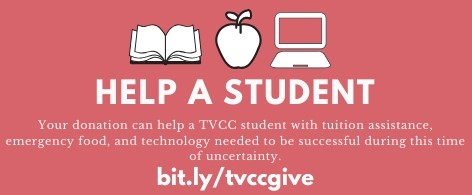 Give

ONLINE
Give a gift securely online at TVCC Foundation Online Giving Page. It is quick, easy and secure. Share your support monthly, quarterly or just one-time.

Give

DOUBLE
See if your company matches your gift online through Double the Donation.
Matching Gift
and
Volunteer Grant
information provided by

Give

BY MAIL
Prefer to send a check?
Please make your check payable to the Trinity Valley Community College Foundation, and mail it, along with a completed contribution form to the following address:
TVCC Foundation
100 Cardinal Dr.
Athens, TX 75751
TVCC Foundation Tax ID: 23-7365212
Give

BY PHONE
Please call us at : 903-670-2620 or 903-670-2664. Have your credit, debit or electronic funds transfer information ready.
TYPES OF GIFTS
Pledges
Pledges enable a donor to plan a personal giving program that is both convenient and tax-wise. A pledge may enable a donor to consider a more significant gift than would have otherwise been possible. Terms for payment on pledges are flexible and at the option of the donor. Learn more by calling Dr. Kristen Bennett, MBA, CFRE at 903-670-2664.
Many employers sponsor matching gift programs and will match any charitable contributions made by their employees. Check with your corporation regarding their matching gifts program.
Endowments
Once established, an endowed fund is a dependable and perpetual source of support, since the principal is invested and only a portion of the earnings is spent annually. A minimum gift of $25,000 is needed to establish an endowment, while any amount is allowed for non-endowed funds. Call 903-670-2664 or send an e-mail to kristen.bennett@tvcc.edu for information on endowments.
In certain instances, it may be preferable from an estate, financial, and tax planning perspective to consider long-term gift planning as the best way to make a gift. This can be accomplished through various gift instruments, such as charitable remainder trusts, gift annuities, charitable lead trusts, and bequests. Visit our online gift planning resource to help you assist your clients in reaching their charitable goals.
Gifts in Memoriam / Gifts in Honor of
Honoring a family member, friend, colleague, classmate, or faculty member with a gift is a touching way to pay tribute to that loved one. Please call 903-670-2620 or send an e-mail to kristen.bennett@tvcc.edu to make arrangements for setting up a fund or contributing to an area or program of interest to the person being remembered or honored.
Gifts in Kind
Alternatives to monetary gifts such as equipment or books are always appreciated. Call 903-670-2664 or send an e-mail to kristen.bennett@tvcc.edu for information on making such a donation.
Donor Advised Fund Gifts (DAF)
Interested in making a gift through a Donor Advised Fund? Please send a check (payable to TVCC Foundation) to: TVCC Foundation, Attn. Kristen Bennett, 100 Cardinal Drive Athens, TX 75751.
Securities
Securities may be made as outright gifts or as a payment on a pledge. Stock certificates may be reassigned directly to TVCC Foundation or may be transferred through the donor's broker. The mean market value on the date of the transfer will determine the value of the gift for tax purposes. It is best to consult with a Dr. Kristen Bennett, MBA, CFRE before a transaction is made. For general questions on securities, call 903-670-2620 or send an e-mail to kristen.bennett@tvcc.edu.
Gifts of appreciated securities may be tax deductible, up to 30 percent of your adjusted gross income. The deduction is based on the full fair market value, and capital gains tax is not due when the stock is transferred to the TVCC Foundation.