How to: Arrange payment through My Cardinal Connect
1

Log In to My Cardinal Connect
To arrange payment navigate over to your student portal, My Cardinal Connect, and get logged in with your Cardinal ID and password combination.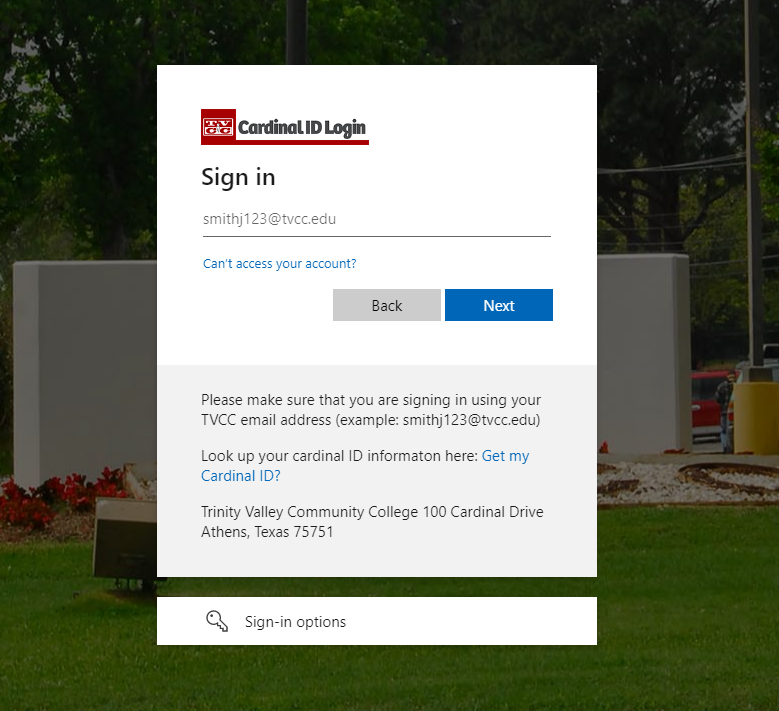 Login credentials are:
User name – Cardinal ID. Find your Cardinal ID here.

Password – Unless you have previously changed your master password through your Cardinal Email, your default password is: lowercase first initial + last four digits of social security number + uppercase last initial + 4 digit year of birth (Jane Doe born in 1998 with social security number ending in 1234 and would generate password of j1234D1998)
2

Select "Student Finance" from the Main Menu
Access your tuition statement and payment options by selecting the "Student Finance" option from the home screen of your student portal. Student Finance is where you can make payments, view tuition balances and statements, and also where you can set up additional authorized users for your student portal.

It will open your portal to a very basic summary of your bill. To head to the payment center, select "Make a Payment/Setup Installment Plan " on the right side of your screen.

This will direct you to the entrance page for the payment center. Be sure to read carefully before selecting to "Continue to Payment Center" to be redirected.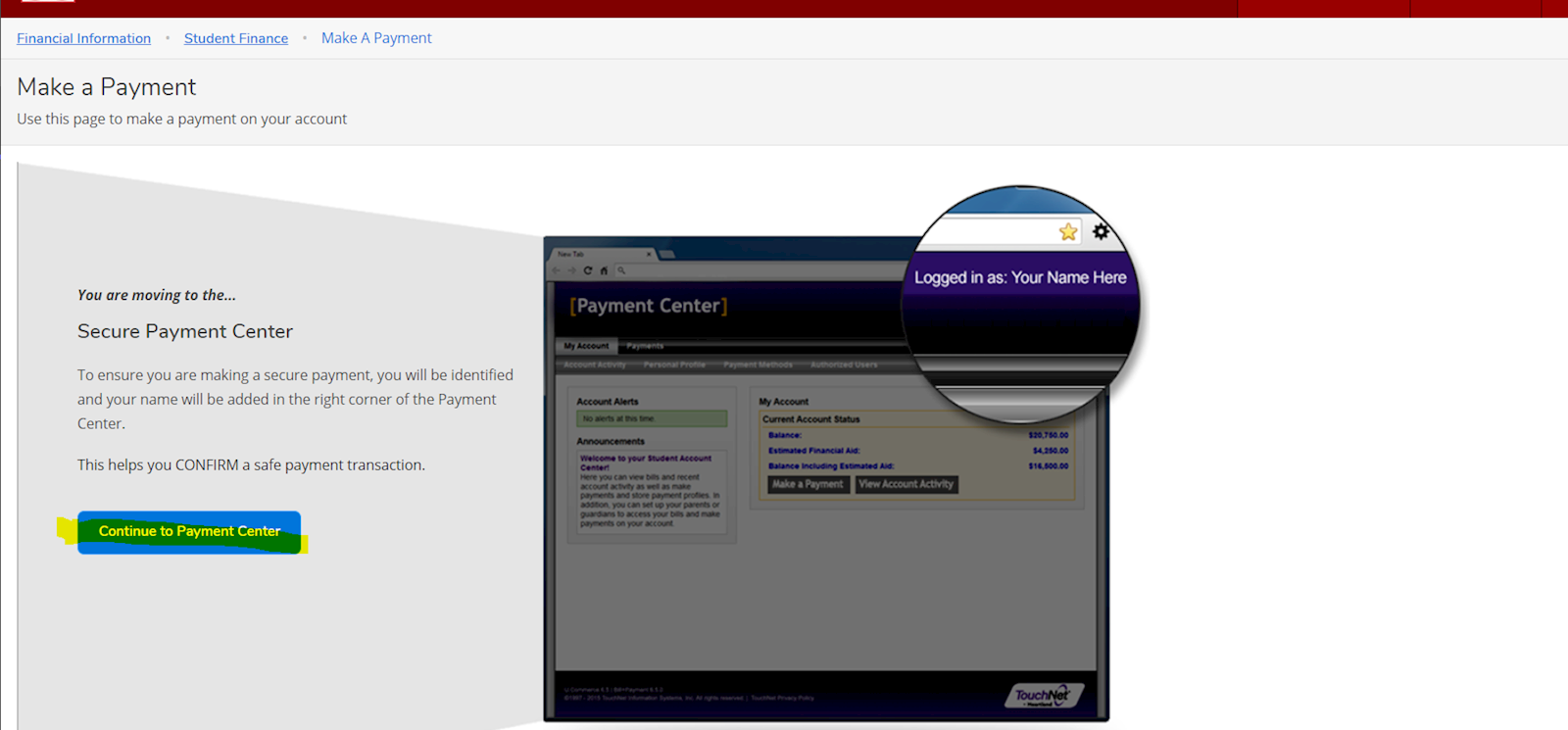 3

Check for announcements and update user preferences AND direct deposit
Now that you are in the Secure Payment Center, be sure to check any announcements to the left hand side of the screen. This will typically be a reminder of when tuition is due, but may sometimes have other pertinent information regarding tuition payments.
You can also see the new options available to you on the right hand side of the screen. This is where you can add authorized users to your account, so that others can also make payments for you. You can also save payment information, and update and consent agreements.
!!! The most important thing to update right away is your electronic refund preference, found under your Profile Setup. These "Electronic Refunds" are how we reimburse your for any over-payment on tuition and fees, as well as how the financial aid department and business office will disburse any extra award amounts to you. This has replaced the Direct Deposit form.
Need to add an authorized user to your payment portal? Follow these steps.

4

Pick a Payment Method and Pay
TVCC has the option for you to pay your bill in full, or to enroll in a payment plan. If you wish to make a payment in full, select the "Make Payment" option at the top menu. Follow the on-screen instructions through how much to pay, your method of payment, and your confirmation of payment, before it will prepare your receipt of payment.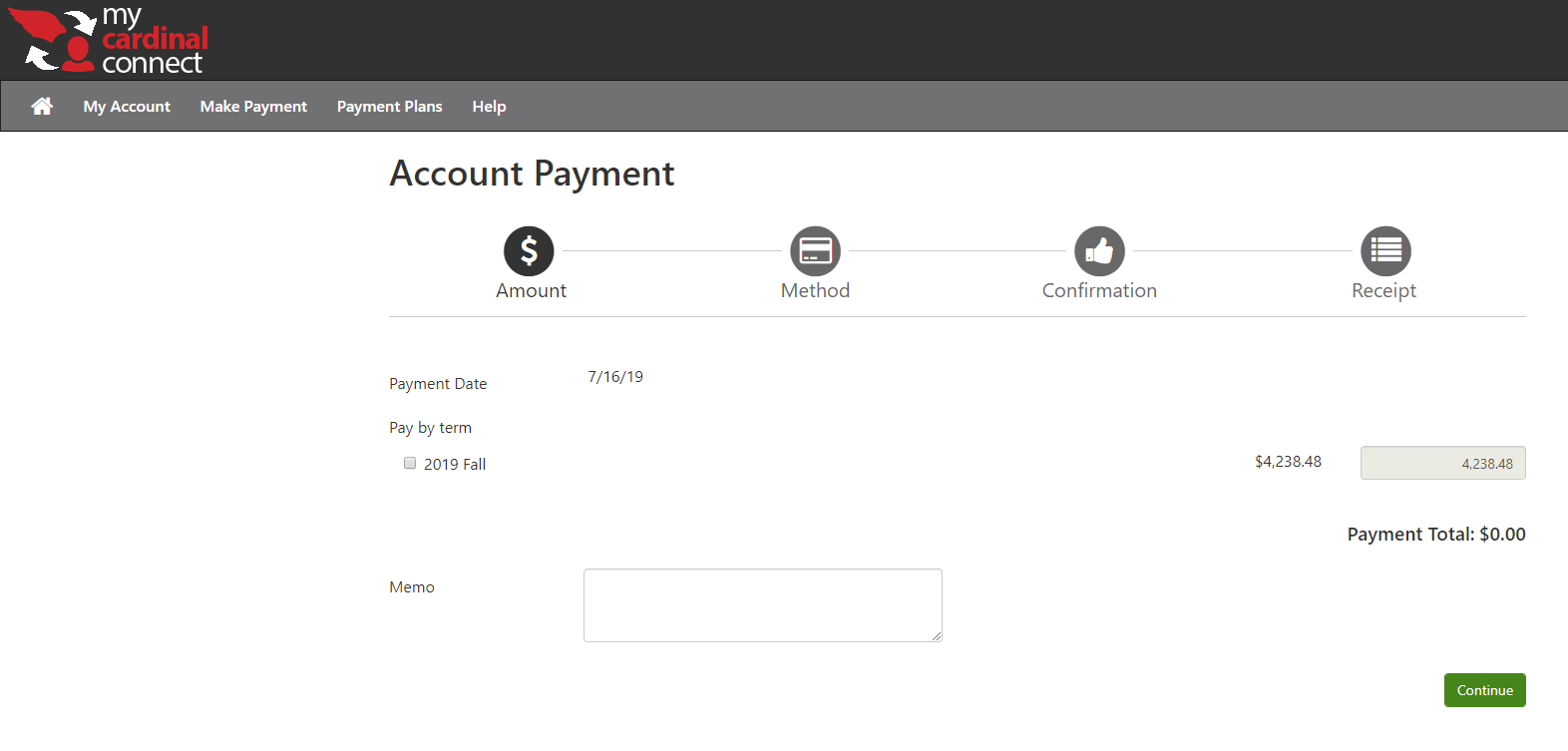 If you would like to enroll in a payment plan, select "Enroll in Payment Plan" from the student Account Overview box in the center of the home page. Follow the on-screen instructions to select the current term, and then continue through scheduling your plan, and signing the installment agreement.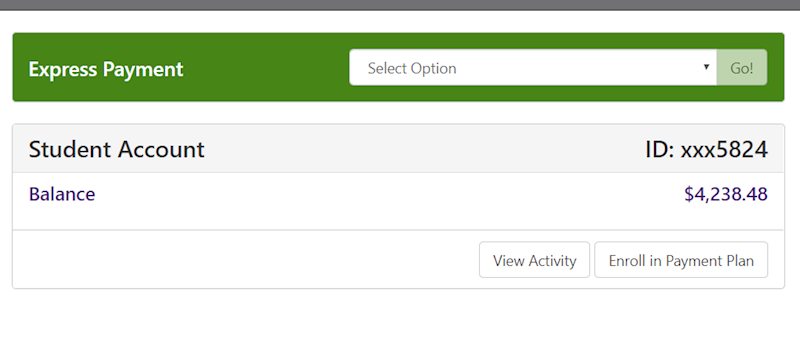 Be sure to complete these steps before the due date each semester to avoid being dropped from your courses for non-payment. With TVCC's new waitlist policy, students dropped for non-payment cannot be guaranteed their original schedule should they have to be reinstated.
Need to add an authorized user to your payment portal? Follow these steps.
If you have trouble with payment through My Cardinal Connect or have general questions regarding the payment process, please contact the business office at (903) 675-6269, or businessoffice@tvcc.edu.
For more information regarding Student Accounts, visit their page.