Jones brings family atmosphere to her home away from home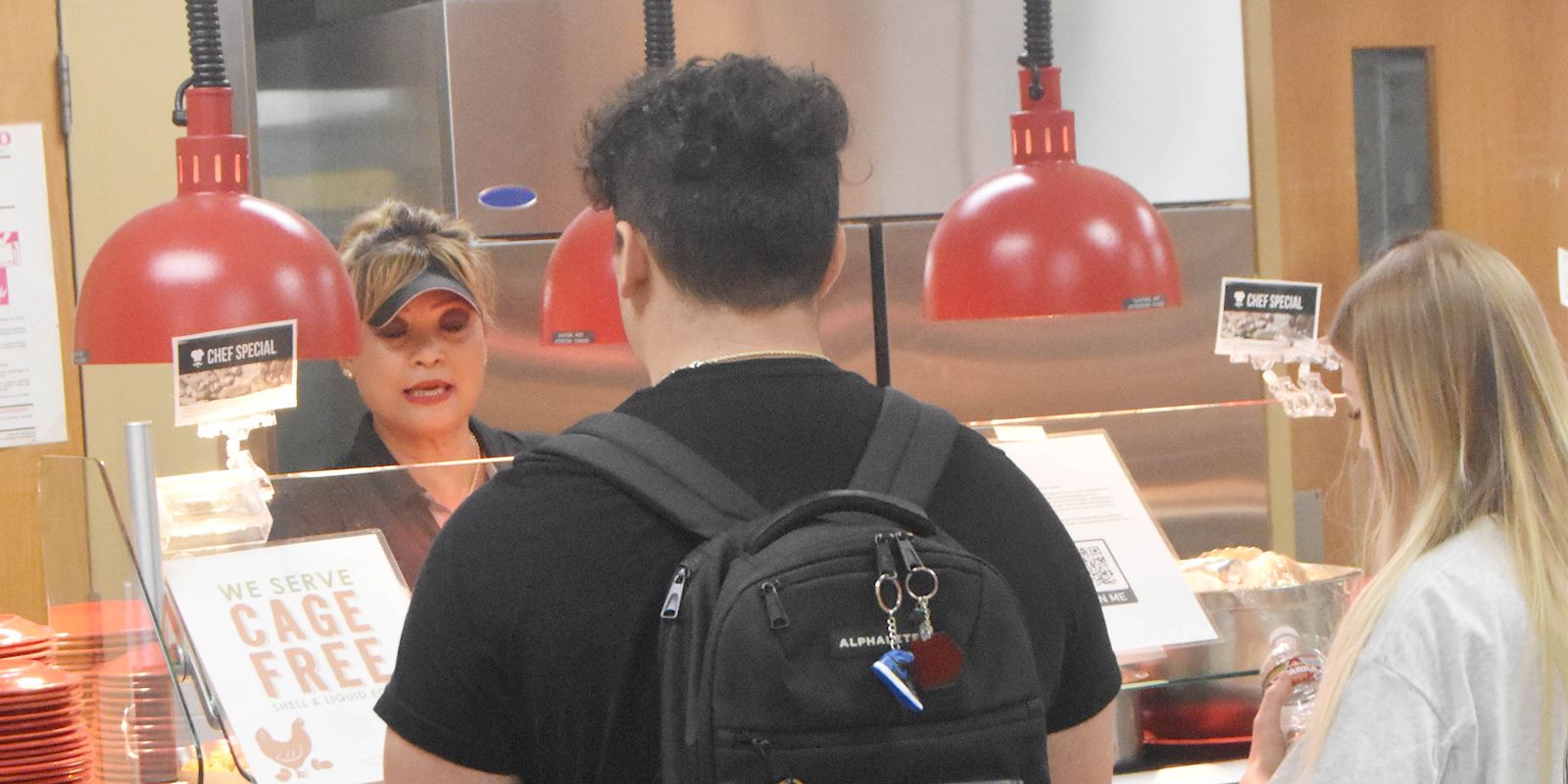 A feeling of home is what Rose Jones wants to bring to Trinity Valley Community College.
When students, faculty, staff and even the public come to the cafeteria, also known as the Nest, Jones treats every person like she is their mother.
For 31 years, Jones has made sure to have a smile on her face and makes everyone feel welcome.
"I love my relationship with the students," Jones said. "They give me respect because I give them respect and treat them like my own children. It breaks my heart when they leave because I have a good bond with them. I have a good relationship with them and they are good with me and anytime I ask them to don't do this or don't do that, they will respect me with that. They are like my own kids."
Jones has been with the Aramark Dining Services for 31 years. A native of the Philippines, Rose said she told her husband Jimmie to find her first job in the United States once her son James was old enough to go to school.
"My husband (Jimmie) worked here first and started in 1988 or 1989. I had mentioned to Jimmie, 'I don't care what kind of job, just find me a job.' He said let me check in the cafeteria.
Once she was interviewed, she was hired on the spot.
"This is the first job that I have ever had in the United States," Jones said.
She remembers the days when the cafeteria used to be in the library on the Athens campus and all of the special moments she has had with former students.
"I miss a lot of the students from basketball to volleyball to softball and all of athletics. When they return to campus, they are always asking about me and I have a super experience with them. I am always happy when they see me and I see them."
Michael Cobb is the new Aramark Food Services Director and said when the time came to make new changes, the obvious choice was to honor Jones with her own station.
"What we wanted to do was freshen up the dining room with some signage and graphics and to name each station like it was a stand-alone restaurant," Cobb said.
"When we came to where we serve the home cooked meal, we kicked around several ideas," Cobb said.
Considering who normally works there, a light bulb went off. They decided Mama Rose's would be perfect.
"It is just like her own little restaurant here at Trinity Valley Community College," Cobb said.
Jones said she never believed it would come true until the morning after the signs came up to each station.
"I was surprised with my sign when I saw it," Jones said. "I was happy because everyone calls me Mama Rose."
Rose has made an impact on each student she come into contact with.
"I am happy about it and in my life, my family's life, I thank the college for giving us a life and took us in like a family," Jones said. "I get emotional just thinking about the students.
"I keep having people ask me when are you going to retire? I say why would I want to retire because I have a good job, good people to work with and students and good children every semester. I never have a problem with the students."
Bryan Dotts with Information Technology attended TVCC and said he noticed that smile every day.
"She was always so nice and helpful when I was a student here," Dotts said. "I loved her and it always made my day when I came into the cafeteria to see her."
Cobb said to have a jewel like Mama Rose on his team means so much to him as the director of the department.
"Rose is really a fixture here. All of the students know who she is along with the faculty and staff," Cobb said. "She is also a great coworker for all of the employees here with Aramark. She makes sure everything happens the way it is supposed to. She always has a smile on her face doing it. It is huge for her to say that she doesn't want to retire and we hope she doesn't retire anytime soon. We love having her here and it is nice to have employees who love coming to work and love what they are doing. It shows to the rest of the employees and she is a mom not just to the students but to the employees."
For Jones, being a part of the community is big for her and her family. She says when she is not at the Nest or Cardinal Gym, she is always being asked where she is. She admitted sometimes she needs a break.
"People at Cardinal Gym always notice when I disappear in that station because they will always ask where is Rose?," she said. "I have a great relationship with everyone along with the board members. They are just like my family."
Cobb said you can tell that Rose cares about every person who comes into her little home away from home.
"She is a Mama for a lot of these kids," Cobb said. "She knows them by first names and what they like and don't like. She can almost tell you ahead of time what they will want to eat before they walk in the door. She is just like everyone's mom."