Students recognized during TVCC Learning Symposium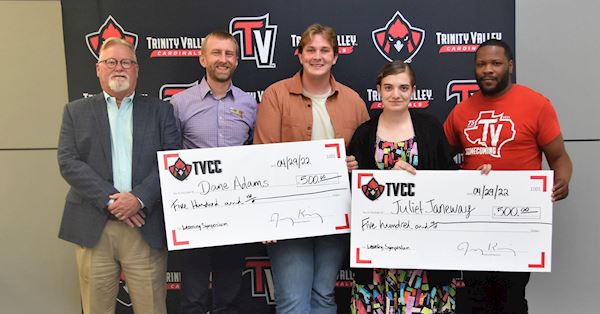 The Inaugural Trinity Valley Community College Learning Symposium was held Friday at the Learning Resource Center on the Athens campus.
The first Learning Symposium had 10 participants with two classroom presentations and five table presentations as Matt Cleaver, Mike Hembree and Jack Duffie were judges for the event.
"The Learning Symposium has been a goal to provide an opportunity to students to shine academically, Holley Collier, Associate VP of Instructional Innovation and Support said. "We have faculty who share incredible amounts of knowledge and skills with our students. This avenue seemed like a perfect chance to give both faculty and students recognition.
"I also hope it provided the students with an experience that will support them in their career or university. Being able to top off the day with two awards for $500 was exciting! I hope overall whether someone received the money or only participated, that their life was impacted in a positive way and I'm looking forward to next year's Learning Symposium."
Dane Adams and Juliet Janeway received a $500 cash award for their presentations during the symposium.
"Juliet won for Most Creative, with her research on Color Theory," September Kirk, Studio Arts Instructor said. "As an EMT student, I hope that this can serve her and her patients in the future. I am very proud!"
Presenters for the table presentations included Janeway and Selma Sutaj, who were mentored by Kirk, Mo'Nicue Harland and Jordan Haynie, mentored by Lisa Beasley, Aidan Maze, who was mentored by Marlo Bitter and Xavier Owens, Alexis Bernal-Alvarez and Alexis Sprunger, who were mentored by Nancy Long.
Harland and Haynie presented six quick hairstyles that can be achieved by one on themselves at a beginner stage.
Janeway presented artwork entitled Exploration of Color, while Sutaj has artwork entitled Artist in Residence.
"I was so happy to mentor my two students, Selma and Juliet," Kirk said. "They are both hard workers, eager to learn and build on each accomplishment.
"The Learning Symposium is a wonderful opportunity for each of them to interact with the students in other departments and to see the overlap of knowledge in the many disciplines on campus. I look forward to next year!"
Maze had a website called the Pooch Pampers, which has items for your dogs while Owens, Bernal-Alvarez and Sprunger did video interviews with former and past TVCC students.
The classroom presenters were Carrie Worth, mentored by Dorothy Hinds and Adams, who was mentored by Jennifer Hannigan.
Worth had a presentation entitled A Guide to Starting Your Own Business at Any Age, while Adams looked at the Comparative Intricacies of Athens Commercial and Economic Expansion compared to Gun Barrel City.
Participants in the Learning Symposium are part-time, full-time and dual credit students. They were each paired with a faculty or staff member who helped mentor students' participation and volunteered.
The mission of the TVCC Learning Symposium is to recognize and celebrate the knowledge students bring and learn from the learning environment by providing a venue for students to showcase their work and foster an environment for students, faculty, staff, administration, alumni, and the community to network and support the learning being conducted at TVCC.
Some of the area's students framed their projects around were cosmetology, artwork, video interviews, website design and business-related expertise.
The Learning Symposium was coordinated by the Instructional Innovation Team.