Diamond anniversary arrives at TVCC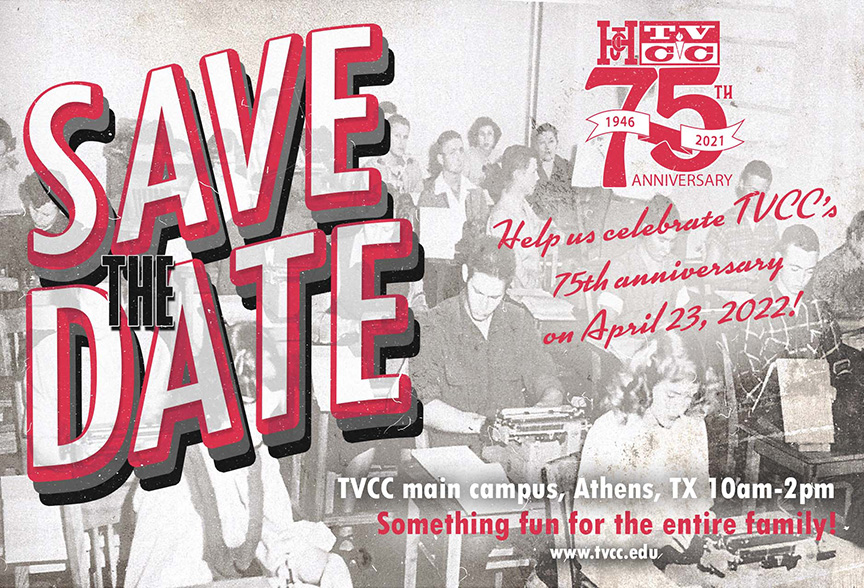 NOTE: This is the final story of a three-part series leading up to the 75th anniversary celebration of Trinity Valley Community College on Saturday from 10-2 p.m.
The diamond anniversary celebration has arrived for Trinity Valley Community College.
On Saturday, there will be carnival-style games, music, balloons, giveaways and food. The entire event is free and open to the public.
The TVCC Foundation is planning to open the 1997-time capsule, have performances by TVCC student groups at noon and music by DJ J'Neric beginning at 10 a.m.
The event, which also includes the sealing of the 2022-time capsule is scheduled to happen in front of the clock tower at the McDonalds Plaza with a stage set up for speakers and the choir performing as well.
"I hope everyone will come out to have lunch, play some fun games, tour our campus and get to know our students," Emily Heglund, Executive Director of the TVCC Foundation said.
Attendees will also be able to peek inside the college's administration, fine arts, and academic instruction buildings and view historical photos in each location.
A 75-year historical video will also be presented at the celebration, which was put together by TVCC videographer Jorge Palacios. It will feature alumni, employees and President Jerry King talking more about the history of our college and where we are headed.
"Seventy-five years ago, the vision of our first president, Orval Pirtle, came to life with the creation of Henderson County Junior College," Heglund said. "Back then, the full enrollment was 536 students. Today, our enrollment is 10 times that, and we've touched the lives of thousands more. I imagine Mr. Pirtle would be amazed to see what TVCC has become.
"This is such a milestone achievement for TVCC, and we are thrilled to be able to celebrate with the entire community."
In other events, the college is scheduled to host the Athens Farmers Market, the TVCC softball team is hosting a doubleheader series with the Tyler Junior College Apaches at Cain Park starting at 1 p.m. and the Cardinal football team will have an intrasquad scrimmage at Bruce Field starting at 10 a.m.
Below is a list of events for the celebration.
TVCC 75th Anniversary Schedule
President's Brunch
9:30 a.m. | Cain Center, Athens.
Community Carnival
10-2 p.m. | TVCC Campus, Athens.
Time Capsule Ceremony
12 p.m. | TVCC Campus, Athens.
Self-Guided Campus Tours
10-2 pm | TVCC Campus, Athens.
TVCC Football Intrasquad Scrimmage
10 a.m. | Bruce Field, Athens.
Softball vs. Tyler Junior College
1 & 3 p.m. | Drumgoole Field, Cain Park, Athens.