Phi Theta Kappa hosting The Valley Olympics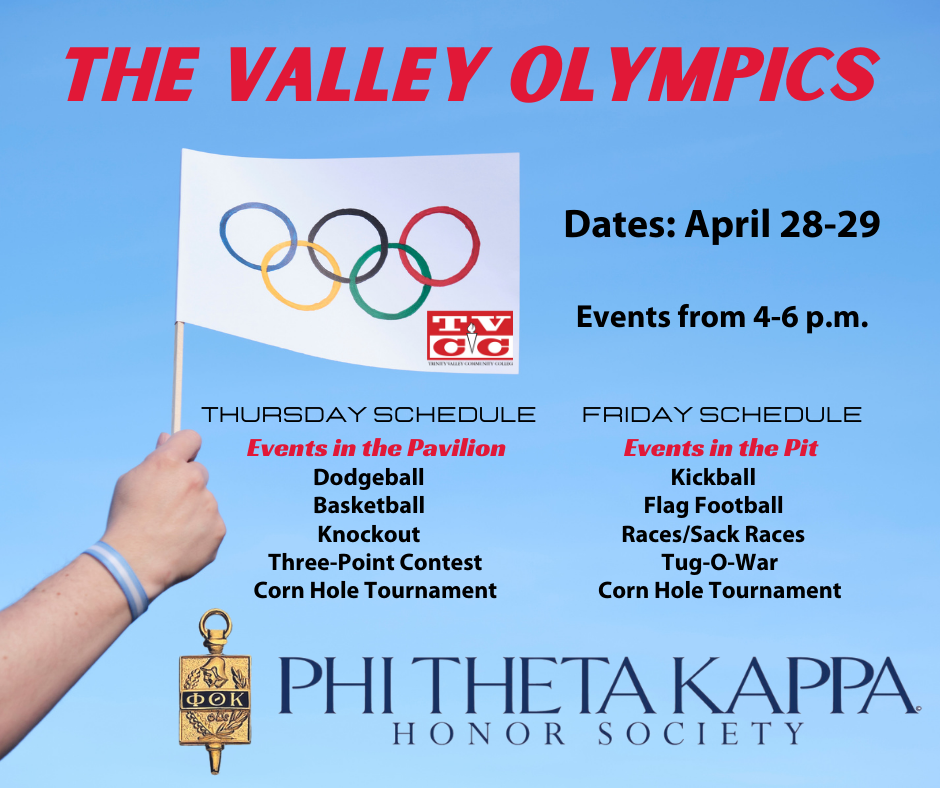 The TVCC Phi Theta Kappa club is hosting the Valley Olympics Thursday-Friday in the Pavilion behind the gym and in the Pit.
The events are set from 4-6 p.m. each night with no fee required for participants. They will give away free water to the participants.
On Thursday, the events include dodgeball, basketball, knockout, three-point contest and a corn hole tournament.
On Friday, participants will play kickball, flag football, racing/sack races, soccer, Tug-o-war and corn hole.
"We assumed that teams would self-choose for the team competitions. There are also individual competitions. Each individual winner (or each person on a winning team) will get extra points (5) in addition to the point (1) for entering the competition," PTK Advisor Nancy Long said. "Individual winners will also each get to pick one snack (candy bar, chips, etc.) from our stash.
"The highest point winner after the two-day competition will also get a first-place medallion and three prizes from the bookstore (T-shirt, visor, and insulated cup that can be exchanged at the bookstore). There will be a second-place medallion and T-shirt and a third-place medallion and a T-shirt."
Long said PTK officers will be located at each location to coordinate the competitions and make sure everyone is being respectful.
"My 7 PTK officers will be stationed at each event and will contact TVCC officials if any assistance is needed," Long said. "Participants and observers are asked to be respectful of everyone else. We have, I think, gotten permissions and promises of any needed assistance from all appropriate TVCC officials."
Long said the reason for the Valley Olympics deals with their topic for each two-year period.
"International PTK chooses an Honors study topic each two-year period," Long said. "They just initiated "The art and science of Play" for 2022-23. We have been studying how physical activity improves mental fitness among many other things. So we thought that "Valley Olympics" was a good idea just before Finals. This will be part of our Honors in Action study and activities for the coming year."
Phi Theta Kappa is going to donate to local charities for each participant.
"We are donating $5 each time a student participates in an event. We plan to donate to Disciple's Clinic but haven't contacted them yet," Long said. "Disciple's Clinic is a non-profit medical and dental clinic in Athens staffed by volunteer doctors and dentists. It serves any under- insured or uninsured working person or student with affordable medical or dental care. We have an agency account with sufficient funds to cover that much. These funds have accumulated for several years from local dues collected when TVCC students join PTK."