TVCC Music Department ready for spring concerts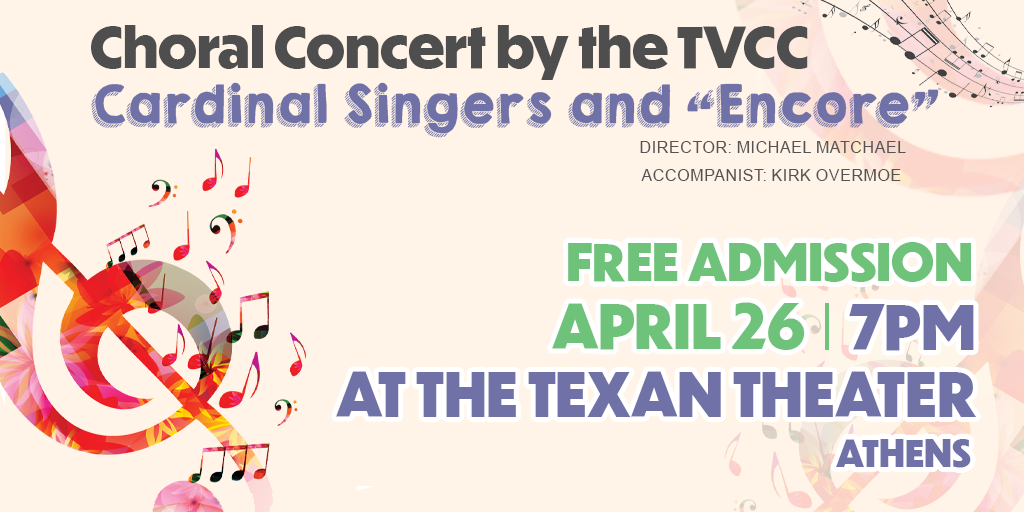 The TVCC Music Department is hard at work getting Spring concerts ready for next week.
The Cardinal Jazz Band under the direction of Mr. Jeff DuBose will perform six pieces, while the Concert band has six pieces in their lineup on Monday at 7 p.m. at the Texan.
The lineup of songs for the Jazz Band includes Function at the Junction by Larry Barton, Night in Tunisia by Dizzy Gillespie, Blues in the Night by Harold Arlen, Trickle Down Shuffle by Frank Montooth, Fudge Said the Judge by Les Taylor and Zoot Suit Riot by Perry.
The Concert Band songs include Patton (Concert March) by Goldsmith, Themes from Green Bushes by Grainger, Prelude to Act One La Traviata by Verdi, Highland Legend by Moss, Fall River Overture by Sheldon and Buglers Holiday by Anderson.
The TVCC Cardinal Singers and TVCC ENCORE, under the direction of Mr. Michael Matchael are getting ready for their performance at the Texan Tuesday at 7 p.m.
The groups have 13 pieces they will perform for those who attend free of charge.
The lineup includes Thank You for the Music, Better Days, Waves, Blinding Lights, Do You Fear the Force of the Winds, An Afro-Celtic Diddle, Beatitudes I. The Poor in Spirit and IV. The Pure in Heart, Let There Be Music, A Thousand Years, Homeward Bound, A Gaelic Blessing and then the Choral Invitation at the end of the concert.
"As always, we are very grateful for the support of the Board of Trustees, Dr. Jerry King, President of TVCC, and the Administrative Team that helps us meet our goals in making life richer through music, and The City of Athens for the use of the Texan as our performance venue," Matchael said.