TVCC awards 670 degrees, certificates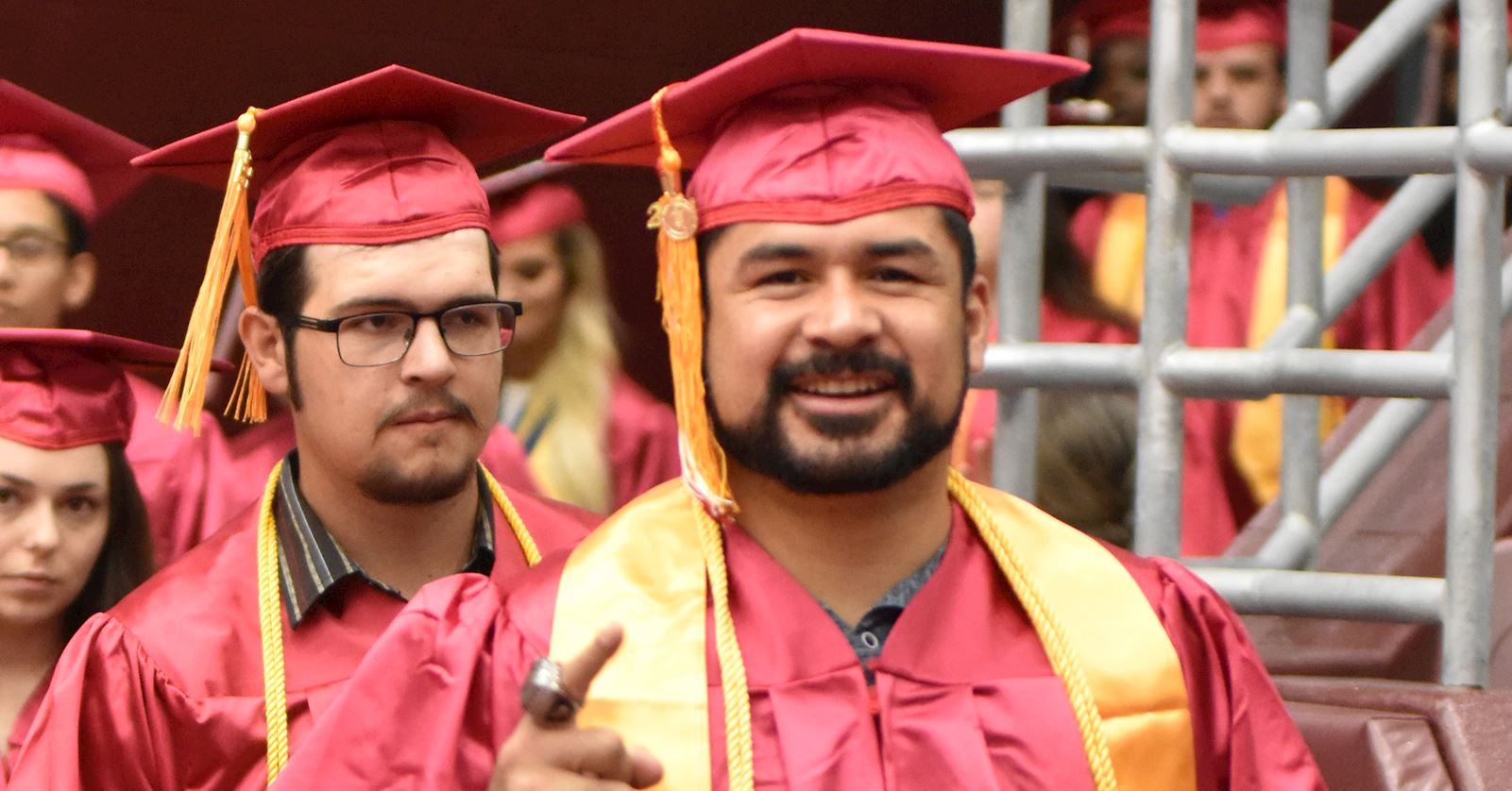 Trinity Valley Community College held spring graduation ceremonies at Athens High School Friday, May 13, conferring associate degrees or Certificates of Completion to 670 graduates.
Listed alphabetically by last name, the spring 2022 graduating class is as follows. The three stars are for highest honors, while the two stars are for high honors and one star is graduating with honors.
The three plus signs are Summa Cum Laude, the two plus signs are Magna Cum Laude and the one plus is graduating Cum Laude.
Associate of Arts
Christina V Aburto **
Lizbeth Aleman *
Derrick S Alexander
Jalissa Nicole Alicea
Alyssa P Allen *
Marvin Almanza *
Paige Elizabeth Anderson *
Anthony R Aranda
Rocio Arce
Kimberly Armas
Abby Grace Armstrong *
Makayla B. Arnold
Alondra Arteaga
Rebecca R Ashley
Ethan S Austin
Telitha Aline Baker **
Andrew G Bankston *
Christopher E Barber
Brittyn Grace Barber
Isaiah Barbosa
Olivia Faye Barina
Dylan P Barnes *
Allison Estela Beck
Blake Ashley Been *
Eric C Benitez
Mariana Velasque Bezerra
Ashley Denae Birch **
Ashlyn Suzanne Black
Kaylie A Bowles
Virginia Beth Estelle Bradway ***
Aaliyah T Braxton **
Zoria S Brookins **
Aubriana Brown
Alexis B Brown
Emery Clayton Bruner *
Richard Bryda
Bailey E Burke *
Daniel Burnett *
Morgan C Butler
Misty Caffey
Hallie Grace Calhoun *
Andrew Luke Camp ***
Vanessa Evelyn Canales
Yessica Annai Carreon Lopez
Brenda Casas *
Ninel Castaneda
Abigail Castellanos
Aliena Marissa Cave *
Sonia Cerrillo
Skyler L Cerrillo
Rubi Cervantes
Sulamita Liszeth Chavez
Casandra E Chavez *
Tia M Cherry
William Atilio Chicas
Kaylee Rae Choate **
Alondra Cisneros **
Jordan L Clack
Heather Rae Conley
Itzel Contreras **
Brooklynn K Cook
Amy Cooper *
John K Costlow
Alexi R Crawford
Haley Qiongyu Crook **
Ryan Z Crow *
Kordell David
Allysen Grace Davidson **
Jackelyn L Davis
Mishell Julia Davis
Dedric Lcharles Davis
Andrea J Decareau
Audrey Rose DeFore
Preston Grant Deshazo
Elizabeth Diaz
Makayla K Dingler
Caden Earley *
Johnna Cecilia Edwards **
Esther Egbe **
Grayson C Elam *
Ayonna Giselle Eleby
America Espino *
Deisy Espinoza
Andrea Jimenez Espinoza
Naomi Espinoza *
Aubree Kathleen Evans *
Amy Fabian
Skylar Danielle Feagins
Autumn M Fenner
Karis Fisher
Delaney Taylor Fletcher **
Kaylie Florence *
Ivan A Flores
Anna Gabrielle Fogg **
Kylie Michele Foster ***
Shannon Fowler *
Chaylon D Fridia
Dyllan Tyler Fronterhouse
Jennifer Guadalupe Garcia **
Pricila Garcia ***
Pedro Garcia-Castillo ***
Quintavian D Gardner
Kiley Talton Garrett **
Blaine Gayso
Amy Joyce Gonzalez
Peyton A Graham ***
Taylor M Grant **
Jaylen M Gray-Flores
Caroline Grace Greve ***
Julia M Griffey *
Leina G Guerrero
Princesa D Gutierrez
Ryan O Gutierrez *
Daisy J Guzman
Isabel Nicole Guzman *
Colton L Halbert
Summer E Hall
Elton R Hammers
Nathanial H Hammonds
Tyler G Hanes
Jennifer Don Hanna
Kristen Torres Harris ***
Heaven Harvey ***
Cody S Hawkins *
John Hayes ***
Cooper R Heathcock
Zoe R Hebrank
Tabitha P Helton
Adreana Mishell Hernandez
Oscar Hernandez
Sherlin Richel Hernandez
Ti'erra L. Hicks
Kaleb A Hinton
Kailey Gail Hocutt *
Lacinda Susanne Hoke
Lydia R. Holt **
Allyson Holt ***
Jimmietra Leeanna Hooper ***
Ashley Kay Horton
Kennedy A Hughes *
Emily Arelene Hughes
Zsaid K Inestroza
Tensly I Jacobs
Luke Harrison James ***
Angela M Jara
Jennifer M Jernigan
Christian Horace Jones
Kylee K Jones
Tanner D Jones *
Skylar LeighAnne Jones
Zachary Taylor Jones
Doss A Kellar
Megan Leann Kelley
Chad Eugene Kelley *
Nolan Ross Kelly
Kylie R Kennimer
Emma S Kirchenbauer
Danielle Knight
Gabriela Ester Knox ***
Cameron David Laing
Shakirah Taiwo Lamidi ***
Karla D Landa ***
Cason D Lane
Helena Lara **
Tammy Larsen
Luis F Leanos Rondan *
Cashis M Lee-Brown
Layla S Lisenbe
Bryan Anthony Litt
Blake D Lockhart *
Justin A Loosier *
Deborah L Lopez
Enrique Lopez **
Hannah M Lovelady
Kayleigh Alexis Luce
Caleb Aaron Nottingham **
Porter Miles MacPherson
Madison Malone *
Kourtney Mannix
Alexander S Marston
Nikole McLelland Martin
Bartolo D Martinez *
Maria A Martinez *
Beatriz Martinez
Robert Mesah Matara *
Madilynn Faith Mathiews
Elya Jo Mathis ***
Garrett Michael Matlock *
Candace J Mays
Madeline Claire McDermott **
Lauryn McDonald **
Riggs R McDonald
Zayteak S L McGhee *
Jacob McLane
Linda McPherson *
Jaci R Merritt
Kayla N Miller
Brittany Nicole Mims
Kari Marissa Missildine
Dimitrios Mitsopoulos
Alexis Quinn Montgomery *
Hannah Ellene Monzingo
Victor D Morales
Kisai A Morales
Noah Morriss
Zane Munsinger *
Makenzie K Murie
Blake Anthony Newman
Chishing Ng *
Fernando Nino, Jr **
Zayra M Nunez
Mariam Adebisi Ogunsola *
Richard Anthony Olszak
Rashad michael onezime
Patricia Ornelas
Isabel Ortega
Diego B Ortiz
John Harris Ory ***
Xavier J Owens *
Chibuzo Akinkunmi Oyolu
Chiyelu Ademitutu Oyolu *
Roxanna Padron
Niyah Simone Page
Celieste Danielle Parker ***
Nicholas D. Parker
Tushar Patel
Gabriella Grace Perez **
Allie M Phillips *
Addison N Phillips
Raeleigh Nicole Pierce ***
Jade N Pinson
Tyrone Lee Pratt
Olivia DeNee Pruitt
Madison D Pryour
Riley Lee Pulley *
Thomas-Justi Ramos **
Janalee Rangel
Hunter A Rasco **
Jamyrian L Ray
Orrin Beau Ray
Morgan T Reeves *
Emily Reyes **
Jeremy Ethan Reyes **
Lexy Victoria Rhein **
Leo A Rivers
Calista D Robinson
Perla F Robles *
Lauren Rocha *
Marco Rocha Antonio Perez
Keila L Rodriguez **
Alvaro J Rodriguez
Nicolas M Rodriguez
Kari M Rogers *
Ariana Almendra Romero
Leslie B Romero
David A Rondan
Lisa A Royse-Skurlock
Marlene Ruiz *
Madelyn A Rummel *
Reta R Samir *
Adriana Sanchez
Jada Alyce Sandifer *
Luis E Santos Jr.
Nathaly Saucedo *
Blazyn S Saxon
Joseph Douglas Scotchmer
Lauren Giavonna Scott ***
Sara Nicole Scott
Ambria Scott
Ashlyn Nicole Seaton *
Jacob T Shepherd
Grant Thomas Shiller ***
Gavin T Siegrist **
Courtni E Skiles
Jazzmine Janeè Skinner
Hunter Skurlock
Christian Michael Slack **
MacKenzie Smith *
Emily Alyssa Hope Snider *
Reagan Elizabeth Sokolowski ***
George Lightning Sorrell *
Mariah N. Souza **
Abigail Spaith
Ahsha Jenay Spencer *
Alexis Elizabeth Sprunger ***
Evelyn G Squyres
Phillip W Starnes II
Shelbie Stephens
Gage A Stephens ***
Landry Judd Stevens *
Alexander C. Stewart
McKenzie Nicole Story *
Sabree Danielle Stubbs *
Sabrina K Sturm
Katherine Sugilio Peralta ***
Collin R Sutton **
Teallie N Tatum *
Jeremy K Taylor
Jayla M Thomas ***
Zane A Thompson
Jaron Perry Thompson **
Monique Thompson *
Victoria Mae Tilley *
Anita N Tinagbedia
Jazlynn Lee Todd ***
Ruby Torres **
Calie Michelle Treadaway
Brenda Guadalupe Trevino **
Zoe Ann Tunnell
Mayra E Turner
Sebastian Urteaga *
Savannah M Valderas **
Celia Valentina Vasquez
Alondra Vasquez
Ansley Jade Vasquez *
Hope E Vaughn **
Ana Sofia Vazquez
Juan Jose Velazquez
Vanessa Velazquez *
Alyssa M Velez
Sydney Jean Veneris
Gillian E Verde
Nomar Ramon Villegas
Jessica Villegas
Alyssa Ray Vos **
Angela Vy Vu *
Madeline Kay Wagner *
Devin Andrew Warnke
Alfreda G Washington
Qingston Nicholes Waymont McClinton
Damian J Wells
Carson B Wheeler
Madyson Leigh Wiggins *
Alexandria Wilkerson
David Michael Willman
Madison Wilson **
Jade Elizabeth Wilson **
Tyler Wilson
Lynisha Denette Woods
Jasmine Rose Worthy
Harley R Yerby
James J Young **
Laura Kate Zibilski
Brian Velazquez
Associate of Applied Science
Genesis Acuna *
Shaelyn Baker
Jessica Ann Bennett **
Alexis Rene Bernal Alvarez **
Lynette Renee Blevins **
Joel Ray Bunting *
Katrina L Carpenter *
Jarod Everett Clark *
Meri F Colunga **
Breanna M Combs
Jackson Copeland
Kim D. Dino **
Christina A Douthit
Joy Nicole Eastep
Justine Nichole Harris **
Casey A Johnson **
Tanner Nicholas Jones ***
Kane A Key
Carlos A Lacedelli
Marci Faye Landers
Luis A Montes
Juliet Wanjiru Mwai
Joseph E Orockmbi
Jeffrey R Pierson **
Yolanda W Robertson
Mason Cole Smith ***
Velma Rodriguez Taylor *
Samantha S Trevino *
Courtney J Trujillo ***
Certificate of Completion
Genesis Acuna
Tanna Renae Adams
Luis Aragon
Shelby Dawn Arnold
Logan Anthony Baker
Jessica Baltazar
Shanea Danyel Bridger
Nevy Brockway
Ashley Rae Broussard
Taylor McKenzie Brown
Kelsey N Burt
Kaden Calder
Caden Capps
Rebecca Lynn Carpenter
Emiliano Carranza
David Castillo
Dixie E Chancellor
Eli Cole
Cade H Collins
Cade H Collins
Patricia Collis
Wyatt Coyle
Tyler Cruz
Martha Cruz
Kaitlyn Marie Dixon
Tabbitha S Dockery
Lauren Alyssa Douglas
Crystal S Ellis
Colton Blake English
Alexis Escobedo
Thomas Mitchell Fink
Daylen Lee Fisher
Liliana Flores
Adrienne Formoso
Lilly Memory Foster
Kelsey LeeAnn Fuller
Jaime J Gallegos
Adolfo Gallegos
Jonathan Drew Gamez
Daniel Gonzalez
Charles E Graham
Emily Paige Grimes
Julia Hampton
Monicue Harland
Lacee Harwood
Harlea E Haynes
Jordan Alexandra Haynie
Joseph Hernandez
Joseph Hernandez
Bailey N Holbert
Logan Holt
Logan Holt
Shandelle Tiyonnae Hunter
Keidria L Hurd
Leah Nicole James
Karen E Jaquish
Shaylee Lynn Kelley
Kimberlee Ann Kindle
Allison Renee Landers
Jakerian Lockett
Neida Lopez
Kelsey Keith Lopez
Clara Martinez-Mejia
Harold Anthony Molina
Emma Jane Morris
De'Andrae Morrison
Maegan LeeAnn Mosteller
Lanyah D. Myles
Autumn Luopiao Neaville
Coleman Ryan Nelson
Donna O'Brien
Joshua Kayode Opoola
Johanna Ortiz
Rachel E Palmer
Raygan JoAnna Pate
Chelsea N Patterson
Aaron Orlando Pena
Preslie M Penix
Jana L Peters
Makayla Phillips
Joshua James Queneau
Abner Moises Ramirez
Jaime Reveles
Amanda Michelle Richmon
Brenda Marie Rivera
Kaleigh Noel Robinson
Ronaldo Romero
Jenna Nicole Rosenbusch
April Carmen Sanchez
Kevin G. Sanchez
Michaela Sandifer
Jeffrey Scott
Skyler Lee Sherfield
Hunter Skurlock
Mary E Smith
Mason Cole Smith
Camron Ja'von Spurlock
Jaden Brett Starr
Brianne Rachelle Thompson
Bryson Titlow
Rebekah Violet Tucker
Leticia B Venable
Coyce Cooper Walker
Madison Taylor West
Ethan Trace Wilkerson
Brenna Gabrielle Williams
Shelby Jo Wycough
Magali Zuniga
Bachelor of Science in Nursing
Damilola Anibire
Jacqueline V Barenos +
Regina N Beasley +++
Dawn Lynn Bryant
Brandi L Donaldson +
Emily Nicole Elliott
Madison Danielle Emerson
Laurel C Ewing +
Jennifer C Fojt
Gina A. Gray +
Kathryn N Groessel
Bethany A Hackett +
Laura Ann Hodge +
Awet Haileslassie Kidane
Kaitlyn M McConnell +
Harley Reveles +
Heather M Sij +
Paige Tanner Smith +
Onita L White
Associate of Applied Science Nursing
Eyasu Kebede Abebe
Nneka Juliana Agbo *
Oluwayemisi Bosede Ajiboye
Karli Noelle Anderson
Charisse Victoria Archie
Hanna G Asemahegn
Sylvie N Awongu *
Jacquetta A Baker
Kelsey Paige Baldwin *
Angelita Barron
Christine Bearden
Mae E Bell
Jessica D Berumen
Laurie M Besherse
Chelsea M Breland **
Erian Alierhea Brown
Brittney Yvonne Brown
Victoria Aulani Brown
Hannah Brooke Cole-Pelcher
Skyler B Cutler
Ashley E Davidson
Geneva L Densman
Hailey D Dyer
Laci Easter
Aliana El-Sibai *
Lisa L Flatt **
Laurie B Flynn **
Ruby Galan
LeeAnne Melissa Gallaway *
Megan Patricia Garcia
Lindsey Barbara Gazar
Courtney D Golden
Catalina Gonzalez
Annette Harrington
Lara A Helena
Florah Henry
Hector E Hernandez
Laci Marie House
Irene S Howard
Lauren F Huddin
Ryshonda J Jackson
Leslie Marie Johnson
Courtney Danielle Jones
Carissa D Kannady
Krista Kennedy
Aisha Ayanna Lane
Jessica L Lawless
Crystal R Lee
Donna L Majors-Young
Veronica DeNean Martin
Brittanie Martin
Shelby Marie Martinez
Elizabeth M Mbugua
Courtnee M McFarlin
Stephanie M Mendez
Brenda Lynn Miles
Onyinye Mojekwu
Nora Margarita Montez
Mindy Leigh Montoya *
Alyce N Morales
Kendra C Mormon
Judy Wangeci Mwangi
Patricia Munanga Mwathi
Kaylie B Neumeier *
Avery M Newman
Tiffany R Nix
Kendyl R Norris *
Makayla Nicole Oden
Annie Elizabeth Lynn O'Neal
Nkechinyere S Ordu
Isidro Ortega
Naana O Otchway
Mikayla Stephanie Parks
Ashley B Payne
Natalie Brooke Penick *
Alma Perez
Edmundo J Porras *
Taylor N Price *
Angela L Reedy
Rianna Nicole Rendon
Kyler Robertson
April Dawn Rose
Nicole M Rourke *
Veronica Dominguez Saldivar
Chatrice L Samuels
R Lagail Shepherd
John Jordan Stewart
Mandy N Taylor
Cathleen R Tijerina
Brandy Lynn Traverse
Clarisse E Turner *
Clara Angelica Vargas Perez *
Alejandra Velasco
Taylor Alise Walker
LaToya N Walker *
Lakesha D White-Oudems
Mercedes Mingon Williams
Shayna Nicole Works **
Associate of Applied Science Emergency Medical Technology
Cody A Clemmons
Associate of Applied Science Surgical Technology
Meagan C Bartlett
Norberto S Cerrillo
Julia E Fulton *
Marisol Gallegos
Ashley N Smith *
Certificate of Completion Patient Care Technology
Elaine L Briggs-Kelley
Vanessa D. Connelly
Lakita Renea Henderson
Jiffnesia A Horn
Kelly Lynn Ragsdale
Jazzmine Marie Ruiz
Hiruni Sandeepani Ruwanpathirana
Kristen Jasmine Warren
Certificate of Completion Pharmacy Technology
Michelle Lynne Berryhill
Trevor M Bowland
Brittney Marie Brister
Isaias Augustine Cardenas
Kaitlyn P. Clymer
Andrea Esmeralda Gomez
Sydney T Hardy
Brianna K Howard
Jordan T. Jenkins
Gabriela Pedroza
Christyl M Reed
Allison M Ruiz
Carli M. Williams
Sheyna Jael Zamarron Salcido
Certificate of Completion Clinical Medical Assistant
April C Adams
Leigh A Billingsley
Celeste Renee Bocanegra
Lillian Grace Bridges
Guadalupe Cardenas
Karla Lizbeth Castaneda
Daenna Contreras
Efrain H Delapaz
Crystal Esparza
Taylor K Farnsworth
Ryleigh Brynae Ford
Alainna Futch
Ashton R Garcia
Claudia Valeria Hernandez
Amiya Huggins
Ailani Giselle Landaverde
Danielle N. Malone
Steven Abraham Martinez
Casey McDonald
Hailee Edith Nieto
Carolina Nolasco
Nancy Olvera
Rosio Leticia Palacios
Lizbeth Palacios
Courtnee Brooke Patterson
Amya Nicole Perez
Crystal Rachel Petri
Sabrina Jane Petroff
Brittany J Pinson
Yajaira Paola Robles
Leslye Guadalupe Rueda
Shawnda Ruggles
Cristal Sanchez
Kadence Lynn Satterwhite
Viviana Sevilla
Tanya Jubei Shakur
Valeria Tellez
Vianey Alejandra Valdez
Erika Vasquez-Morales