TVCC opens Disc Golf Course on campus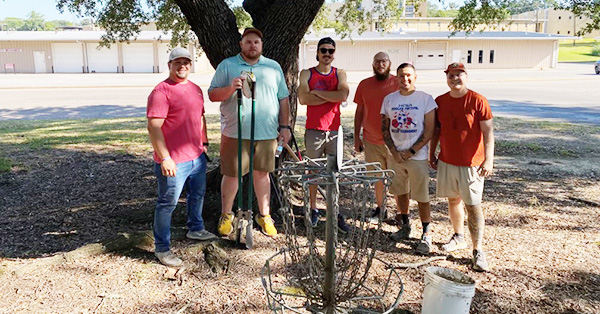 A new nine-hole disc golf course has made its way to the Trinity Valley Community College campus for students and the community to enjoy.
On Saturday, June 25, a new aspect of RecSports came when TVCC Recruiter Colby Calhoun, assisted by the Lunar Disc Golf Club, installed a nine-hole disc golf course on the south side of campus stretching from the park to the Fine Arts Building.
"I'm just beyond excited to see something I have been working toward over the past couple months finally come to fruition," Calhoun said. "Now on to making improvements on what we have!"
Helping in the construction of the course were TVCC maintenance workers Tony Buford, Mike Carter, Darrell Russell and Shane Myers. After the course was constructed, Calhoun opened the course with the inaugural throw.
"The Valley Disc Golf Course" is featured on the Disc Golf App "UDisc" and consists of the original baskets from the Athens Cain Center that were donated by the City of Athens to be repurposed for the new course.
"The Valley DGC" will have some additions such as tee pads, trashcans, and hole maps added soon. Be looking for the Red Posts of the course when driving on that side of campus.