LOCAVORES opens at Trinity Valley campus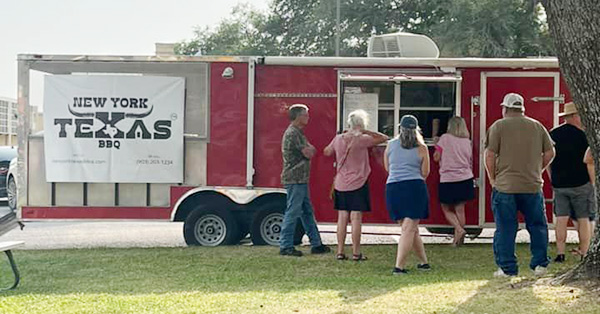 A new food truck park has made its way to Trinity Valley Community College.
LOCAVORES is a Food Truck Friday event that was started up in June by DJ Warren, who is the director of the Athens Farmers Market.
Warren said the partnership with TVCC during the Athens Farmers Market has helped in making Food Truck Friday a new event for the community.
"We got started the first week of June and decided to go through December," Warren said. "I love more than anything seeing the community come together and enjoy things. When I grew up in Athens, there was always something to do and there was always community engaging in itself. I feel like we lost that quite some time ago and it is starting to come back."
The latest round of food trucks coming this Friday from 6-10 p.m. are Tacos Perez, New York Texas BBQ, 6 Forks Farm, Casey's BBQ, Tod and Copper, Tacos El Cholo and Frios Gourmet Pops.
Food Truck Fridays will run each Friday during the months of June-December.
"Food is how we fellowship and having food on Friday nights and it is open a little later than most places in Athens being open until 10 p.m. has really been received well," Warren said. "We have had between 300-to-400 people each weekend. The first couple of nights the food trucks sold out and we have a few more food trucks coming now. It has a little more selection for folks and people have been loving it."
Locavore is defined as a person whose diet consists only or principally of locally grown or produced food.
Warren said if bands would like to come out and perform during the event, she would welcome them in to the event on Friday nights.
"If I can get music, I will have music at the event. The Hojames band kept people there until 10 and if we can get more, I am more than happy to have it," Warren said. "Food truck wise, I am not looking for fried food. I really love that we offer healtheir options and you can come down and get a healthy meal. I didn't want it to be fair food, but substantial and healthy. We are building a community here and it has to be built on good stuff. These are all local businesses of people who live here in Athens or within a 45-to-50 mile radius of us."
She said doing the Athens Farmers Market and LOCAVORES has some similarities for those who come to the Athens campus.
"They are both relative to each other. This is for the community to get engaged in itself," she said. "The Farmer's Market has the stand-alone small businesses and the Food Trucks is mainly for food trucks. I have had a few people who do snacks and stuff want to come and I am on the fence about that because I want it to be food truck focused, but we might see some pop up of other vendors with different things in the food world."
Warren said this is another venture to bring the community together and have a fun night with great food from local vendors.
"This is for them and for you and your neighbor. It is for everyone and TVCC has provided the picnic tables and the electricity and provided security," Warren said. "This partnership is wonderful and I want people to see that TVCC has things to offer to. Not just for the young people, but skilled trade jobs that they can do. I want them to see the college as a part of the community and not just a school."