TVCC Dual Credit awards 185 degrees, certificates during spring ceremony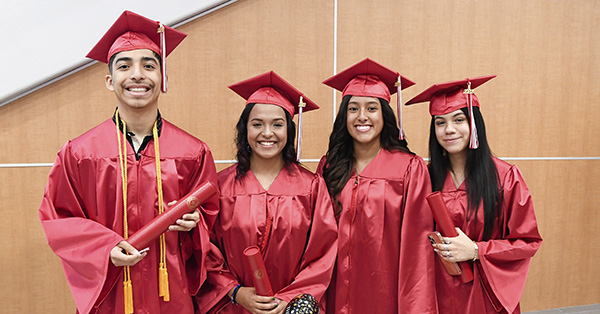 Since the late 1990s, high school students in the Trinity Valley Community College service area have been able to enroll in college-level courses while still in high school. As the state legislature has altered the rules though the years, now students of all grade levels in high school are eligible to take dual credit courses, as long as they meet the college's enrollment requirements.
The number of high school students receiving associate degrees and certificates has steadily increased over time, with the result that TVCC Dual Credit programs awarded 125 associate degrees and 60 certificates during spring graduation ceremonies held in May.
In addition to the 185 graduates, 36 students graduated core complete.
"TVCC Dual Credit has had a great year. We continue to grow, with more than 15-percent growth in dual credit enrollment this year," Director of Dual Credit Mary Helen Kelm said. "We now make up close to half of the total enrollment of TVCC. In addition to that, we have seen improvement in both passing rates and cumulative grade point averages this year."
The college worked with 263 PINNACLE Early College High School students during the 2021-22 school year as they collaborated with the dean, counselor and liaison to get students registered; supporting them and advising them and giving them every opportunity to be successful. TVCC and PINNACLE administration meet every two weeks to make sure everything is running smoothly.
High schools with students earning TVCC degrees and certificates in May included Athens, PINNACLE ECHS, Brownsboro, Canton, Community, Crandall, Cross Roads, Eustace, Fruitvale, Kaufman, Kemp, LaPoynor, Mabank, Malakoff, Neches, Palestine, Rusk, Scurry-Rosser, Terrell, Trinidad and Westwood.
The TVCC Dual Credit department currently works with 32 public and private schools and serves approximately 2500 students.
Additionally, TVCC offers workforce and academic programs with Cayuga, Edgewood, Elkhart, Frankston, Martin's Mill, Ranch Academy, Rains, Throckmorton, Athens Christian Preparatory Academy, Poetry Community Christian School, Kaufman Christian School and many home school students. And the list continues to grow.
"Athens is the only school that we partner with to offer an Early College High School, which is a little different program," Kelm said. "All of the other schools, including Athens High School, offer traditional dual credit. We have an assortment of pathways with some of our students working on associate degrees, some are graduating from high school core complete and some are working on a certificate and picking up a few hours before they go off to a four-year college."
Dual credit is defined as a system under which an eligible high school student enrolls in college course(s) and receives credit for the course(s) from both the college and the high school.
Dual Credit courses include both academic core courses as well as technical/workforce courses.
Dual credit courses can be offered at the high school campus during regular high school hours, via embedded instruction, internet, ITV or on any of the TVCC campuses.
High school students may enroll in academic transfer and/or technical/workforce education dual credit courses once they have met the TVCC admission requirements.
Tuition is waived on two courses per semester, with students responsible for fees and books.
Beginning in the fall 2018 semester, technical/workforce courses offered on high school campuses for dual credit, taught by approved high school instructors, are FREE (no tuition, no fees) with students only responsible for books and supplies.
Technical/workforce programs include basic automotive technology, business technology, computer science, cosmetology, criminal justice, drafting, early childhood education, emergency medical services, fire science technology, heating, ventilation & air conditioning, mechanical engineering technology, medical nursing assistant, pharmacy technician, ranch management, and welding.
Kelm said the future of the program is bright and they want to increase size and provide for students as education changes in public schools.
"We want to continue to grow our dual credit program and continue to meet the needs of our community."
For more information on eligibility and requirements, visit the dual credit website at www.tvcc.edu/dual-credit or contact Kelm at 903-675-6338.