TVCC Foundation Receives Prestigious Educational Fundraising Award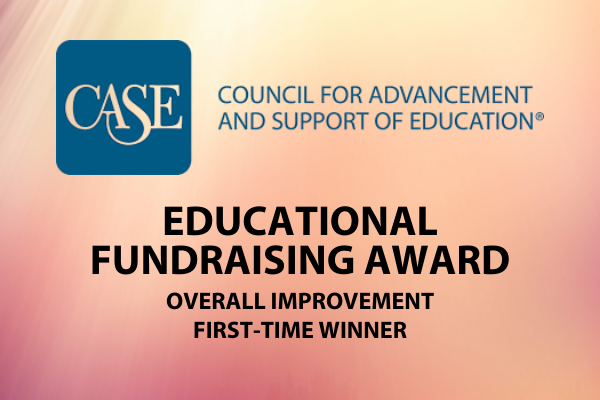 Trinity Valley Community College has been named a first-time recipient of the Council for Advancement and Support of Education (CASE) Educational Fundraising Awards in the category of Overall Improvement. The Overall Improvement category recognizes colleges and universities that demonstrate significant program growth across three years of data.
"Words do not adequately express how much joy this award brings our institution, because it means we're able to serve more students who may have financial barriers to attending school," said Kristen Bennett, Ed.D., TVCC vice president of institutional advancement and executive director of the TVCC Foundation. "It is an honor to receive this award, but our generous donors deserve all the credit for their selfless contributions to change the lives of TVCC students."
The Educational Fundraising Awards annually recognize exemplary development programs based on a blind review of data submitted to the CASE Volunteer Support of Education (VSE) survey. Winners are not selected based solely on total funds raised. A committee of experienced fundraisers review hundreds of pages of data from the CASE AMAtlas VSE Survey, and consider a number of factors and variables, including:
- Patterns of growth in total support
- Evaluation of what contributed to the total support figure
- Overall breadth of fundraising
- Patterns of growth in gifts from sources including alumni, other individuals, corporations, and foundations
- Impact of the 12 largest gifts on total support
- Giving to areas such as current operations, endowment, and property/buildings
- Amount raised per student
- Amount raised relative to expenditures
- Alumni participation
"Whilst today we celebrate the schools, colleges and universities in the United States that embody the best in educational fundraising, we want to acknowledge the people who make such achievements possible," said Sue Cunningham, CASE President and CEO. "Successful fundraising happens when everyone participates, from the staff and faculty to the institution's leadership. This inspiring philanthropic engagement is guided by dedicated and professional development staff, and supported by generous volunteers. Collectively, we are advancing education—key to addressing the many serious challenges our world faces today."
CASE believes in advancing education to transform lives and society. As a global nonprofit membership association of educational institutions, CASE helps develop the communities of professional practice that build institutional resilience and success in challenging times. The communities include staff engaged in alumni relations, advancement services, communications, fundraising, government relations, marketing, and student recruitment. CASE is volunteer-led and uses the intellectual capital of senior practitioners to build capacity and capability across the world.
CASE has offices in Washington, D.C., London, Singapore and Mexico City. Member institutions include more than 3,600 colleges and universities, primary and secondary independent and international schools, and nonprofit organizations in 82 countries. CASE serves more than 90,000 practitioners. For more information about CASE, please visit www.case.org.