UT Tyler, TVCC Collaborate to Address Nursing Shortage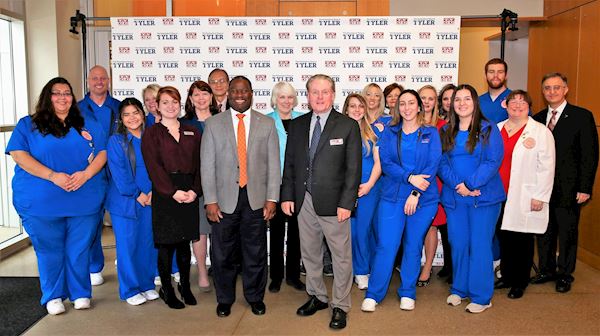 The University of Texas at Tyler and Trinity Valley Community College today announced a partnership to offer a pathway for nursing students to earn both associate and baccalaureate degrees in four years. This partnership is the University's continuing effort to help address the state's nursing shortage.
"The University of Texas at Tyler is pleased to join efforts with Trinity Valley Community College to produce quality nurses who will, in turn, strengthen healthcare in the region as well as the state," said Dr. Amir Mirmiran, UT Tyler provost and vice president for academic affairs. "These students will hold highly-respected degrees from both institutions."
The partnership will allow eligible TVCC nursing students pursing an associate's degree in nursing to concurrently enroll at UT Tyler and obtain a bachelor's degree in nursing.
"We have always enjoyed a great relationship with UT Tyler, and this partnership will provide such a fantastic opportunity to complete both degrees at the same time," said Dr. Helen Reid, TVCC Health Science Center provost. "UT Tyler has a long history of providing high quality nursing education, and we are proud to partner with them to provide this opportunity for our students here at TVCC."
Officials from both institutions have worked to develop appropriate documents that identify courses to be completed in the concurrent degree program as well as licensure examination protocol and financial assistance opportunities.
Trinity Valley Community College is a learning-centered college that provides quality academic, workforce, college preparatory, student support, and community service programs that prepare and empower students for success and promote and enhance life-long learning for all communities served.
A member of the prestigious UT System, The University of Texas at Tyler focuses on student success and innovative research in the more than 80 undergraduate and graduate degree programs offered to nearly 10,000 students. Classified by Carnegie as a doctoral research institution and by U.S. News and World Report as a national university, UT Tyler has campuses in Tyler, Longview, Palestine and Houston.