First, I want to THANK YOU for your love and support of Trinity Valley Community College. Together, we make dreams come true because of alumni, friends, and donors like you. Our shared connection to our life-changing college, along with your financial support furthers our mission of being a life-changer for so many.
The news about COVID-19 has upended life on campus. The situation and our responses are changing rapidly, sometimes by the hour. I am sure you have received many emails from companies and organizations detailing their business continuity plans. I want to assure you that we will continue the critical business of teaching our students as they progress toward graduation. We are confident and well-positioned to deliver on a transformational education whether face-to-face or online. We always make decisions with the safety and health of our students, faculty, and staff in mind.
Because we want to be sensitive to the impacts of the pandemic, we will not have as many opportunities to see and talk with our alumni, friends, and donors this spring. Many of our events have been postponed or cancelled. We are currently delaying our face-to-face fundraising and as you know our Foundation golf tournament has been cancelled. However, I want you to know that we continue to press forward in our mission to be a beacon of hope for our current and future Cardinals.
Many of you have reached out concerning the impact of COVID-19 on TVCC and asked how you can help. Our greatest concern is that many of our students are going to need our support now more than ever. To support our students during this time of need, I encourage you to give to our Emergency Assistance Fund for Cardinals EVERY SINGLE DOLLAR COUNTS! This fund provides short-term financial assistance to our students who are unable to meet immediate, essential expenses due to an unexpected emergency or crisis situation.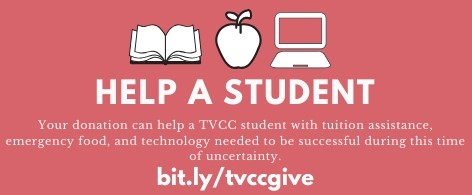 STUDENTS,
If you need assistance contact:
Audrey Hawkins
Student Engagement & Diversity Coordinator
(903) 675-6257
Dr. Kristen Bennett, MBA, CFRE
Executive Director of the Foundation
903-670-2664
Thank you for your ongoing support! Go Cards!
With love,
Kristen Bennett, Vice President of Institutional Advancement
Executive Director of the TVCC Foundation/The TVCC Foundation Board/Alumni Association
P: 903-670-2664
Fax: 903-670-2677
C: 859-626-2744
Trinity Valley Community College Foundation is committed to our mission to support the college by having funds available to provide scholarships to students desiring an education through your philanthropic gifts. Students are invited to click on the Foundation scholarship application below for details on our Foundation scholarships or click on our Foundation scholarship page at Foundation Scholarship Information
When considering your philanthropic support each year, please remember that a gift to the TVCC Foundation will enhance this wonderful institution and each dollar contributed will be managed professionally. A gift to the TVCC Foundation is an investment in the future of our community and our students, who live, work and play in this wonderful part of East Texas. Here are the many Ways to Give