THECB Recommendations for COVID-19 Safety from Thanksgiving to New Years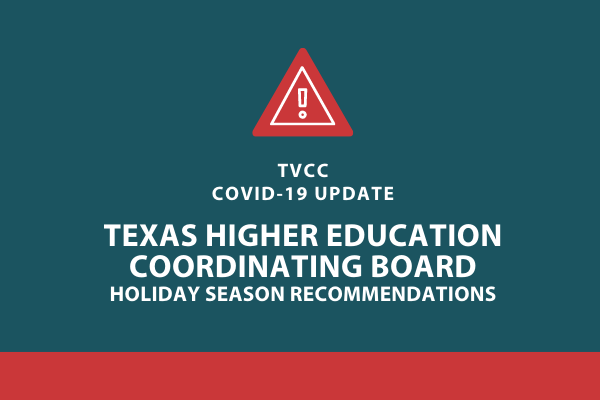 TO:

Presidents and Chancellors
Texas Institutions of Higher Education

FROM:

Harrison Keller, Ph.D.
Commissioner of Higher Education

SUBJECT:

Recommendations for COVID-19 Safety from Thanksgiving to New Years
As we approach the holiday season, it is important we remain committed to the health and wellbeing of our students, faculty, and staff. I appreciate the measures each of you have already taken to protect your campuses from the spread of COVID-19 and maintain safe learning and working environments. I am reaching out today to request your assistance in sending clear communications to students across the state to promote COVID-19 safety.
With coronavirus cases now increasing across the state, it is a critical time to urge students to continue following important safety measures to prevent further spread during the upcoming Thanksgiving holiday, including:
While following these recommended safety protocols is important, I also encourage you to remind students of various safety accommodations you have made, such as having testing sites available the weekend before Thanksgiving or allowing those who test positive to remain in quarantine on campus during the holiday.
Finally, as we look forward to the coming months and the end of the fall semester, I encourage you to consider registering your institution to serve as a COVID-19 vaccination site. Institutions of higher education could be very important points of vaccination service for combating COVID-19 in the next year.
Thank you all for the important roles you play in helping keep our students, faculty, and staff safe. I hope you all have a safe and enjoyable Thanksgiving holiday.
Respectfully,
Harrison Keller, Ph.D.