July 27, 2020 Update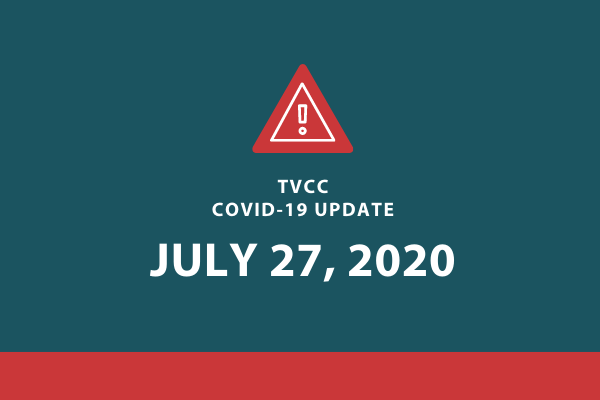 TVCC Faculty and Staff,
With recent increases in COVID-19, plans for the 2020 fall semester have changed to ensure the health, wellness, and safety of TVCC students, faculty, and staff. With this rapidly changing environment, decisions must be made now to prepare for the fall semester.
TVCC leadership continues to use the best advice and guidance available from the Centers for Disease Control and Prevention, county, regional, and state health professionals, the Governor, and the Texas Higher Education Coordinating Board. In addition, Dr. Helen Reid continues to serve as the primary COVID-19 college liaison regarding preventive actions and individual cases.
TVCC is implementing the Health Protocols for Students, Faculty, Staff, and Campus Visitors recommended by the Texas Higher Education Coordinating Board.
As TVCC prepares to welcome students for the 2020-2021 school year and fall semester, we have two priorities that guide our planning and preparation:
- Providing a safe environment for all our students, faculty, and staff and
- Continuing to provide the quality, affordable education to provide opportunities for our students to have a better life
Based on these priorities, the following proactive measures will be implemented for the fall 2020 semester to protect the health and safety of students, faculty, staff, and communities during the COVID-19 pandemic:
- The 2020 spring and summer graduation scheduled for August 14 will be a recorded virtual graduation ceremony available to graduates and families on the TVCC website.
- All faculty/staff in service activities, meetings, and new faculty/staff orientation will be conducted in a virtual format.
- TVCC will provide a wide range of instruction modalities for students including online, remote scheduled classes, and some face-to-face classes.
Online classes will be provided as scheduled for students on the fall schedule. Classes will be taught in the Canvas learning management system facilitated by TVCC faculty. The online class offers the student flexibility without a scheduled class meet.
Remote scheduled classes will be taught in a remote format at a structured and designated scheduled time. Faculty will be live teaching these classes on a scheduled Monday-Wednesday, Tuesday-Thursday, or evening schedule. The Remote scheduled class provides an opportunity for students to interact with faculty on a scheduled basis using Zoom, Panopto, and Nearpod.
Face-to-face classes are those classes that cannot meet in a remote format. CTE classes such as welding, cosmetology, automotive technology, drafting, health science, as well as music, kinesiology, drama, and art may not be conducive to the remote learning format. All face-to-face classes must meet CDC safety protocols. Faculty teaching face-to-face classes can meet with their division chair, AVP or Provost to determine the safety protocols and classroom management. Some classes may require limited enrollment or flexible scheduling to meet CDC protocols.
The interactive ideo TDCJ classes will continue as designated on the TDCJ fall semester schedule. The TDCJ classes will remain uncertain depending on the COVID-19 environment on each unit.
TDCJ workforce classes will continue as scheduled depending on the impact of the COVID-19 environment. Future TDCJ workforce class decisions will be made on an as needed basis.
- Faculty will be required to meet office hours for student discussion in a remote format.
- Student services and core college operations will continue functioning in a remote format. All buildings will remain closed to the public except for designated buildings on each campus. Each TVCC campus will make a determination which building will be open and how safety protocols will be met. If there is a question about an employee alternative work environment, please contact your supervisor or HR Director Janene Dotts.
- The Athens campus student housing will be open. Advanced cleaning protocols and social distancing guidelines will be in effect in all student housing facilities and students living in the residence halls will be prohibited from day or overnight visitors.
- The Athens Campus cafeteria will be open and meet all CDC safety protocols. Starbucks and alternative dining will be available at the Student Union Building.
- The Athens Campus bookstore will continue to operate in the remote format.
- Fall Learning Day, Faculty Retreat, and all other college meetings will either be held remotely or postponed until the spring semester.
- All athletics is moved from the fall semester to the spring semester. Limited practices and scrimmages may be held in the fall semester.
TVCC faculty and staff not feeling well, should immediately notify their supervisor, Dr. Helen Reid, or Janene Dotts.
The COVID-19 pandemic is creating a rapidly changing and uncertain environment. The duration of the COVID-19 pandemic remains unclear and the situation continues to evolve. However, please be assured that all decisions will be made with the primary focus on the safety and health of our faculty, staff, and students. Thank you for your patience and flexibility during this rapidly changing, unprecedented and challenging time. If you have any questions, please contact your AVP, Provost or Vice President.
Jerry King, Ed.D.
President
Trinity Valley Community College