Mark Howson, M.S.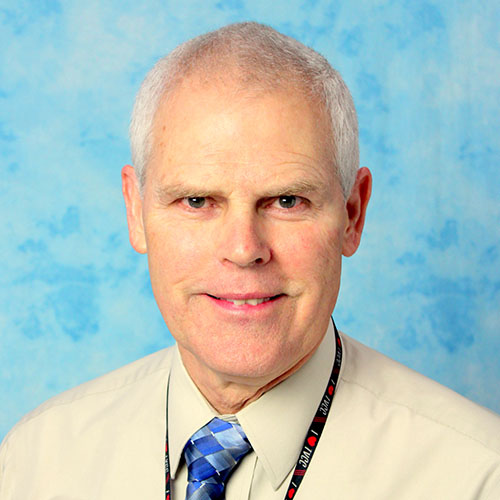 Mark Howson taught at Kemp High School for 28 years before joining the full-time staff of TVCC on the Terrell campus in 2018. He had been teaching Biology 2401 and 2402 as an adjunct professor on the TVCC Terrell campus starting in Spring Semester 2017. Before teaching at Kemp High School, he had taught six years at Trinidad High School, two years at Palmer High School, and three years at Hurley High School, in Hurley, Virginia.
While in secondary education he taught a wide variety of courses including chemistry, chemistry honors, physics, physics honors, environmental systems, anatomy and physiology, biology, biology honors, geology, meteorology, integrated physics and chemistry, physical science, computer math, algebra I, TVCC Biology 2401/2402, and TVCC Biology 1406/1407.
He earned his bachelor of science in interpretive work at Ohio State University in 1976. Eager to expand his educational knowledge and train for work as a college professor after his two sons finished their college education, he began his masters of education in biological science at Texas A&M University in 2008 at Commerce, Texas. He finished his degree in the spring of 2011 and graduated from Commerce in August of that year.
He was born in Sarasota, Florida, but has also lived in Okinawa, Guam, Maine, Ohio, Kentucky, Virginia, and Texas. He has traveled abroad extensively in his youth when his family decided to travel back to the United States from Guam by going west instead of the shorter route east. He has toured much of Japan, Thailand, India, Egypt, Israel, Jordan, Greece, Western Europe, and Great Britain. He has walked on the Acropolis, explored the Great Pyramid of Giza, visited the oracle at Dephi, touched the Thai Mahal, entered the tomb of Jesus, relived the events of World War II in Europe by finding the battlefields with his father, a veteran of the U.S. Army Engineers, and took an excursion into the Tower of London along with visits to hundreds of temples, churches, museums, and other places of history.
He has been married to his wife Roberta for the past 44 years. He and his wife have raised three children; two sons and a daughter. He and his wife enjoy gardening, traveling, canoeing, camping, and fishing.
Mr. Howson can be reached at mark.howson@tvcc.edu.