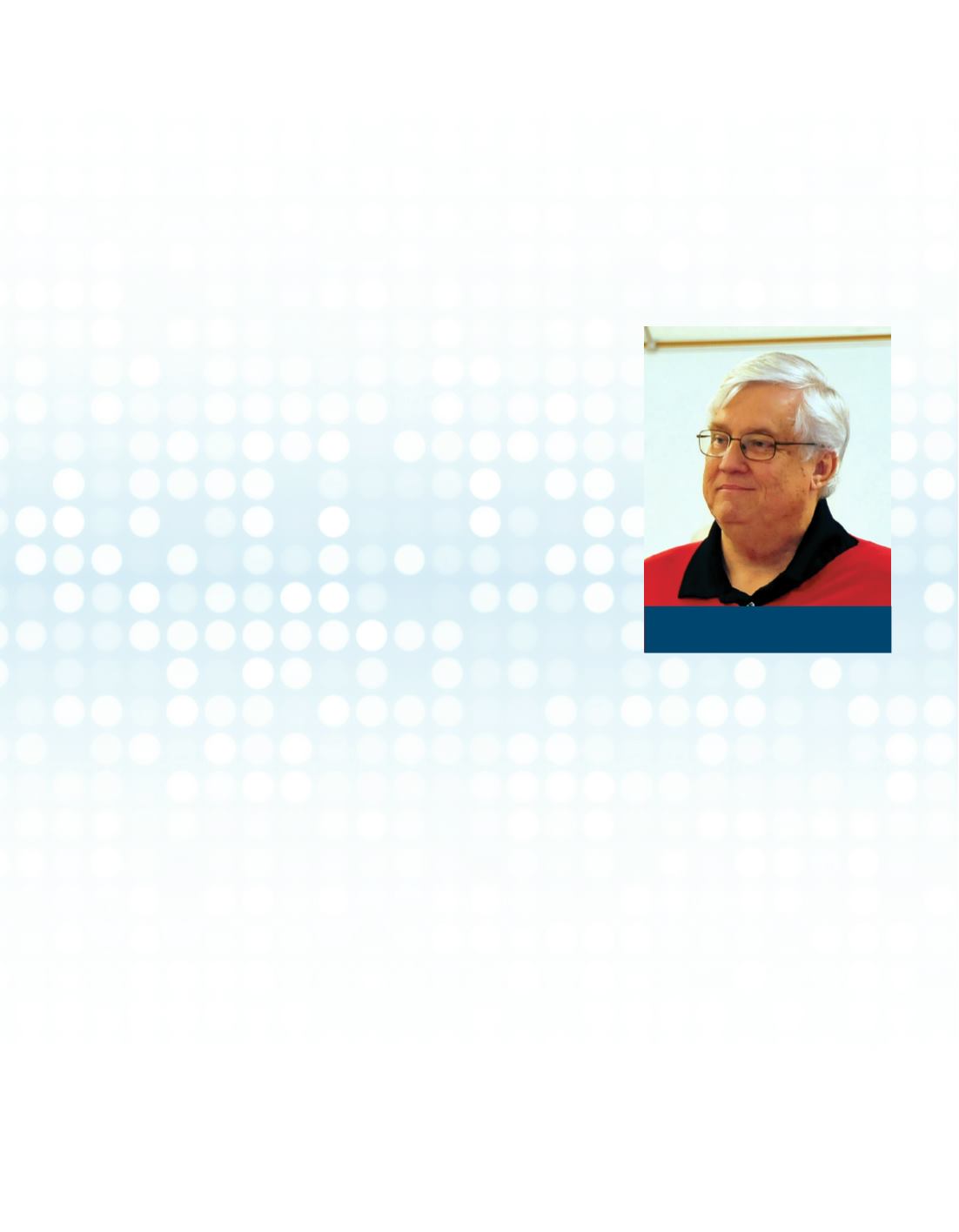 20
The Valley 2017
just interested in technology for the sake of technology, but in how
it related to teaching. This would serve the college and its faculty and
Abbott is a man of vision, and that vision began to shift and change
as new technology came on scene. The goal became to truly unite the
campuses through technology. It became about supporting learning
though technology. It was about standardizing procedures and
processes to create a sustainable system that would serve TVCC well
into the future. It was about growing and changing with the times.
As glorious as this may sound, it was a lot of work. Abbott spent
countless hours as he labored through research, acquired funding and
staff and checked and rechecked his ever-changing direction.
With Abbott at the helm, the College changed significantly in
a relatively short time. Between 1998 and 2007, he oversaw and
coordinated the installation of an underground fiber connecting the
buildings on each campus. In 1999, he collaborated with the director
of distance learning, Terry Spurlock, to launch WebCT, the first online
learning environment at TVCC. This would dramatically change the
face of learning at Trinity Valley. The first wireless network was created
shortly thereafter in 2000.
As the push for online learning grew, so too did IT Services. In 2007
Abbott and his staff created TVCC's first data center. Since then, it
has been a whirlwind of progress. Video conference rooms have been
installed at the four main campus locations allowing for remote classes
to local prisons, high schools and other campuses and locations. Smart
rooms have been built and implemented throughout TVCC. Now,
nearly every room in TVCC has smart room capabilities. Over time,
the surveillance system on campus has been added to and enhanced.
TVCC is the proud owner of an emergency notification system
(e2Campus and Alertus) that rivals that of four-year institutions. This
ensures that all staff, faculty and students are notified and made aware
of any emergencies or imperative information they need to safely
navigate our campuses and facilities. Always one step ahead, Abbott
worked with his staff to virtualize servers and implement SAN storage,
taking our systems to the next level.
Abbott and his crew also took over the deveopment and care of the
college's phone system, tying the campuses together to end long
distance charges between campuses. This saved the college a substantial
amount of money and ultimately helped to further unite the campuses.
Over these formative years, computers were being added in large and
sometimes overwhelming numbers. As more and more computers were
added, it became necessary to have a systematic method of naming and
replacing them. As with all projects, Abbott waded tirelessly through
massive amounts of research before working to create and implement a
naming scheme and replacement schedule to ensure that TVCC staff,
faculty and students are all using the most up-to-date technology.
Most recently, prior to his retirement, Abbott and IT Services
spearheaded the installation of indoor digital signage. Digital signage
is a wonderful tool to keep the staff, faculty and students up-to-date on
important pieces of information, news and happenings around campus.
A born tinkerer, Abbott didn't just oversee these projects, but was often
directly involved with them. What IT Services bloomed into came as
a direct result of his vision and hard work. He put down roots in the
college, in the people he worked with and hired. His accomplishments
are many, but if you asked him what his greatest accomplishment
was, he would almost certainly tell you it was the collection of staff
members he hired over the years.
"I can't take credit for everything. What I am proud of are the people
who came to work for me and the College. I think because of [them]
we have a very strong IT Department [and] I think that will serve the
college for years to come."
To this day, when IT Services has outside visitors, they are always
amazed at the sophistication of the systems in this small, East Texas
college. One of the reasons for this is the Director of Systems Support
Services, Alicia McLain, one of Mike's initial hires.
"Mike hired me away from Palestine campus as PC/LAN tech 14 years
ago and I never thought I would actually do more than that," McLain
said. But her responsibilities quickly grew. "Mike could see more in us
than we sometimes saw in ourselves and fed our strengths. Working for
him has been life changing for many of us."
get the class he needed to
TVCC that semester, " Packer said. "Once Mike heard of the student's
situation he graciously went out of his way to create and teach a single
class for [the] student. This didn't come with a paycheck and he had
nothing to gain from his actions. However, for the student, it set into
motion a life altering career. [I was that] student and would later come
Abbott always had a strong sense of the big picture, but he never let
that stand in the way of his interpersonal relationships. He was and is
considered a friend by many of the TVCC staff and faculty.
To IT Services, he is ground zero of IT. He saw a need within TVCC
and he filled that need, an attitude he passed on to his staff. Amongst
IT, he was a mentor and remains a good friend. He always fostered
growth and individual development in his staff. Though he began
modestly, he would end his career as the Vice President of a large
department he built from the ground up.
Abbott retired in December of 2015, marking the end of a 33-
year chapter in his life. In retirement, he has been promoted from
Vice President of IT Services to full-time Grandpa, Husband and
Hobbyist. He assures us that he is busier now than he has ever been
with traveling, tinkering with electronics, woodworking, loving on
grandkids and four-wheeling.
He continues to work part-time with TVCC and IT Services as we
forge ahead into the new and unknown territory of implementing
an ERP system. Ever a supporter of the college and the community,
Abbott will forever be a friend to Trinity Valley and its endeavors.