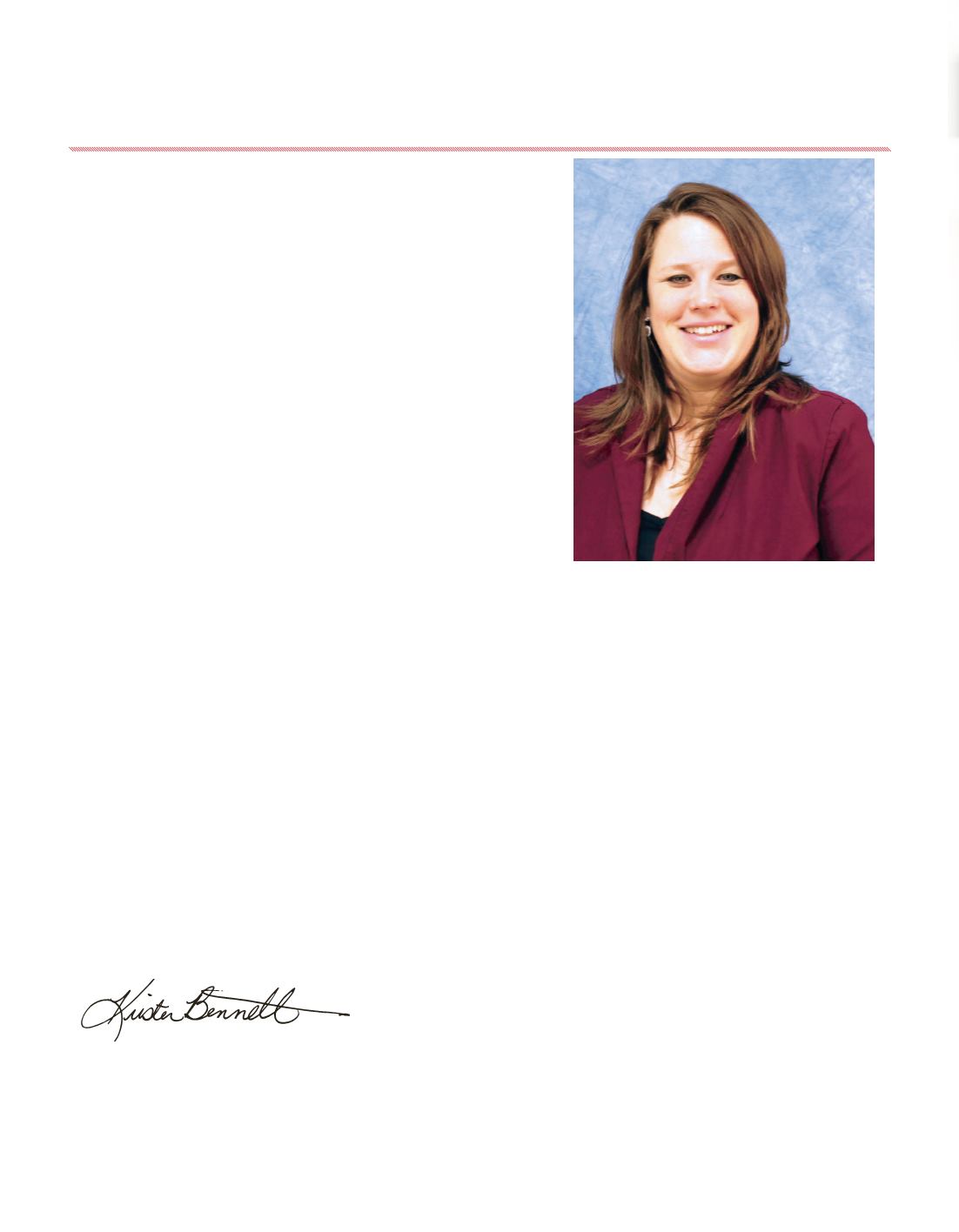 17
The Valley 2017
Dear Cardinal Alumni and Friends,
Since the first day I arrived on campus back on October 29, 2015 I knew
that TVCC was a special place. I could sense an energy and pride that
permeated throughout the organization from the moment I stepped on
Cardinal soil. A sense of joy and can-do attitude exuded from the staff,
faculty and students no matter whom I was introduced to during my tour
and this sense of Cardinal Pride has sustained itself with every supporter
and community member I have had the honor of meeting thus far. Moving
from rural Kentucky and the sweet rolling bluegrass hills with four seasons
to the blistering hot weather of Texas was going to be quite the culture
shock and adjustment for me and my family of seven. Or so I thought. After
working at TVCC in Athens for a year and a half now I can honestly say
that I feel at home and part of the Cardinal family community and could
not possibly see myself anywhere else.
It is because of this Cardinal Pride, dedication and very generous support
that the TVCC Foundation is able to provide so many scholarships for
students in need of a hand up to succeed! All of our cardinal supporters
know first-hand what an education can do to facilitate a young adult's
chances of success and often for generations.
Thank you to our generous donors who made contributions of time and
financial support to the TVCC Foundation in 2016 and thus far in 2017. We received the largest multimillion dollar planned
gift pledge in the history of the College from alumnus Nancy Perkins, nearly $700,000 from a private donor to provide
scholarships to non-traditional students and renovate our newly acquired armory into a campus fitness center and walking
trail, and over $450,000 in new scholarship funds and general donations.
Your support along the way has helped us build on past successes and has provided an excellent example of the kind of loyal
inclination that makes our entire alumni body special. Our aspiration is to harness all of this on an annual basis, which would
place TVCC's alumni participation rate far out in front of every other public community college's alumni annual giving
participation rate in the nation. Stay tuned for our new alumni association program, Hall of Distinguished Alumni event,
newsletter and alumni/networking lunches around Texas and more—So many more ways to connect to your cardinal family!
Charitable support from alumni and good friends of TVCC is essential to providing the financial strength that TVCC
will need moving into the future. TVCC has become one of the strongest and most competitive community colleges in the
nation and that is not an accident. Strong support and active interest from alumni and good friends is KEY to sustaining that
strength. Your gifts, regardless of their size, are very important to us. Please continue to support TVCC!
Check our our new website at tvcc.edu. Stay tuned, stay in touch, and thank you for supporting TVCC- Go Cardinals!
Vice President for Institutional Advancement/
Executive Director of the TVCC Foundation
Letter from the Office of Advancement
Vice President for Institutional Advancement/Executive Director of the TVCC Foundation