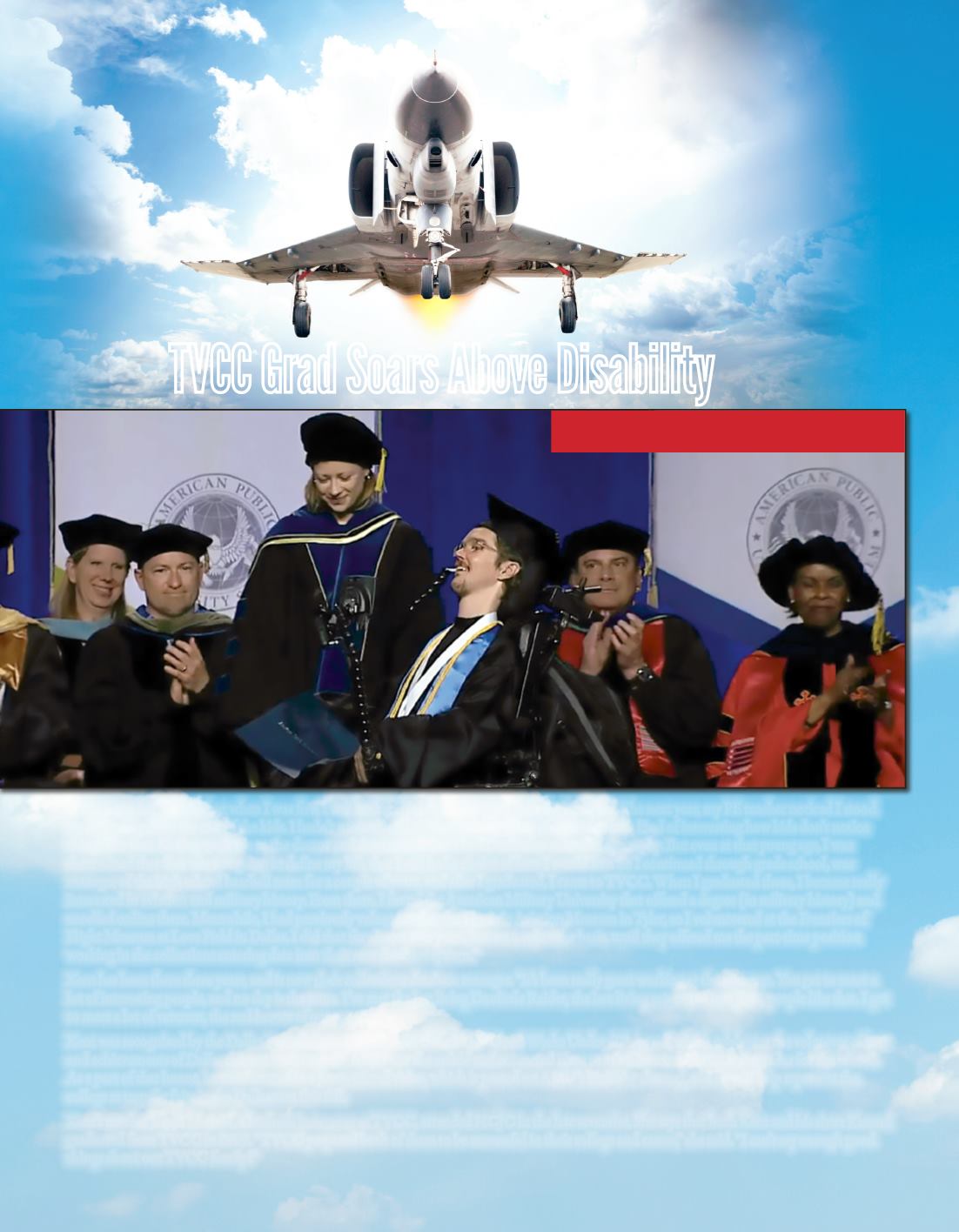 11
The Valley 2017
TVCC Grad Soars Above Disability
"I was just a normal kid, but when I was five, I was having trouble climbing a tree in the backyard. The next year, my PE teacher noticed I stood
up differently from the rest of the kids. I hadn't noticed, and neither had any of my classmates; that's kind of interesting how kids don't notice
things like that. So they took me to the doctor and determined that I had Duchenne muscular dystrophy. But even at that young age, I was
determined that that was not going to define my life, that I still had a choice of how I would live. So I continued through grade school, was
manager of the high school baseball team for a couple of years, and after I graduated, I came to TVCC. When I graduated there, I became really
interested in aviation and military history. From there, I found the American Military University that offered a degree (in military history) and
enrolled online there. Meanwhile, I had previously volunteered at the Historic Aviation Museum in Tyler, so I volunteered at the Frontiers of
Flight Museum at Love Field in Dallas. I did that for almost two years, just on a volunteer basis, until they offered me the part-time position
working in the collections entering data into their new database system."
Kent has been there three years, and is now their collections database manager. "It's been really great working at the museum. You get to meet a
lot of interesting people, and no day is the same. I've met the last living Doolittle Raider, the last living veteran of Iwo Jima, people like that. I get
to meet a lot of veterans, the real heroes of our country."
Kent was recognized by the Dallas Foundation as a finalist for their 2014 "Good Works Under 40" Award, which celebrates the volunteer efforts
and achievements of Dallas citizens under age 40. AMU saw the article and contacted Kent to ask if he would be an ambassador for the school.
As a part of that honor, he was featured in a promotional video, which is posted on AMU's YouTube channel, and he will help represent the
college at transfer fairs in the Dallas area this fall.
Kent's mother Kippi Harraid, a business instructor at TVCC, attended HCJC in the late seventies. She says that both Kent and his sister Kammi
graduated from TVCC in 2009. "TVCC prepared both of them to be successful in their college and career," she said. "I can't say enough good
things about our TVCC family!"
Kent Graduating from American Military University