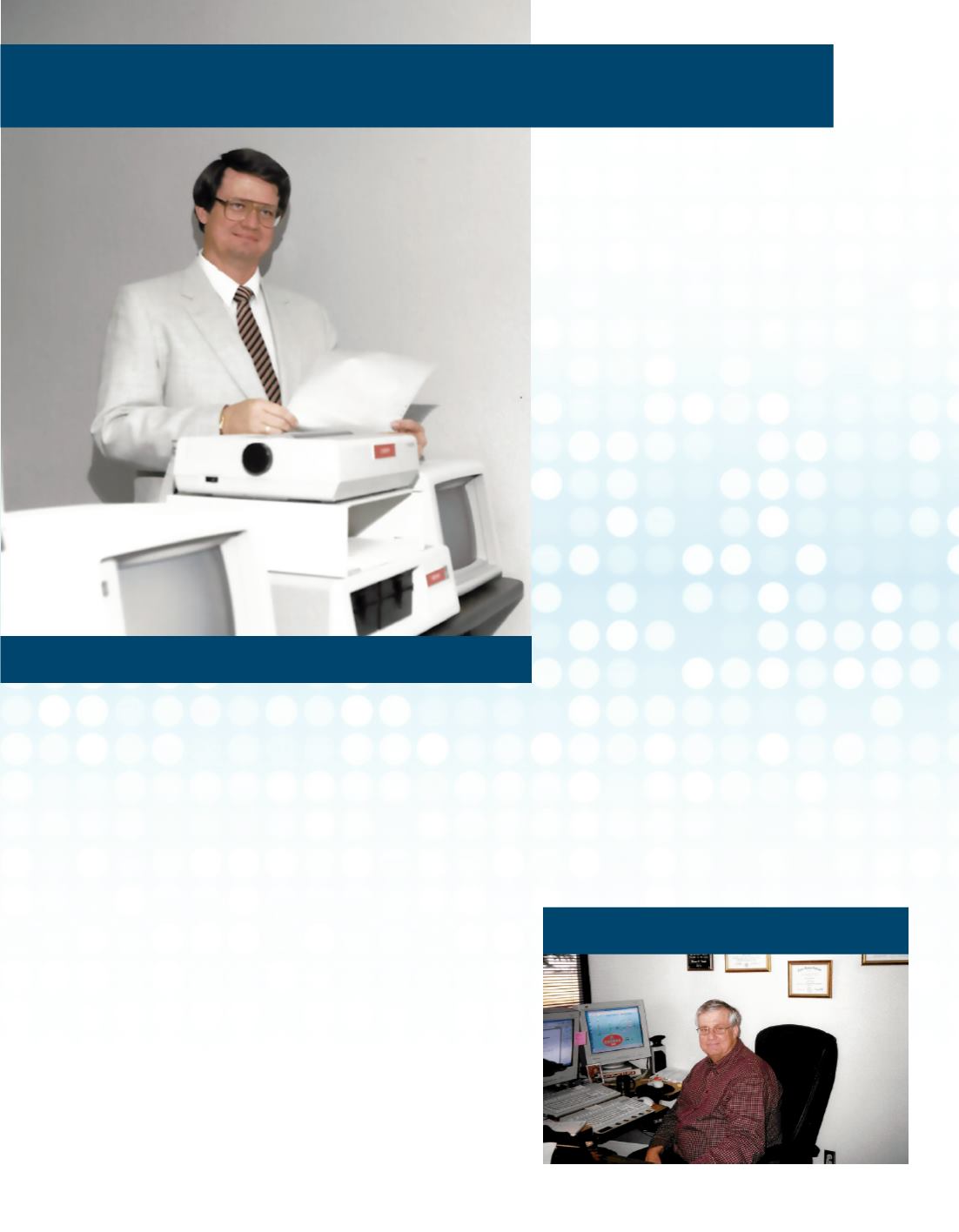 19
The Valley 2017
We never really know where our paths will take us. So was
the case with Mike Abbott. Little did he know that in the
next 33 years, he would transition many times, build a
department from the ground up, incorporate others into
that department and set the tone for moving forward into
Abbott came to work for TVCC in 1983 as an instructor.
He taught Computer Science and all courses relating to
computers that the college offered at that time. He was
incredibly proud of the time he spent teaching. It was
something he truly enjoyed.
The story of the TVCC IT department begins in Terrell
where Abbott taught from 1983 to 1998.
Abbott, who holds master's degrees in computer science
and geology, as well a bachelor's degree in biology, was and
is a man of many talents and interests.
"I'm a real Renaissance Man" he could often be heard
joking. Computer Science began as just one of those
"It was a hobby," he said, "I decided to get a second master's
degree after I found interest in computer science."
While he was instructing, he also worked as a consultant
to several firms and companies outside of TVCC. It was
during this time that he began to realize the importance
of networks. After having a series of conversations with
Terrell's Provost, Charles Gann, Abbott began taking the
first tentative steps toward getting TVCC online.
TVCC's first Local Area Network was connected in 1994. It was created strictly to share a printer. Between 1995-96, Abbott registered
TVCC's very first domain name: tvcc.cc.tx.us., now tvcc.edu.
"I won it," Abott chuckles over the phone. "There were two of us after the same domain name, us and Treasure Valley Community College in
Oregon. I guess they put our names in a hat and pulled us out. It's the only thing I have ever won."
The first email addresses at TVCC were established in1996, forever changing the way we do business at The Valley. The first one created was, of
. In fact, this 20-year-old address is still valid and in use today.
The emails were created alongside the first fledgling website. It was a far cry from the flashy, informative, user friendly sites we see today.
During these first few years, Abbott was busily laying the foundation for a
technology boom that would impact not only TVCC, but the world and how
people connected to it. Where teaching was important to Abbott, he knew that
if TVCC didn't move forward with technology it would be left behind.
In September 1998 Abbott accepted the job of Network Administrator for
TVCC. He was the first and only member of what would eventually become IT
Services. To get started, he wrote TIFs grants to help with funding this enormous
A few months later, in December, all campuses were connected by T1 circuits.
Shortly thereafter, Abbott began pricing and purchasing TVCC's first public
computers. By spring of 1999, computers were installed in all TVCC libraries
and were connected to the internet.
Abbott possessed a unique duality in that he was both an "IT guy" and an
instructor. What this ultimately meant for the college was that Abbott wasn't
Building IT: The Legacy of Mike Abbott