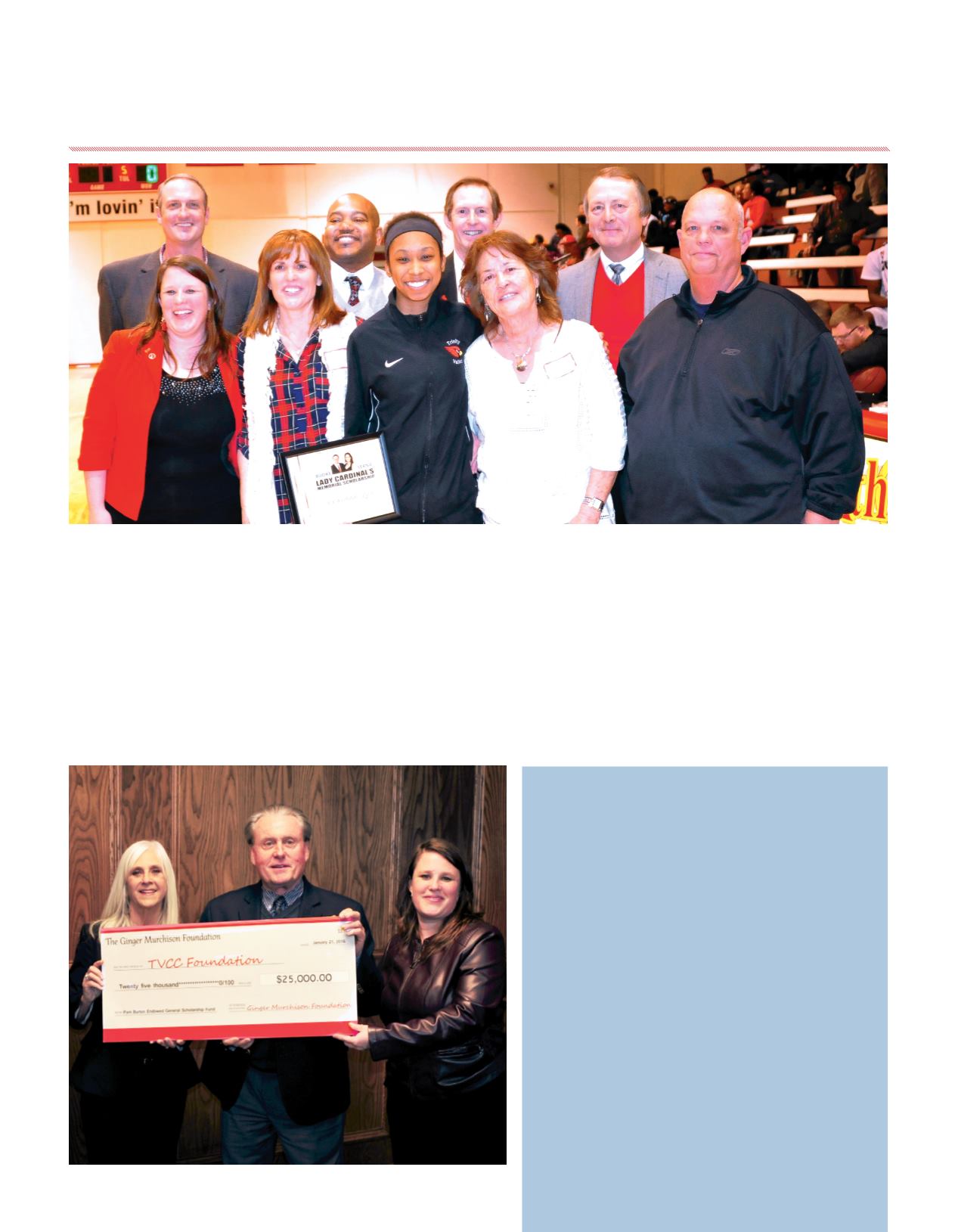 29
The Valley 2017
More scholarships were established this past year. Here are highlights from two:
Above Christalah Lyons (center) receives the first Kurt Budke and Miranda Serna Lady Cardinal Scholarship.
Budke's wife, Shelley, and Serna's mother, Nettie Herrera (left and right of center respectively) were on hand for the
presentation. The scholarship is presented to a member of the team "who exhibits exceptional character, commitment
and dedication to the team in all phases." Also pictured (front row, L-R) are TVCC Vice President of Institutional
Advancement Kristen Bennett, John Warren, (back row) TVCC Athletic Director Brad Smiley, TVCC women's
basketball Head Coach Gerald Ewing, former TVCC President Dr. Glendon Forgey and TVCC Foundation Board
Pictured below are former Athens City Administrator Pam Burton, TVCC President Jerry King and TVCC Vice
President of Institutional Advancement Kristen Bennett with a check establishing a scholarship in Burton's name.
Nearly $250,000 in scholarships
added last year...and growing
Beryl Bell Memorial Scholarship
Dr. John & Ginger Morton Scholarship
Marjorie King Cochron Memorial Scholarship
Linda Williams Daniel Scholarship
Henderson County Arts Council Scholarship
Non-Traditional Cain Scholarship
Alvis & Patricia Montrose Memorial Nursing Scholarship
Lena' Pettiet Memorial Nursing Scholarship
C.J. Russell Athletic Memorial Scholarship
Lucy Strom-Miller Cardinal Cheer Scholarship
Emergency Relief Scholarship Fund
Murchison Dual Credit Scholarship
Pam Burton Endowed General Scholarship
Kurt Budke & Miranda Serna Lady Cards Scholarship
Bob Baccarini Athletic Memorial Scholarship