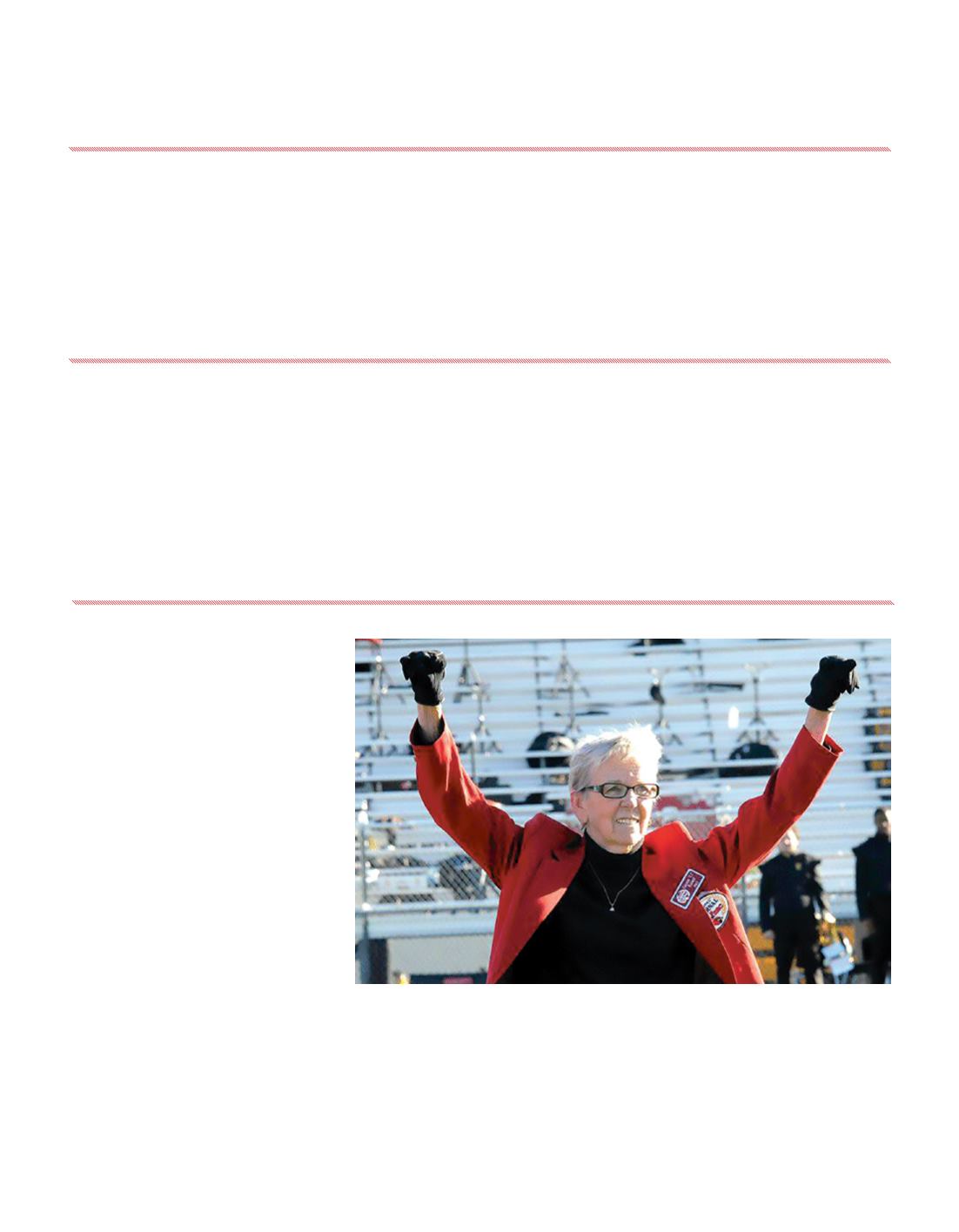 32
The Valley 2017
We remember a number of HCJC/TVCC former students, faculty and staff who passed away in recent years.
Farewell to a Legend
Connie Jo Russell was born in Dallas on
September 7, 1940 to parents Joseph and
Chelsea (Newton) Russell and passed away
on July 22, 2016 at the age of 75. Connie was
known as "CJ" to her family and friends. She
graduated fromW.W. Samuel High School in
Dallas in 1959 and earned both her bachelor's
and master's degrees in Kinesiology from East
Texas State College in Commerce. Connie
loved to travel and enjoyed playing golf.
"She loved HCJC/TVCC and it was
shown through her dedication, support, and
contributions to the College and its students,"
said President Dr. Jerry King. "Her legacy will
live on forever in the cheer world, TVCC and
Under her direction, the TVCC Cheer team
won five NCAA National Championships
and were selected to participate in the opening ceremonies of the 1996 Olympics in Atlanta, GA. She was a champion for the TVCC athletics
program, having revived the women's basketball team, mentored thousands of students, and was one of the first group inducted into the TVCC
Hall of Fame for her accomplishments.
She also coached the Paris Junior College Cheer Squad, the USA Spirit Team and served as a judge both nationally and internationally for cheer
competitions. Connie was a fun and loving person that everyone enjoyed being around. She will be missed immensely by those who knew and
Faculty and staff retiring 2015-16
Retirements included Vice President of IT Services Mike Abbott, Palestine Campus Building Services Manager W.T. Arthur, Palestine Nursing
Instructor Linda Bland, Math Professor Mike Carlisle, Cosmetology Instructor Janet Cotton, Horticulture Instructor Phillip Dorman, Payroll
Coordinator Kathy Grams, Student Financial Aid Director Julie Lively, Psychology Professor Cindy Moseley, Workforce Education Counselor
Dennis Nolley, Health Science Center Librarian Glada Norris, Nursing Professor Leslee Prater, Computer Science Professor Patricia Salinas,
Director of Testing Gail St. Clair and TDCJ instructor Ron Walker.
Faculty and staff retiring 2016-17
Retirements included Athletic Department Coordinator Lucy Strom, Administrative Assistant Kim Burkham, Social Science professor
Marianne Leeper, Director of Student Success and Pathways Shelia Jones, ADN Instructor Karen Neighbors, Career Center Coordinator and
Academic Advisor Iris Reeves, Cosmetology Instructor Ann "Bo" Cargil, Palestine Administrative Assistants Laura Coleman and Gail Brunson,
Assessment & Research Analyst Bonnie Dill, Professors Charles McDonald and Elbert Richards, Director of Testing Gail Bayless and Terrell
Counselor/Assistant to the Provost LuAnne Bourland.