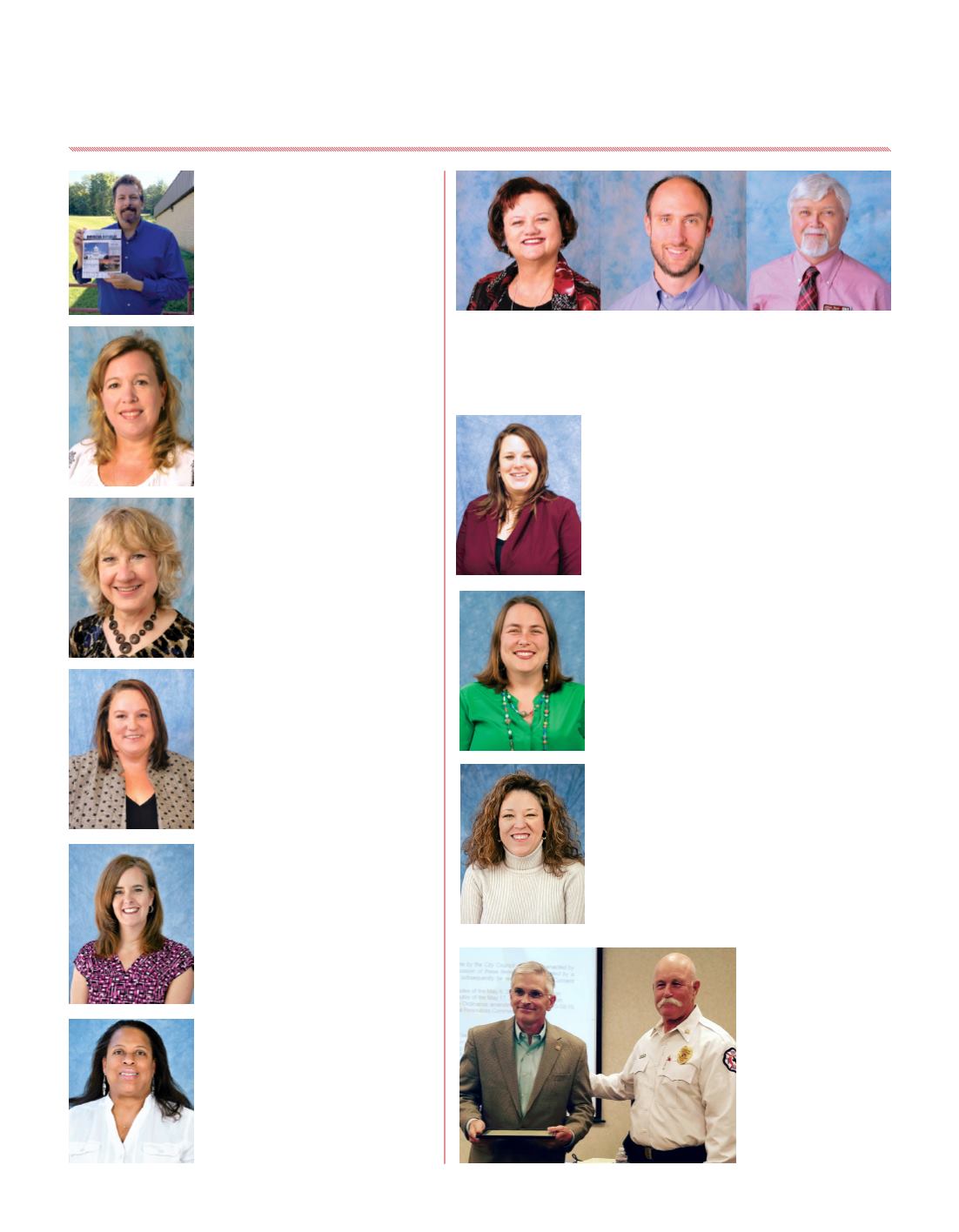 31
The Valley 2017
TVCC Faculty and Staff achieved greatly and earned accolades on several fronts.
Mike Young
Palestine history and government
instructor Mike Young had his
Dr. Christi Doherty
Nursing professor Dr. Christi Doherty
co-authored an article in
Mary Tidwell
Music instructor Mary Tidwell was a
featured guest pianist at Tabor College
Kristin Spizzirri
Terrell campus math/science professor
and curriculum director Kristin
Spizzirri was promoted to Associate
Vice President of Academic Affairs.
Terrell English professor Dr. Debra Airheart, Athens English professor
Dr. Brandon Barnes and English/Humanities professor James Reed were
presenters at the Conference of College Composition and Communication
at the University of Oregon.
Kristen O. Bennett
Vice President of Institutional Advancement
Kristen O. Bennett was selected to serve on the
Federal Funding Task Force of the Council for
Advancement and Support of Education (CASE)
and visited with federal funding agency program
officers in Washington, D.C. She was also a featured
presenter at the Texas Association of Community
College Foundations annual conference in Austin.
Darla Mansfield
Cardettes director Darla Mansfield
was honored with the Lifetime
Achievement Award at the Texas
Dance Educators Association annual
Audrey Hawkins
Director of School Relations Audrey
Hawkins was appointed to serve on
the National Advisory Council for
the National Conference on Race
and Ethnicity in America Higher
Cortney Curran
Student Government Association advisor Cortney
Curran received the prestigious Texas Legend
Award from the Texas Junior College Student
Kelley Townsend
Director of Dual Credit Kelley Townsend was
a co-presenter at the North Texas Community
College Consortium Dual Credit Conference.
Dr. Jay Kinzer
fire in his neighborhood.