TVCC Department of Music
Music Education. Music Performance. Music Therapy.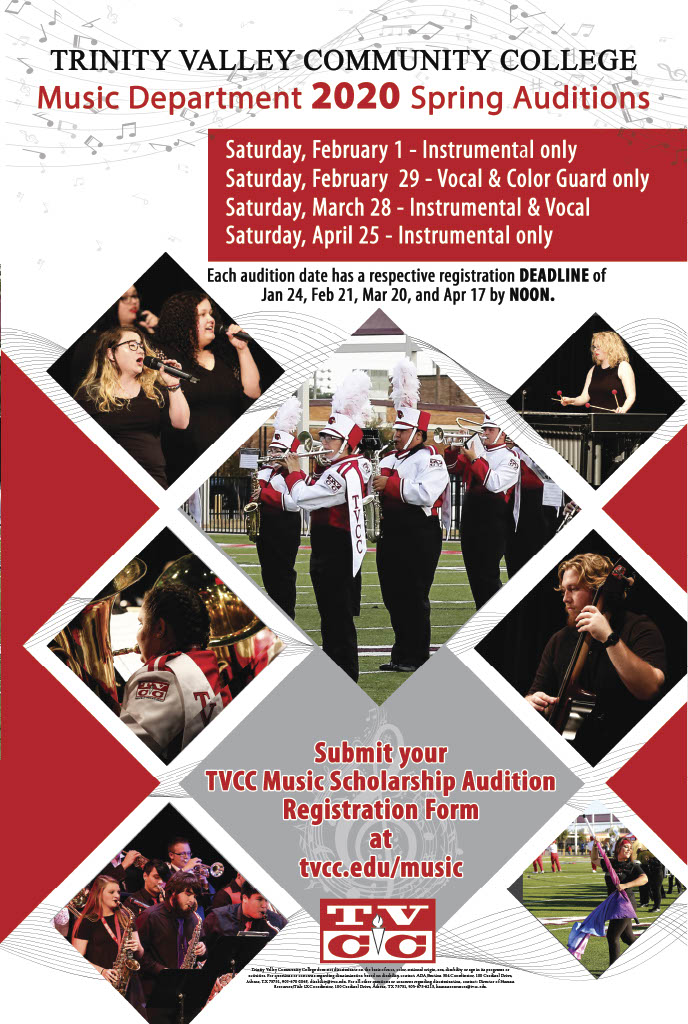 ---
About our Program:
Trinity Valley Community College offers an Associate of Arts degree with a Field of Study in Music. Students may pursue either an associate degree focusing on music or may take elective music lessons without pursuing a music-related degree. Music studies at TVCC offer students the opportunity to receive individual instruction in all major performance areas. Music students are afforded numerous performance opportunities within the scope of our music ensembles: Cardinal Singers, Chamber Singers, Encore, Cardinal Regiment Marching Band, Symphonic Band, Pep Band, Woodwind Ensemble, Brass Ensemble, Percussion Ensemble, and Jazz Ensemble.
Our Vision:
Here at TVCC, we aim to provide a dynamic, diverse, and comprehensive learning environment for both future professionals and the broader college community, in which each student's fullest musical potential may be achieved. Our faculty aim to promote the highest standards of excellence and generate significant professional impact in all areas of scholarly and artistic activity. We cultivate new music, interdisciplinary collaborations, and new approaches to scholarship, performance, and education, while affirming the fundamental value of music in educational settings and in society at large, going beyond advocacy to enhance the musical life of the broader community. Set within a caring and nurturing environment, the TVCC Music Department provides learning-centered instruction, inspiring students to develop their creativity and artistry, while reaching out to the community by providing a multitude of cultural opportunities.
Student Success:
Our students have gone on to pursue successful careers in music with acclaimed music programs across the country, including Berklee College of Music, University of North Texas, Northwestern State University, Sam Houston State University, A&M Commerce, Tarleton State University, Stephen F. Austin University, University of North Texas, University of Texas, and Louisiana State University.
---
Find out more about our Music Programs!
---
Submit your TVCC Music Scholarship Audition Registration Form

HERE

---
Want more information? Contact us: