TVCC - Terrell Financial Aid Office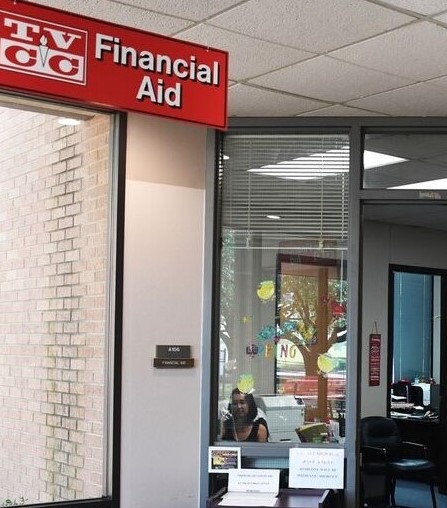 To help you better understand our financial aid process, please review the following information:
FAFSA: (Free Application for Federal Student Aid)
The application is required for the Federal Pell Grant, student loans and other federal and state programs available at eligible colleges, universities, trade/vocational schools etc.

FAFSA is completed online

each year

(on or after October 1st). Website: https://fafsa.ed.gov

Once submitted (online) the FAFSA is processed and the school(s) listed on the application will receive an electronic report in about 5 to 10 business days.

Student will receive an

Award Letter

after the school processes the aid request and sets funding for the semester(s). Students must have an award letter to have funds for school expenses.
TVCC FAFSA Processing and Procedures: After submitting your application, you will receive an email from FAFSA and TVCC will mail a postcard to the address listed on the FAFSA application. Contact TVCC financial aid office for documentation required.
All TVCC documentation

must be submitted before aid requests can be processed & funds awarded (incomplete documentation will not be processed and creates delays and/or problems).


TVCC Priority Processing Deadline for documentation

:
Fall........................... July 1
Spring...................... November 1
Summer 1................ April 1
Summer 2................ June 1
Submit documents to the campus you will attend to avoid problems and delays in processing.

Important:
TVCC awards funds each award year (July 1 - June 30).

The TVCC Award Letter lists the semester(s) and award amount. Only the aid listed on the award letter is available for payment toward tuition, fees, books, etc.

Financial aid

school year begins each JULY 1

and will require new documentation and a new award letter.

A special form is used to request summer funding. The form will be available after the summer schedule appears on our website.

TVCC Terrell Campus schedules someone to be available during the semester to assist you with the FAFSA online process, including:
Creating FSA ID & passwords,

Completing the FAFSA online,

Extended hours available, call for hours and an appointment.
SCHOLARSHIPS:
All scholarships offered by TVCC are listed in our catalog with contact information, deadlines, etc. (also available online through the TVCC website:

www.tvcc.edu

).

Application deadline is April 15.

Employers and local organizations such as Lions Club, Rotary Club, Chamber of Commerce, etc. could also be sources of scholarship funding.

Contact the financial aid office with outside scholarships, payment vouchers, state exemptions or other awards.
VA & Military: The financial aid office in Terrell can also assist in forwarding VA paperwork to the veteran's office in Athens.
For more INFORMATION, visit our TVCC FINANCIAL AID webpage.