TVCC and Texas Trust Hold Signing Ceremony for Future Scholarships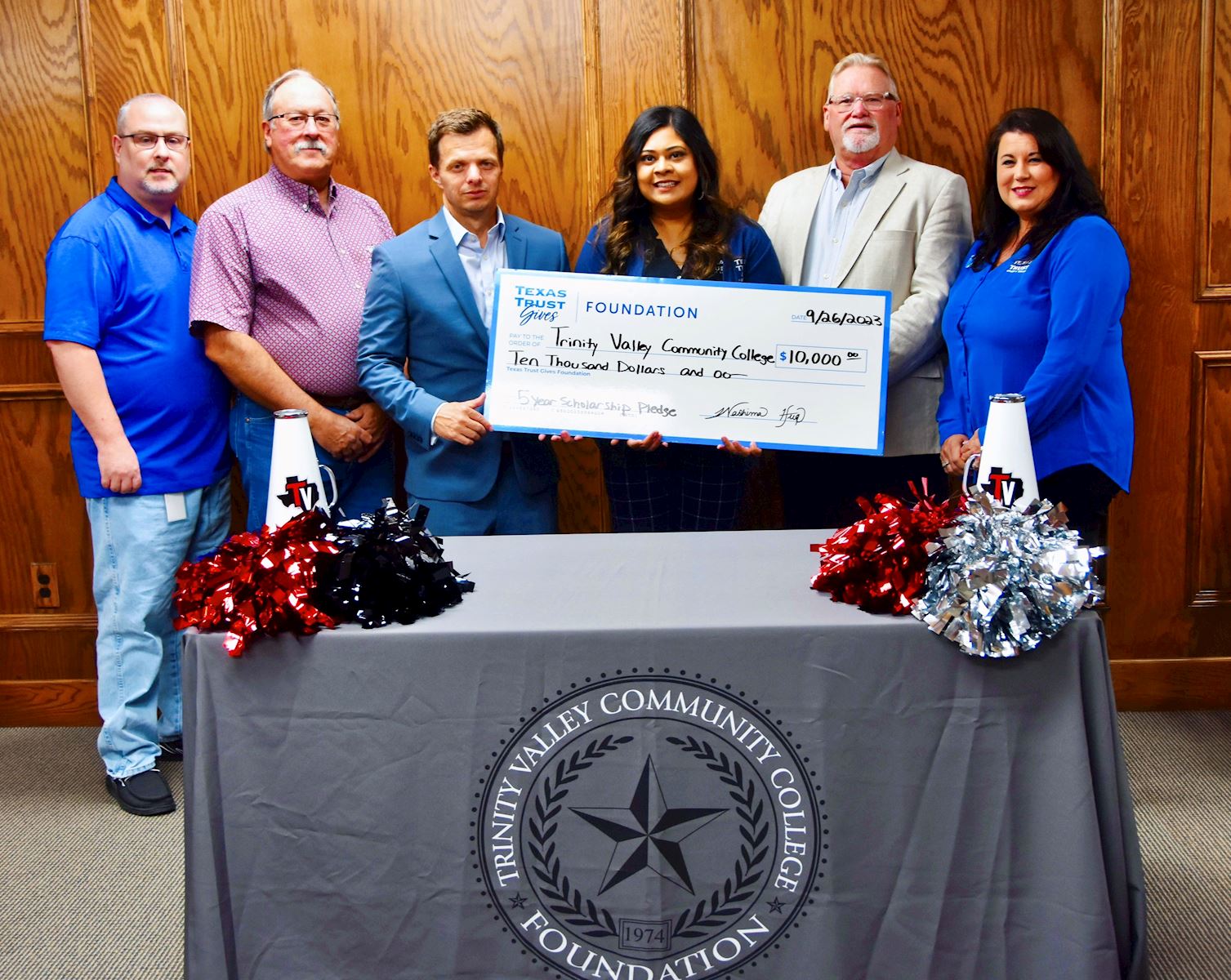 ATHENS and ARLINGTON, Texas – Nov. 1, 2023 – Committed to building brighter financial futures, Texas Trust Gives Foundation has partnered with Trinity Valley Community College (TVCC) to offer two $5,000 scholarships over a five-year term.
Texas Trust Gives was established in 2019 as the charitable arm of Texas Trust Credit Union, a full-service financial institution. The mission for Texas Trust Gives is to invest in local communities and build brighter financial futures carried out by giving back through scholarships, grants, and employee volunteerism. Earlier this year, the foundation awarded $75,000 in grants to seven school districts, including Athens Independent School District.
By creating partnerships with institutions like TVCC and Athens ISD, Texas Trust Gives plans to grow its footprint and collaborate and become involved with other organizations in the Athens community.
"It is incredible to have the opportunity to collaborate with the Texas Trust Gives Foundation," TVCC President Dr. Jason Morrison said. "It is all about coming together and investing in our students, providing TVCC students with opportunities to seek and complete an education while reducing the financial strain in their lives."
Each year, the Texas Trust Credit Union Scholarship, will be available for one undergraduate student in liberal arts and one welding major student in the certificate program. Recognizing the need for workforce programs like welding in the area, Texas Trust Gives wanted to also include a scholarship for those students choosing that career path.
According to the U.S. Bureau of Labor Statistics, more than 43,000 new welding jobs will be added yearly through 2029. Skilled welders are in demand in the aerospace, construction, agriculture, oil and gas, and manufacturing industries.
To be eligible for these scholarships, prospective students must maintain full-time enrollment at TVCC, enroll as either a liberal arts major or welding major, maintain a 3.0 grade point average, and be a current resident of one of Texas Trust's service areas, which includes Athens.
"TVCC and Texas Trust Gives believe in contributing to student success!" Morrison said.
"Through the partnership with TVCC we are able to support members in east Texas served through our Athens branch," said Jim Minge, CEO of Texas Trust Credit Union. "Students in the welding program have the same need for financial assistance as other students.We hope this helps pave their way for a successful profession and encourages more skilled welders in the workforce."
The first scholarships from the Texas Trust Gives Foundation will be awarded to TVCC students in fall 2024.
About TVCC
Trinity Valley Community College is a community college that expands on five different campuses including Athens, Kaufman, Terrell, Terrell – Health Science Center, and Palestine. The mission of TVCC is to transform the lives through affordable and accessible education. Learn more about TVCC at tvcc.edu.
About Texas Trust Gives Foundation
The Texas Trust Gives Foundation is a 501(c)(3) nonprofit dedicated to touching hearts and changing lives. It is the charitable arm for Texas Trust Credit Union, a $2 billion financial institution. The foundation provides scholarships to college students, awards charitable grants, and organizes volunteer efforts through the Community Unity Team for local community events.