Summer Graduation Awards 153 Degrees, Certificates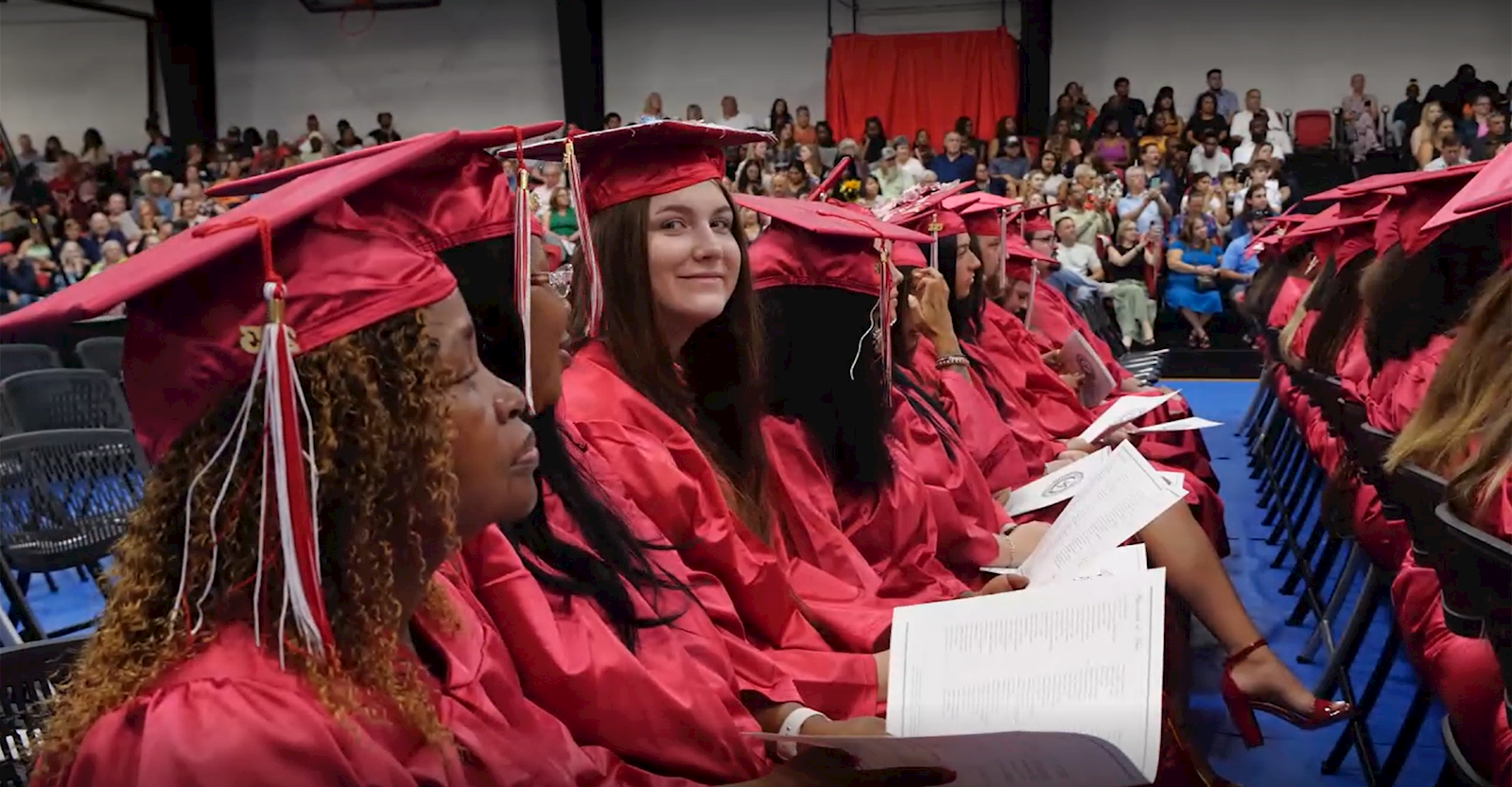 Trinity Valley Community College held Summer Graduation Commencement at the Cardinal Gymnasium on the TVCC-Athens Campus on Friday, Aug. 11, conferring associate degrees or Certificates of Completion to 153 graduates.
Listed alphabetically by last name, the summer 2023 graduating class is as follows. The three stars are for highest honors, two stars are for high honors and one star is graduating with honors.
Sergio Aguilar, Terrell
Skyler M Ash, Kemp
Sabrina McKenzie Hardcastle, Chandler
Amanda Ranee Banks, Kilgore
Danielle D Turner, Canton
Nyah Alana Barron, Athens
Devon Wayne Bloodworth, Mineola **
Kelly Sharee Brignon, Corsicana **
Joshua Nicholas Briones, Harlingen
Carley-Anne C. Carleton, Palestine
Alma Rosa Carreno, Wills Point *
Brisa Nohemi Carrillo, Terrell **
Kaylie Alexa Castaneda, Forney
Guadalupe Castillo, Marshall **
Alexis Lissette Castro, Forney
Javier P Cazares, Marsahll
Hayden Parker Chamberlain, Lewisville
Mandy K Coleman, Palestine **
Chloe C Collins, Palestine
Kasey M Colunga, Mabank
James B Coston, Seven Points *
Paige Nolen Courtney, Kaufman
Bailee B Crain, Eustace
Dora Cruz-Martinez, Palestine
Collin Matthew Dawson, Palestine **
Victoria N Deal, Combine
Brooke Ashton Delbert, Terrell
Nicholas R Dillon, Canton
Brianna Renee Divin, Palestine
Allyson Rebecca Dowell, Malakoff
Amy Duenez, Terrell *
Alexus Mikayla Ebey, Kaufman *
Arthur Elias, Palestine
Brylea Layne Ervin, Wichita Falls
Alexandra Lixbeth Escobedo, Terrell *
Deana Jenae Evans, Canton *
Stephanie M Farias, Mesquite
Andy Garcia, Terrell
Karana T Garrett, Forney
Kaylee Nicole Gault, Mabank
Esmeralda Gonzales, Palestine *
Jennifer Torres, Big Spring
Alex Cameron Gonzalez, Kemp **
Kaden Daniel Gonzalez, Forney *
Andrea Guerra, Kaufman
Thomas A Hanna, Heartland
Hannah Harp, Rockwall
Elizabeth Leigh Harris, Terrell *
Madden White Haynes, Seagoville
Justin Daniel Haynie, Mabank ***
Shelby Lin Henderson, Scurry **
Isaiah Terrel Hicks, Forney
Shelby Lauren Hill, Point *
Landry Hipp, Eustace *
Caleb Leslie Hodges, Athens *
Felicia Paige Holcomb, Elkhart
Corbin J Holland, Canton
Hannah Grace Holmes, Palestine
Laura Marie Horton, Forney
Kaylee Brooke Housewright, Wills Point
Ta'neacha Larhea Hubbard, Kaufman
Brooklyn Leigh Irby, Crandall
Joshua Blu Jenkins, Chandler
Makayla Fayth Johnson, Palestine
Lyndia C Johnson, Montalba
Destinie Jewel-Nicole Huckabee, Tool
Tori Jones, Heartland *
Amanda Kincade, Palestine
Tatyanna Marie King, Terrell
Grace Knowles, Athens **
Gabrielle Nicole Lawyer, Athens
Nathan Nash Legagnoux, Athens *
Paige Morgan Lewis, Tool **
Itzel Lozano, Kaufman
Brayden Allen Lawrence Lundy, Mabank
Judith Kemunto MacHora, Forney *
Charlie Jordan Martin, Murchison
Amanda D May, Kaufman
Katelyn Nichole Kyle, Mexia
Crystal M McGary, Terrell
Stacy Dyan Middleton, Palestine
Austin A Miles, Crandall
Pedro Andres Montes, Kaufman *
John Thomas Nash IV, Crandall
Brock W Nellor, Mount Vernon
Michael B Newberry, Canton *
Emmanuella Owusu Nipaah, Ennis *
Ruby L Olavarria, Athens
Brandon Diego Perez, Heartland
Eva Noelia Pineda, Terrell *
Felix A. Pinto, California, MD **
Ariadna I Rangel, Palestine
Newton L Reeves, Athens
Jessica Renee Rhodes, Athens
Robert T Richardson, Athens
Leslie D Rivers, Kaufman
Serena Nicole Rodriguez, Quinlan
Eliyana Janielle Romero, Livingston
Jacqueline Sanchez, Terrell
Maria Carmen Sanchez, Kaufman
Sierra Alyse Sanders, Fairfield
Selena Sandoval, Fate *
Boaduwaa A Sarpong, Forney
Mariam M Sebilla, Terrell
Meagan S Smith, Terrell
Gracie Standridge, Canton *
Amanda Rene' Smith-Stewart, Crandall
Aaron B Stiles, Kaufman
Natalie N Tavera, Rockwall
Max Jeffrey Terry, Kaufman
Tiffany Alexis Thompson, Scurry
Lauren D Thompson, Trinidad
Jasmine Torres, Terrell
Hannah Elizabeth Wade, Crandall *
Cearra M Warren, Malakoff *
Katy Elisabeth Webb, Buffalo
Kenley Wellman, Malakoff
Allison Paige Williams, Athens
Kameron Odell Woods, Kemp
Christina L Wright, Terrell
Hannah Sanaa Wright, Dallas
Tucker M Yarbrough, Fulshear
Alina Bridgette Youngblood, Plano
Tressie K Belyeu, Athens
Esmeralda Botello, Jacksonville
Alexia Nicole Carrillo, Rockwall
Dustin D. L. Carter, Athens
Janet Castaneda Castillo, Crandall
Alizya Marlene Cephus, Athens
Laura Chandler, Canton
Jaylon O'Brien Cook, Chandler
Kaylee D Edwards, Athens
Julisa Figueroa, Palestine
Sandra R Galvez, Tennessee Colony
Vanessa E Garcia, Palestine
Robert Michael Haney, Chandler
Raina A Hanzik, Oakwood
Trista A Hill, Palestine
Jason Hayden Jenkins, Gun Barrel City
Tina McDonald, Gun Barrel City
Karisma McKinnon, Terrell
Benito Medina, Palestine
Joyce K Okemwa, Palestine
Rebecca O Olukanni, Palestine
Laura Pena, Athens
Luke Christian Reese, Athens
Kamdyn E Ritchie, Malakoff
Oluwaseun V Salami, Palestine
Maggie M Sheffield, Palestine
Savanna L Stegall, Canton
Cassidy Y Teems, Palestine
Martha Leticia Valencia, Terrell
Charles Allen White Jr, Palestine
Alexis Lynne Willoughby, Greenville