TVCC PTK Iota Alpha Chapter takes home awards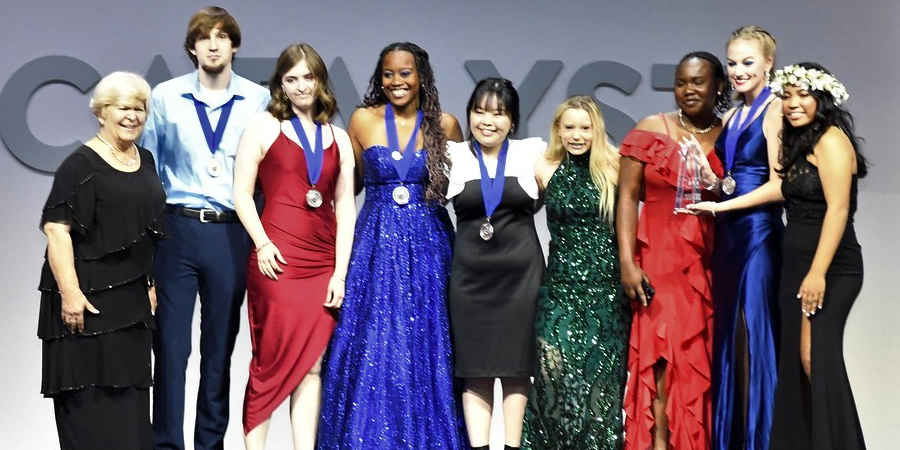 Several members of the Iota Alpha chapter of Phi Theta Kappa Honor Society win awards at national conference
Members of TVCC's Iota Alpha Chapter of Phi Theta Kappa Honor Society won several individual and chapter awards at the International PTK competition in Columbus, Ohio.
Kaylin Melton won the Distinguished Chapter Officer Award and Medallion and a Leader of Promise Scholarship.
The entire Athens Campus PTK Officer Team was awarded the Distinguished Chapter Officer Team prize. They each received individual medallions. The winners were Kaylin Melton, Andrew Lay, Alaysia Perkins, Kaylee Passons, Kelly Ann Walker, and Luis Arredondo. Luis Arredondo (who has joined the military and could not attend) was represented by Momiji Ohyama, who has worked many chapter projects during the whole year. Additionally, Anita Thomas, an important chapter member who had worked many projects this year attended the convention.
The most cherished chapter award was the Distinguished Honors in Action Award for the team's 2600 word entry on The Art and Science of Play: The Economics of Play – "What are the financial, physical, and psychological costs and benefits of play?". Their study was a year-long research study and project involving academic research and analysis as well as several projects. Out of 1300 chapters world-wide, only 50 of these awards were given.
The TVCC PTK Chapter also made the list of the Top 100 Chapters in the world for combined scores on the Honors in Action Project entry and College Project entry and for achieving REACH status for inspiring over 15% of eligible students at all campuses of TVCC to accept PTK membership. Membership is important to TVCC students since most Universities offer small but helpful and stackable PTK Transfer scholarships to PTK students. Chapters receive Golden PTK stoles for winning the REACH award. New members can pay one-time membership dues and join online or through submitting an application and one-time membership dues to the chapter. The Athens Campus branch of PTK has three membership drives per year stuffing and mailing over 750 letters of invitation each time.
"We want to thank President King and his Executive Assistant Norma Sheram for providing letters from our President to be included with each invitation letter" said Nancy Long, Iota Chapter Advisor. Iota Alpha received 28 Golden Stoles this year – a TVCC record. The chapter has been distributing them free, a few at a time, to PTK students who attended Induction ceremonies and/or participated in chapter events.
"We also want to recognize the Terrell Campus branch of PTK Iota Alpha and the Terrell Health Science Center branch of PTK Iota Alpha for their part in Iota Alpha's achieving the REACH award," Long added. The different campus branches of PTK often work together on joint projects such as the Pet Vaccination Clinic volunteer effort last week, but also each pursue their own traditions and projects.
Phi Theta Kappa Honor Society is the international honor society of students attending open-access institutions and seeking associate degrees, bachelor's degrees, or other college credentials. It has more than 3.5 million members in nearly 1,300 chapters in 10 nations.