TVCC Regiment sends three students to all-state band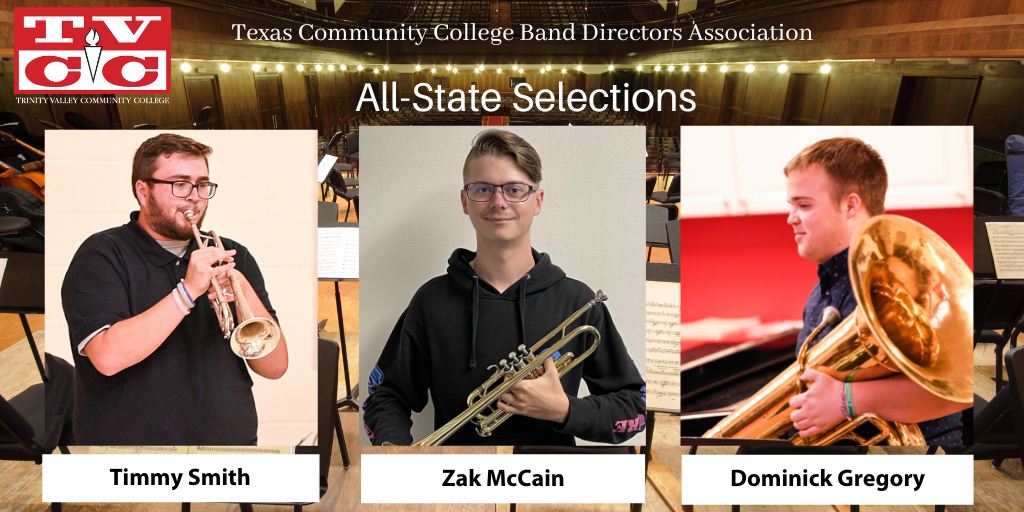 Trinity Valley Community College has three students represented in the 2-year College All-State Band which will perform in San Antonio in February during the Texas Music Educators Association Convention.
The dates for the convention are Feb. 8-11 and the concerts will be Saturday afternoon and evening.
215 students from across the state auditioned for different instrument positions in the Symphonic Band (68 positions allowed), and 45 students for the Jazz Band (18 positions allowed).
In his second appearance, trumpet player Timmy Smith is a member of the All-State Jazz Ensemble.
In the Symphonic/Concert Band, Zak McCain will be representing the trumpet section for the second time and Dominick Gregory will play Tuba for his first appearance.
TVCC has three first alternates in Zeke Flowers, Bass Guitar; Joe Weidman, Baritone Saxophone and Gregory, Bass Trombone.
If a student already in the jazz band cannot fulfill their duty, then these three would be next in line.
The Texas Community College Band Directors Association sponsors the Symphonic/Jazz Band auditions.
Students for 2-year colleges from across Texas auditioned for the honor of being part of the State Bands.