TVCC awards 245 degrees during fall graduation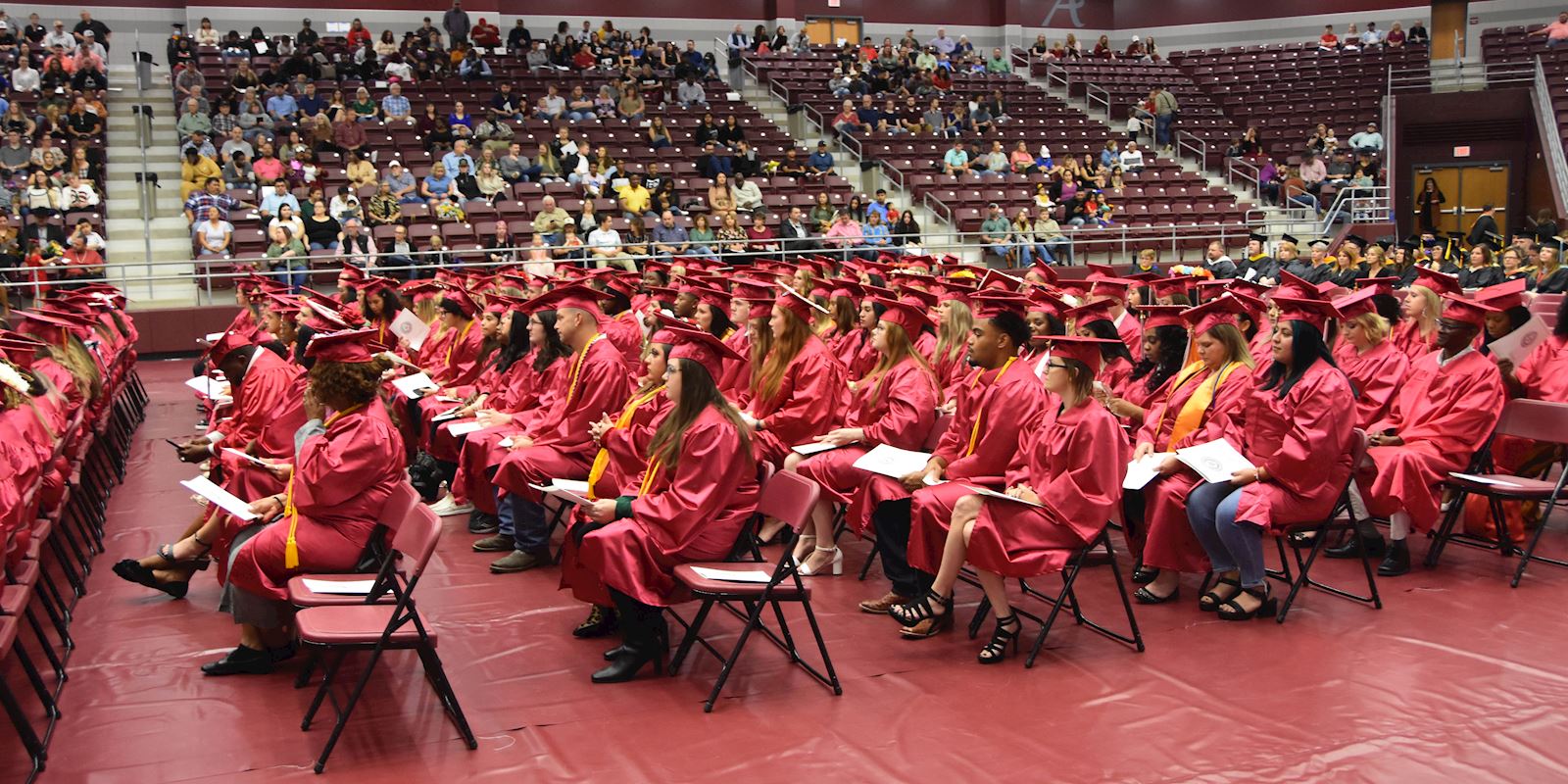 Trinity Valley Community College held fall graduation ceremonies at Athens High School Friday, Dec. 9, conferring associate degrees or Certificates of Completion to 245 graduates.
Listed alphabetically by last name, the fall 2022 graduating class is as follows.
The three stars are Summa Cum Laude, the two stars are Magna Cum Laude and the one star is graduating Cum Laude.
Associate Degrees
Makayla L Ashton
Georgia Bell Baker
Carson Jacob Barnes *
Jonathan Batres
Daminique R Bell
Robert Cade Bell
Michael D Black
Sydny Lee Blanchard **
Shatasha N Bowser
Salena Jean Box ***
Seth Wade Box
Rebecca Kaylynn Brown
Josiah Anku Buckner *
Seth Ray Burch
Megan L Henson
Henry Kagan Caldwell
Channing Marcello Canada
Kristine Grace Candol
Rachel Carpenter *
Brianna Elizabeth Castro
Lindsay V Chadwick *
Trent J Chancellor
Adriana Chavez
Savannah Joy Chism ***
Haley C Cisneros *
Cedric Dewayne Claiborne
Victor Carl Clark
Cade D Cogbill
Vicky L Cole ***
Laura Suzanne Cook *
Jacob V Dancy *
Keenly C Davis
Sarah N Davis
Ayanda I Douglas
Terry M Dube *
Donajz A Dunn
Keari J Dunn
Doyle Duplissey *
Alex L Dye
Santiago J Escobedo
Lauren A Escue *
Andi Espinoza
Dilan Ray Etheridge *
Abigail L Feldt *
James Floyd
Tarnisha Vershonne Braxton-Foster
Vanessa Galvan
Geraldine Garcia *
Jake Garrison Gaster ***
Coriantumr S Godinet
Teresa M Gomez
Ava Lauren Gorman
Nicholas L Green
Olivia Grose
Leina G Guerrero
Lluviana Lizet Guillen
Kaelyn L Hall
Lillian Grace Harris
Dylan Elaine Hathcoat
Hunter M Heasley
Kameron S Henderson
Ian Nathanael Henson **
Alejandro Hernandez
Sergio Jesus Herreros
Caden Herron
Ryan Alexander Herron
Evan Rashun Hicks
Lillian E Hill
Mahogany Saniah Hill
Alyssa D Hilliard *
Eitaro Hodai **
Valerie Hoover *
Jordan Paige Howell *
Kayla Hoyt
McKenzie M Hoyt
Azja Y. Harmon
Kevin Hunt *
Jared Cormell Jackson
Morgan E Jackson
Terrance D Jackson
Yarbre Pilar Harmon Jackson
Audrey Elizabeth Jeanes *
Daniela Jimenez
Stormy Maria Jimenez
Priscilla Renee Johnson *
Heather M Jordan **
Matthew Joseph Jungman **
Ryodai Kajiwara **
Quentin C. Kiser
Tonya Lynn Knowles
Breyanna L Knox
Taiki Kumura *
MacKenzie D Lee
Lizanyela L. Linares *
Jordan Channell Majors
Holly J Mangham
Claudia Camila Marroquin **
Wendy Martinez Sanchez
Jeremy A Mayoura
Aiden C Maze
Sydney E McMeans
Michael A Miller
Autumn P Mitchell ***
Brandon Mooney
Delaina B Moore
Jennifer D Heine
Taylor M Morris *
Joshua Patrick Murphy
David Anthony Murray ***
Ingabire Consolee Nzabamwita
Joshua K Opoola
Alisia Summer Overton *
Tate J Palmer
Andrew James Patterson
Elizabet G Penaloza
Virydiana Perea Granados
Tenisha Danyelle Perry
Lindsey R Pogue
Ryan P Porter ***
Jannette Prado
Shelby Lynn Prescott *
Emma Leigh Presley
Tami L Price
Matti Grace Pyle
Twanna Lushun ***
Kye Raibon ***
Jasmine Ramos *
Anthony Michael Ravella
Cayla Dawn Reed *
Cooper Hendricks Reeve **
Jennifer Reisinger **
Shelby Sue Renfrow **
Eduardo Reyes
Elizabeth Reyes
Darren Lamar Roberson
Merari Rodriguez
Candace J Ross
Hannah Rose Russo *
D'Maurius R Session **
Ryan Paul Shiller
Anna R Sifers
Azavion Henrion Simmons
Makenzie E Skiles *
Connor C Smith
Kylie Danielle Smith
Olivia G Smitherman
Stacie M Soileau
Elliot Derrick Spiller **
Caleb A Stennis
Stephanie Leone
Megan L Tillison *
Brittany Nicole Updike
Brooke A Van Schaik ***
Jennifer L Van Tassell-Sanchez *
Leanet Vasquez
Maria Livia Volosen
Whitney L Walker
Jared Dwayne Walters *
Anna N. Waterson
Derrick Wayne Weeks *
Alston H Williams
Daniel Jhamal Williams
Terri L Williams
Morgan M Willingham
Sloan London Wilson *
Braden Christopher Woods
Hannah Elaine Word **
Taylor Rae Wortham
Maribel D Yanez
Dora Lynn Yates
Robert Dee Young II

Certificates
Lauren R Abbott
Wegene Aberra
Elfreda E Aiguobasimwin
Lizbeth Aleman
Jaylah M Antuna
Madison Jade Bailey
Deborah D Barnes
Yolanda Berry Dean
Gregg Russell Beverly
Ava Lily Boswell
Ashley R Buchanan
Jamie Marie Carpenter
Melanie Castaneda
Jessica Castillo
Riley Marie Davenport
Jonathan Layton Debord
Ramata Diallo
Veronica Paradis Donaghey
Haylie B Elledge
Luisa F Espinoza Martin
Kennedy A Foster
Elena Arlene House Garcia
Ashley D Glidewell
Charles E Graham
Jazlyn Carson Gunnels
Daniela Hernandez
Fantasia Diane Hernandez
Adriana Y Herrera
Sarah Hollaway
Leah Hughes
Hannah Rae Johns
Makeila Sherrell Johnson
Sarah J Jones
Chance Calvin Knapp
Shelbie Leigh Lathrop
Sugunya Leared
Marlene Luna
Jaylen Aymad Milton
Ramzi Salahadin Mohammed
Gracee Danielle Morris
Ezra Mwirigi
Chinemerem C Ogolo
Bernadette Bosibori Okenye
Oyolu Margaret Adewunmi
Filipinas Sanico Page
Brittini Rose Pennington
Sabrina D Prox
Rachel Marie Purk
Lillianna Marie Purtee
Maegan Leigh Quinn
Rachel S Reed
Lauren D. Reyes
Kylie J Robinson
Alondra Rodriguez
Phillip Romero Jr
Marina A Rose
Abbye D Ross
Valentine Ranger Salazar
Alexandra Sanchez
Ashley Monique Starr
Faith Makiah Sweet
Kloe B Townson
Litzy Turrubiartes
Ashton Baleigh Wallace
Kaylee Breanne Warren
Kandice Kristine Washington
Savanah Rae White
Elexisa Sharda Williams
Malaysia S Williams
Patience Deaon Williams
Alexis Marie Winkelvoss
Kendra Brooke Woolsey
Carrie Renee Worth
Celia M Zuniga.