Truck Driving classes continuing at TVCC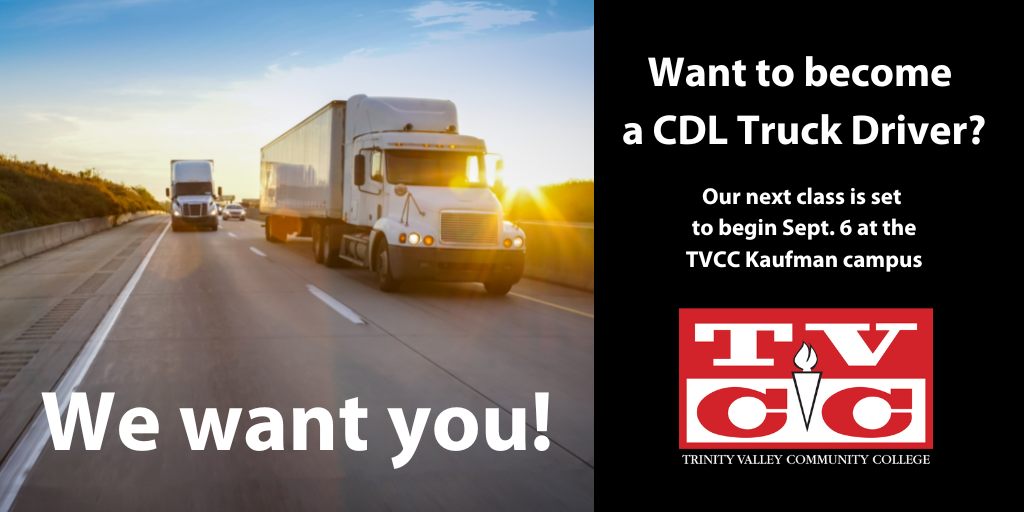 Trinity Valley Community College is partnering with Carl Negley again for Truck Driving/Commercial Driver's License (CDL) Class B training courses with written skills and hands-on coursework.
The two cohorts are scheduled on Sept. 6-19 and Sept. 20-Oct. 3 at the TVCC Kaufman Workforce Center on 800 Ed Hall Drive. The second program is set for Oct. 24-Nov. 4 and Nov. 7-18
The courses are Monday-Friday with some Saturday's from 8 a.m. to 5 p.m. The programs starting Sept. 20 and Nov. 7 are the driving skills portions of the program.
The total cost of the written skills session is $1,260 with the hands-on driving course at $3,000.
Eligible student-applicants must register for the CDL written skills and professional truck drivers training. Online registration is open and available through the TVCC Continuing Education website at: https://www.tvcc.edu/Continuing-Education/category.aspx?z=256.
This written skills portion looks at the basic operation of a commercial truck; the principles of visual search, signaling, speed management terrain management, and maneuvering in traffic; ways of recognizing hazardous situations in advance, emergency braking techniques, evasive actions, causes of skidding and jackknifing, and techniques for recovering from such emergencies; the function and operation of all key vehicle systems; and how to complete a Driver's daily log, hours of duty limits, required rest periods and the basic procedure for handling the scene of an accident and reporting accidents among other areas.
The driving skills portion looks at an overview of the State of Texas Class A or Class B Commercial Driver's License driving test. In-depth coverage of the in-cab air brake test, proper shifting, right, and left-hand turns, movement in traffic, parking of a vehicle designed to transport passengers, highway and city driving and backward movement and control.
To be eligible for the course, you must be at least 18 years of age, have an acceptable driving record and complete and pass a Department of Transportation Physical Exam.
The student-applicants must have the ability to read, write, and speak the English language and meet the requirements of the Motor Carrier Federal Safety Regulations, and Qualifications of Drivers.
For more information, contact Career Trucking School, Inc. at 903-352-0788 or by email at carl@getmycdl.com, or Trinity Valley Community College Continuing Education at conted@tvcc.edu.