TVCC Career Day scheduled April 20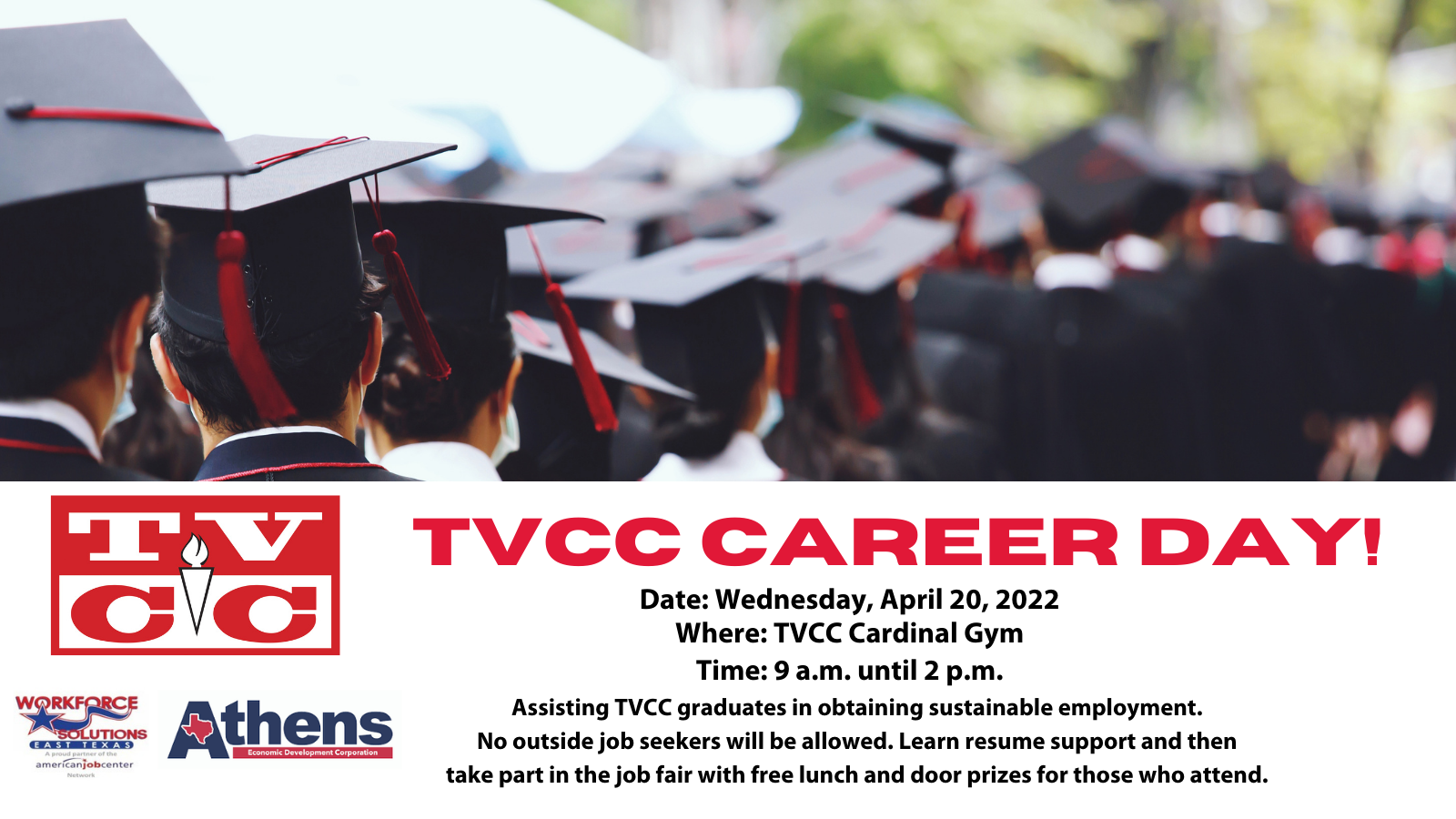 The Athens Economic Development Corporation in partnership with Trinity Valley Community College is offering a Career Day for graduates.
The event is scheduled for Wednesday, April 20 from 10-2 p.m. at Cardinal Gym.
They will have free lunch and door prizes for those who attend the event.
Skilled professors and top local employers will help students with resume support from 10-noon, with the job fair going from 10-2 p.m.
No outside job seekers are allowed to the Career Day event.
Here is the list of businesses attending the job fair: Texas Workforce Solutions, Biomerics, Express Employment, Clayton Homes, City of Athens PD only, City of Athens, UT-Health Athens Hospital, Disciples Crossing, Sonic Drive In, Lilly Enterprises, Whataburger, Tara Wine Ranch, Henderson County, Park Highland, Extreme Engineering, Bill Hullum, AT Staffing, Cedar Lakes Nursing, Baylor Scott and White, Advanced Health and Rehab of Athens, Athens Country Club, Cleveland Armory Black Beauty Ranch, MMC Group, Angel Keepers, Wood Forest National Bank, AISD, Henderson County Sheriff, Henderson County, Anderson County, Anderson County Sheriff, Van Zandt County Sheriff, Van Zandt County Juvenile, Van Zandt County, Texas Country Ford, American National Logistics, Hablinskis-Whataburger, City of Palestine, City of Canton, Palestine Regional Medical Center, TPWD State Police, City of Canton, Palestine Regional Medical Center, TPWD Game Wardens, Tampico, ONCOR, LaPoynor ISD, Trinidad ISD, Eustace ISD, Murchison ISD, US Navy, US Army, US Marines, US Air Force, TDCJ, Brownsboro ISD, Mabank ISD, Cross Roads ISD.