Truck Driving classes coming to TVCC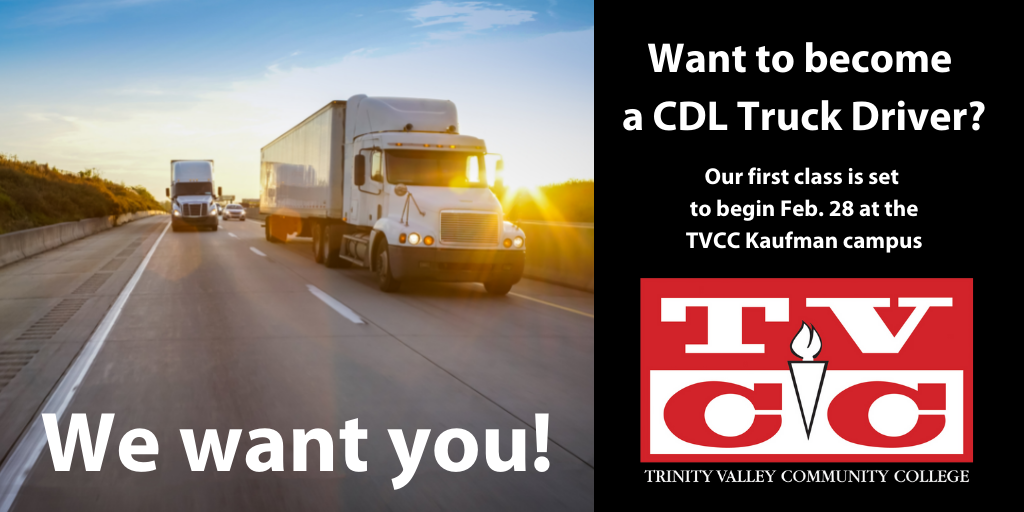 Trinity Valley Community College Workforce Education and Continuing Education Department is offering Truck Driving/Commercial Driver's License (CDL) training courses with written skills and hands-on coursework.
The written skills courses are scheduled to begin Feb. 28-March 11 at the TVCC Kaufman Workforce Center on 800 Ed Hall Drive. The driving course is set to begin March 21 and run through April 14.
The courses are Monday-Friday with some Saturday's from 8 a.m. to 5 p.m. There will be five cohort programs, which will last until Aug. 19 of this year.
"TVCC Continuing Education is delighted to partner with Mr. Carl Negley and the Career Trucking School (CTS)," Chris Hicks, Director of Adult and Continuing Education said. "Mr. Negley and his team are excellent in the field. They have a long history of service and success in our communities. TVCC Continuing Education is excited to be able to offer the program."
The total cost of the written skills session is $1,260 with the hands-on driving course at $4,500.
Eligible student-applicants must register for the CDL written skills and professional truck drivers training. Online registration is open and available through the TVCC Continuing Education website.
Hicks said the program is not Pell eligible, but candidates can contact their local workforce centers to see if they qualify for financial assistance through the Workforce Innovation and Opportunity Act (WIOA).
"Trinity Valley Community College exists for the COMMUNITY. We identified an industry and community need for truck drivers and collaborated with industry partners to begin a truck driving program. We are ecstatic to be able to provide a program that is in high demand and has the potential for high earnings," Kelley Townsend, Associate Vice President of TVCC Workforce Education said.
The written skills course provides instruction on commercial truck operation, the function and operation of all key vehicle systems and how to complete basic operations of the job. The hands-on driving course is actual truck driving and practice.
To be eligible for the course, you must be at least 18 years of age, have an acceptable driving record and complete and pass a Department of Transportation Physical Exam.
The student-applicants must have the ability to read, write, and speak the English language and meet the requirements of the Motor Carrier Federal Safety Regulations, and Qualifications of Drivers.
For more information, contact Career Trucking School, Inc. at 903-352-0788 or by email at carl@getmycdl.com, or Trinity Valley Community College Continuing Education at conted@tvcc.edu.