TVCC Welding department receives new Iron Worker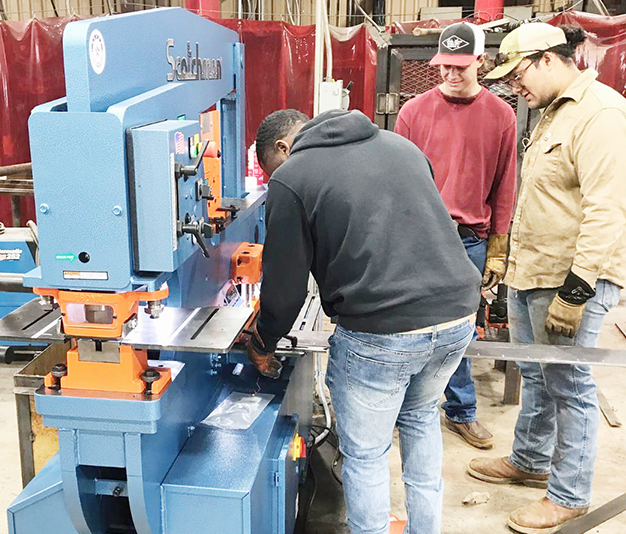 With grant money that Trinity Valley Community College received from the Ray H. Marr Foundation, the welding department purchased a new Iron Worker.
"The TVCC Welding Department is very thankful to the Marr Foundation for their generous grant, which allowed the purchase of the machine and other hand tools for the Welding Department," TVCC Welding instructor Tom Sheram said.
The Iron Worker was delivered Monday and was used for the first time by the TVCC welding students Thursday.
Emily Heglund, TVCC Foundation Executive Director said the grant money from the foundation was generous for Trinity Valley Community College.
"It is incredible to see how the Marr Foundation is honoring Mr. Marr's legacy by investing in workforce education," Heglund said. "We are so grateful that the foundation chose TVCC as a recipient of this gift. I know this equipment will benefit our students for many years to come."
The Marr Foundation honors the legacy of Ray H. Marr, who died Sept. 19, 2021 in Dallas. He was an oil and gas executive, engineer, Cannes Film Festival winner, philanthropist and Renaissance man.
He earned his bachelor's and master's degree in mechanical engineering from Southern Methodist University and a Ph.D. in chemical engineering from the University of Southern California.
The Marr Foundation, based in Dallas, supports workforce education as well as Ray Marr's other interests and passions – not the least of which was seeing students expand their skills and knowledge. At his alma mater, Southern Methodist University, Marr taught engineering, served as a trustee, and even worked directly with students on engineering projects. In the past, the Marr Foundation has provided scholarships, equipment, and fiscal support to colleges in the North Texas area. The organization recently expanded its giving into East Texas.