TVCC Beef Cattle Show Team finishes strong at Livestock Show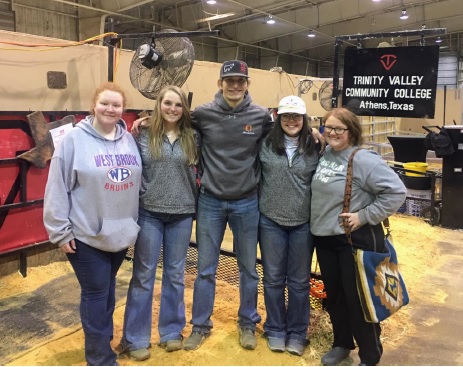 Trinity Valley Community College competed in the 2022 Cattleman's Congress Livestock Show in Oklahoma City, Ok Jan. 3-6.
The five members of the TVCC Beef Cattle Show Team were involved in the Open Charlois Cattle division and competed well.
"The Cattleman's Congress had approximately 1,900 cattle entries for their show and it was an extremely well ran event," Marc Robinson, TVCC Ag and Ranch Management instructor said. "The TVCC show team members all did an outstanding job showing our cattle and we are proud of how they represented our college."
Awards received this year included:
TVCC MS Liberty 2117 P shown by Trevor Jenkins of Orange in the Early Spring Heifer Calves; TVCC MS Meagan 2118 P shown by Brylea Ervin of Wichita Falls in the Early Spring Heifer Calves; TVCC MS Kelley 2105 P in the Junior Heifer Calves shown by Trailbe Goff of Whithouse; TVCC MS Lindsey 2101 P in the Junior Heifer Calves shown by Presley Griffith of Alto and TVCC White Hawk 2102 with a fourth-place award in the Junior Bull Calves category.
In the Junior Bull Calves, TVCC Revolve 2103 P shown by Griffith received a third-place award, while TVCC Assurance 2130 P shown by Jenkins received a first-place award in the Late Spring Bull Calves category. The final award came in the Two-year old Bulls as BHSC TVCC Mamies Boy 11G shown by Emily Bull of Beaumont brought home the top prize.