Masso family leaves legacy of learning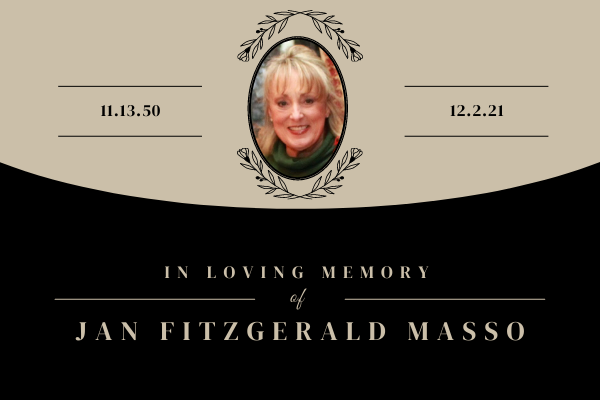 Jan Masso's passion for education lives on at TVCC.
The Jan Fitzgerald Masso Fund, established through the TVCC Foundation, will provide scholarships for early childhood education and general education majors. Masso, an alumna and former early childhood educator at TVCC, died Dec. 2 at the age of 71 after a long battle with cancer.
"Education is the key to the future for our children and our communities," TVCC Foundation Executive Director Emily Heglund said. "By establishing this fund in Jan's name, the Masso family is paving the way for future educators to be able to step into a classroom."
Masso graduated from Brownsboro High School in 1969 and served as a Cardette officer at TVCC (then Henderson County Junior College) before continuing to Texas Tech University to obtain her education degree. There, she met her husband, Joe Masso, and they eventually welcomed son Jadd and daughter Jill.
The family settled in Athens in 1977. Jan taught kindergarten and later served as director of the Methodist Children's Center. She eventually started a pre-kindergarten program for underprivileged children at Athens ISD and joined the staff of TVCC, where she taught early childhood education for nearly 20 years.
"Jill and I are honored to start this fund to continue our mother's legacy of service to TVCC," Jadd Masso said. "She loved this college and she loved teaching. It was at TVCC where she began her study of early childhood education, and it was a source of great pride for her that she was able to return to TVCC to teach future educators for nearly 20 years."
TVCC President Jerry King, Ed.D. worked extensively with Jan Masso during her time as an educator.
"Jan Masso was a graduate of Henderson County Junior College (TVCC) and a dedicated, loyal teacher at TVCC for over 20 years," King said. "Jan's legacy will live on forever in the positive difference she made in the lives of her students. She was a wonderful teacher, friend, and colleague and will always be part of the TVCC family."
Those who wish to contribute to the Jan Fitzgerald Masso Fund are invited to send their gifts to the TVCC Foundation, 100 Cardinal Drive, Athens, TX 75751. For more information on TVCC or the foundation, visit www.tvcc.edu or call (903) 670-2620.