Fall Graduation Awards 247 Degrees, Certificates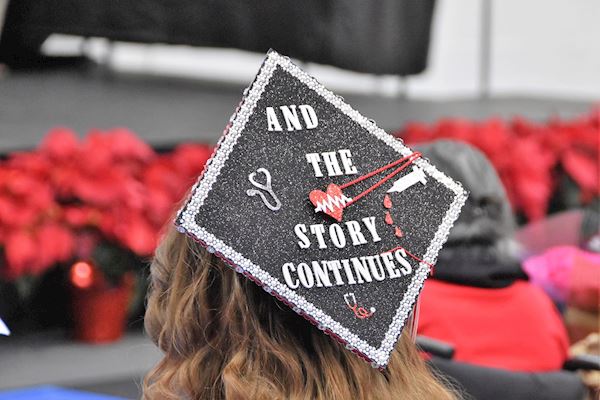 Trinity Valley Community College held fall graduation ceremonies at Cardinal Gym Tuesday, Dec. 16, conferring associate degrees or Certificates of Completion to 247 graduates.
Listed alphabetically by last name, the fall 2021 graduating class is as follows. The three stars are for highest honors, while the two stars are for high honors and one star is graduating with honors.
Associate Degrees
Karen L Abernathy
Carmen L Aguilar
** Stephanie Aguilar
* Eryn Brylie Airheart
** Lorre L Allen
Kaylee R Anders
Cayden Anderson
Alicia M Antoine
Emily S Arden
Amanda K Arnold
* Brittinie Anne Nicole Arrowood
Kelli Jayna Brown Austin
** Jaxon Scott Avery
* Jacob B Barkham
** Trent R Barley
Megan M Bilyeu
Meagen Birdwell
Chloe G Black
* Elizabeth D Blanchard Browne
* Jillian E Bow
Tyson Trooper Burks
** Edward N Byers
** Molly Cabrera
* Jacob C Campbell
Juan V Carrillo
* Guadalupe Victoria Chantaca
Iris V Chavez
* Murphy P Cherry
** David R Chitty
Ayjah C Cofer
Cameron Deshon Collier
Katelyn V Coment
** Richard C. Cranfill
** Krystal Marisol Cruz
Raiesha S Cumby
** Benjamin Curry
Jared M Daniels
Bethany C Davis
Denisha Micole Davis
Geneva L Densman
Lindsey K Dickerson
Jeffrey L Dingler
Michael Travis Donnell
* Autumn M Doss
** River James Drohn
Connor Dunn
Richard A. Eddings
Lindsay Marie Edwards
Dyriel Jhavierre Empy
Denver C Enochs
** Shelbie B. Fickling
Vance L Fincher
** Nivelle Fotso
** Lauren E Fox
* Alyssa M Garcia
Estefani M Garcia
Megan L Gebauer
Trampas Lavar Goodwin
* Jordan Taylor Grams
Jeremy G Hatcher
* Steven C Hatfield
** Madeline P Hayden
Emily K Hays
Caleb B Hernandez
Edith Hernandez
Paige Darlene Hodge
** Trevor K Hoffman
* Jamie Lynn Holman
* Kyna Nicole Holman
Andrew W Horn
Montavien J Hunt
* Jack C Hyland
Agnes Ofuga Ushie
Romello Jackson
Derryn Omare Samuel Johnson
* Jenna D. Johnson
McKenna Kasnetz
*** Kayla Lynn Kelly
Korey Kenard King
Farah A Kinjo
** Katelyn Lynnette Knabel
Julie Ann Jean Langevin
Allison L Lassiter
Jacareon J Lathan
* Morgan L Lawlor
Guadalupe Leija
* Maria Guadelupe Leon
Gayle R Lewis
Joedrick R Lewis
** Giovanna Annette Limon
Iamily Margarita Lopez
Lisbeth Madrid
** Kianna N Madsen
** Carrie Ann Martinez
* Jose Alfredo Zanella Martinez
Analhi Nichole Martinez-Bates
Jaidyn J McCoy
* April Danielle McCullough
* Annabelle Diane McElfresh
Kyndal L McMahan
* Jade L. Melton
Justin Blade Mershon
Noah C Mesa
* Sandra K Miller
* Cherith Cheyenne Mills
** Tylee P Mills
Jaylen Aymad Milton
Laura Susan Moore
Haley R Murphey
Kayla N. Nash
* Tatum Leslie Nevill
** Taylor A. Nevill
Bethany K Norman
Randall B Norris
*** Tie'Ara Breanna Paris
** Griffith E Peatrowsky
Ismael Pereida
Shyanne Kaye Piatt
** Lindsey Lu Pilkington
Alexandra Leeanne Pollard
Jennifer L Powell
* Amanda J Pyle
** Lydia R Raines-Holt
Fatima G Ramos
* Natashia A Rhodes
Nicholas A Richardson
Candy Ann Richeson
Valerie Janae Riddle
Jair A Rivera
* Kayla Nicole Roberson
** Charity Nicole Lewis
** Odette Rodriguez
* Kimane J. Rogron
Katlyn B Santoyo
Myriah M Satterfield
** Morgan P. Scala
* Corena Faith Scott
*** Brittany A Sehion
Jacob H Shackett
Shauna Noel Shanks
Debresha De'nell Shannon
** Jerica Rae Smiley
Cherokee Smith
Jetta D. Smith
** Ricky D. Smith
Keyton T Splawn
Adrien T Staats
Bryli Beth Stanley
Robert S Stringer
Cailey A Suarez
* Mirabel F Tembuh
Darla L Templeton
Ja'Quan T Tillis
** Katherine Elizabeth Toler
Brandy Lynn Traverse
*** Courtney J Trujillo
Arcenia Urquiza
Ushie P Augustine
Xxavier Ahmani Watson
Cameron B Whitten
Chase Michael Wiggins
* Savannah Ryanne Wiggins
ScyKyrea D Wilcots
** Sara Willard
Aleiah L Williams
Ashley Renee Williams
Caleb M Williams
* Chase T Wilson
Lila Marie Wilson
Rebecca Jan Winders
Baylie D Wood
Chloe G Wright
Kristi D Wright
Stephane Mazer Zabie
Certificate of Completion
Amanda Lee Aldrich
Jeweliana Love Alexander
Jasmine D Baker
Caitlin B Birch
Ruby May Boehringer
Brandi Lynn Boyd
Haley A Boyd
Heather Elizabeth Breece
Janell Campa
Azucena Tomasa Campos
Audrey Maree Carrillo
Alexis Rae Carter
Noelise Cepeda
Madison Elizabeth Cothran
Marissa Cunningham
Heather Lynn Davis
Graci Renee Douglas
Timothy Scott Douglas
Kim Drummond
Anysley M Shelton
Emily K Garcia
Josee Leigh Garner
Kennedy Gilmore
Kaitlyn McKenzie Golden
Kassandra M Guerrero-Quintanilla
Julia Hampton
Vanessa A Hardy
Aimee D Hernandez
Meredith A Jaquish
Margaret E Johnson
Alexis Paige Jones
Millena B Justa
Matemi Mikel Kadiri
Calissa Nicole Ledesma
Christine Alyssa Magyar
Molly H. Martinez
Hannah K. Mendoza
Rossy Cecilia Moncivais
Riley Susanna Moore
Courtney Paige Morris
Gracee Danielle Morris
Valeria Murillo
Hailey Madison Newton
Anna K Omenyo
Britne M Painter
Cassidy Pettycrew
Tyler Lynn Phillips
Donyell R Prince
Madalyn R Pritchard
Kortnee Nicole Pyle
Kate Quintanar
Hailey Virginia Ray
Jayme Lynn Roberts
Nori Robison
Rami Jean Russell
Courtney Kathryn Saffle
Alexzandra Ray
Alexandra R Sanchez
Cortney Lynn Sanford
Chelsie Renee Simmons
Crystal L Staggs
Amber L Staley
Brittany P Stobaugh
Jordan R Stolusky
Shekinah M.K Taylor
Brittany P Thompson
Dakota Edward Thompson
Karon Valentine
Jacqueline Vasquez-Hernandez
Maya Rashan Wells
Readia J Wilcots
Eriana A. Williams
LaTonya Shawnta Williams