TVCC celebrates life of longtime Cardette director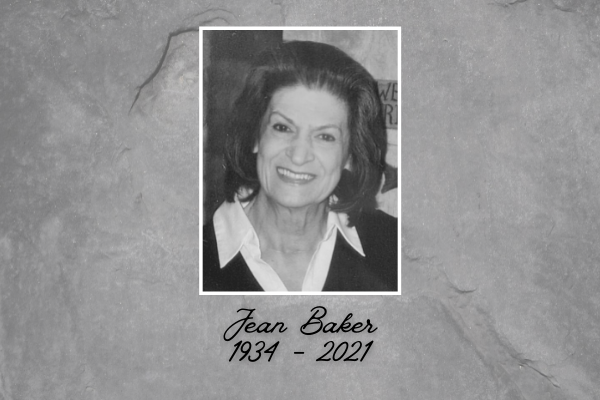 The TVCC Foundation's newest scholarship honors the memory of longtime Cardette director Jean Baker, who died Tuesday, Nov. 9, at the age of 87.
The Jean Baker Memorial Scholarship will cover tuition and fees for scores of future Cardette students.
"We are thrilled that Jean's children, Debbie and Linda, chose to establish this scholarship as a tribute to their mother," foundation director Emily Heglund said. "It is a wonderful testament to Jean's legacy with the Cardette organization."
Baker spent eight years as director of the Quinlan-Ford Blue Belles of Quinlan ISD before being recruited in 1983 to come to Trinity Valley Community College to direct the Cardettes dance team.
She served as director for 12 years, retiring in 1995; her daughter Debbie Baker then stepped her mother's role to serve as Cardette director until 2000 – a time period that would later become known as the "Baker Era."
Under Jean Baker's direction, the Cardettes performed in France, Switzerland and the Bahamas and in 1992 became the first dance team to perform in Russia.
"On behalf of TVCC, our deepest condolences, thoughts, and prayers for the Baker family," TVCC President Dr. Jerry King said. "Jean Baker had a deep and sincere dedication and commitment to TVCC, the Cardettes, and her family. Her legacy continues to live on forever in lives of her students and their families and the TVCC faculty and staff that she influenced. In her 12 years as TVCC director of Cardettes, she provided great memories and life-changing opportunities for the TVCC Cardettes and students."
As news of Baker's death spread to Cardette alumni, comments poured in honoring the legacy of the longtime director. Some of the comments from the TVCC Cardettes Facebook page described Baker as "a firm and fierce woman" who "was loved by us all." Others stated that, though Baker had high expectations for her Cardette team, she loved and cared for her students as if they were her own.
Patti Rakestraw Lightfoot stated that her group of Cardettes was Baker's first at TVCC and that Baker doubled the size of the team shortly after taking it over.
"My heart is sad," Lightfoot wrote, "but I feel so blessed to have had her in my life."
Darla Mansfield, TVCC grants and alumni relations coordinator, served as a Cardette under Baker and later became director herself after Debbie Baker stepped down from the position. Mansfield described Jean Baker as her hero.
"Baker was more than words can ever express to her girls and escorts," Mansfield said. "She was not only a teacher, mentor and cheerleader, but more importantly a prideful mother to us all. She will certainly live forever in each one of her Cardettes."
Debbie Baker said the family has been truly touched by the tributes to her mother.
"My sister, Linda, and I want to say thank you for the outpouring of love all of you have shown for our mother," Baker said. "She was so proud of the women and mothers that you became, and she truly loved you all. We also want to say a special thank you to Darla Hannigan Mansfield. She gave mom and I the greatest gift by not merely preserving the Cardette legacy – she enhanced it. The 'Darla Decades' will forever be remembered."
Those who wish to contribute to the Jean Baker Memorial Scholarship are invited to send their gifts to the TVCC Foundation, 100 Cardinal Drive, Athens, TX 75751. For more information on TVCC or the foundation, visit www.tvcc.edu or call 903-670-2620.