TVCC Opens Food Pantry and Clothes Closet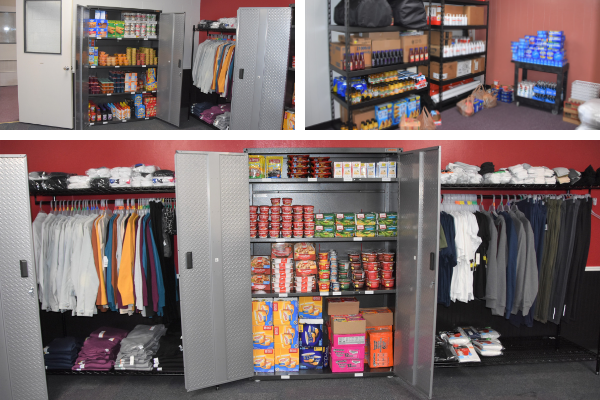 Students at Trinity Valley Community College have new options available to them. The clothes closet and food pantry, part of the new on-campus Advocacy Resource Center, opened its doors to students last week.
The center, located in the Student Union Building on the Athens campus is open to all current TVCC students, regardless of financial status, and aims to remove barriers for students working on earning a degree or certificate.
"College students face challenges outside the classroom that impede their academic success," said Director of Student Engagement & Diversity Audrey Hawkins. "Food insecurity on U.S. college campuses is increasing at an alarming rate, and the problem is exacerbated by the recent COVID-19 pandemic."
The establishment of the Advocacy Resource Center provides students easy access to supplemental food, clothing and other necessities. Eliminating some challenges for these students helps shift the focus to their academic success, rather than where their next meal will come from.
The Advocacy Resource Center received its initial funding through a $15,000 grant the TVCC Foundation received from the Texas Higher Education Foundation in May.
The Texas Higher Education Coordinating Board, Greater Texas Foundation and Trellis Foundation launched the collaborative Texas Emergency Aid Grant Program to support students across Texas institutions of higher education during the COVID-19 crisis. Because the lack of necessities can prevent students from continuing enrollment, this grant includes a focus on areas such as food pantries and clothes closets.
"We are so fortunate that TVCC was selected as a grant recipient by the Texas Higher Education Foundation because the funding has allowed us the opportunity to add this much-needed service to our campus," said VP of Institutional Advancement and Executive Director of the TVCC Foundation Kristen Bennett. "Food insecurity is a real problem on our campus, and the students are already so thankful to have this as an option to help."
The Advocacy Resource Center is open every Wednesday and Thursday from 11 a.m. – 3 p.m. during the academic year, and closed on weekends and holidays.
To be eligible for services, students must be enrolled and present a current TVCC student ID at each visit. Students are required to complete an application the first time they visit to help determine what type(s) of assistance may be needed. Students are allowed up to two visits per month, but not two days in a row.
Donations of nonperishable food items, personal hygiene items, and new or gently worn clothing items are accepted. Monetary donations may be made through the TVCC Foundation.
For more information about items needed, donation drop-off location, hours of operation, or any other information, please contact the Office of Student Engagement & Diversity at 903-675-6357 or ahawkins@tvcc.edu.