Brad Elmore retires after 44 years of service at TVCC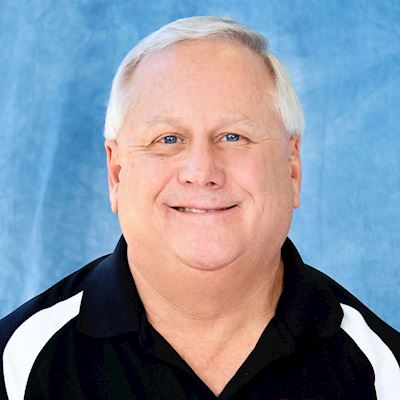 44 years. 528 months. 16,071 days.
Only a few that can say they have devoted this amount of time to serving students, but Brad Elmore is a member of that elite group.
Last month, faculty and staff at Trinity Valley Community College bid farewell to long-time faculty member, Brad Elmore, after more than four decades of service to the students of Henderson County Junior College (HCJC) and TVCC. Elmore has seen a lot change through the years, including the name of the institution changing in his 10th year to reflect the regional growth the college had experienced.
He was known as an instructor who truly supported his students, in their competitive sports, performing arts, and other organizations. You could usually find Elmore in the stands or audience at a Cardinal game, play or concert showing his support.
Even though Elmore bleeds Texas Longhorn burnt orange, he embraced the Cardinal spirit in every way during his tenure at TVCC.
"Brad and I both came to the college the same year," said Vickie Geisel, fellow TVCC faculty member. "He bought into the mission of the two-year college and making a difference in the lives of the students who enjoyed his classes.
"He was one of those instructors who enjoyed the classroom and helping his students to love the field of sociology."
Elmore was hired by Neal Lawson in 1976 to teach government, sociology and history. He was the first faculty intern HCJC ever had. He served as a member of the Athletic Council, Graduation Committee, Phi Theta Kappa chapter advisor for three years, an officer for the Faculty Association, sociology coordinator, and the social science division chair for eight years. He also assisted with UIL contests on campus.
"When I first started working at TVCC, I remember the first time in Brad's office," said Marianne Leeper, fellow TVCC faculty member. "It was a shrine to UT Austin and it was spotless! Brad was a sage on all things UT and was a sports enthusiast to boot. I miss his wit, as he could always make me belly laugh!"
Elmore graduated from Commerce High School in 1969 and attended The University of Texas at Austin, where he earned a Bachelor of Science in Education in 1973. He then attended East Texas State University and earned a Master of Science in Sociology in 1975. Elmore has also earned graduate hours from The University of Texas at Tyler and the University of North Texas. He retired from TVCC on Aug. 31, 2020.
"I have had the great fortune to work with Brad Elmore over his 44-year career at HCJC/TVCC, said TVCC President Jerry King, Ed.D. "He has been a great teacher that has positively impacted the lives of thousands of students and their families. He has been a leader and a mentor to the faculty and staff at TVCC.
"Brad will always be part of the Cardinal family and a great friend to all of us at TVCC. We wish him nothing but the best in his retirement."
Elmore and his wife, Wendy, recently moved to Orange. Elmore's hobbies include traveling, watching baseball and spending time with his children and grandchildren.