Legacy Landmark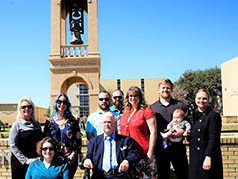 Trinity Valley Community College has a new landmark on the Athens campus, with the completion of the Ethel May & Frank Johns Tower. The 47-foot clock tower, which stands tall in the Bob McDonald Plaza, was officially dedicated in a Feb. 28 ceremony. The clock tower was made possible thanks to the generosity of donor Frank Johns.
Johns' wife, Ethel, passed away in May 2018 and donating to build this clock tower provided a tangible way to honor her memory. Johns donated $350,000 for the project that began in July 2019.
"Ethel and I have enjoyed supporting scholarships at TVCC for many years because we value the education that a community college like TVCC can offer to the students in Henderson County," said Johns. "Ethel would be so proud of this. She loved bells, so being able to provide funding for something as beautiful and iconic as this clock tower is a blessing."
The tower design matches the brick facade on existing campus buildings to provide a classic look for all to enjoy, and includes four ornamental bell shells, an electronic carillon system, and four illuminated clock faces for visibility from all sides. The tower, designed and built by The Verdin Company and RPR Construction, can be programmed to play a variety of different chimes, tolling bells and hour strike tones.
"We are deeply grateful for the ongoing support of the Johns family," said Vice President for Advancement and Executive Director of the TVCC Foundation Kristen Bennett, Ed.D. said. "He and his late wife, Ethel, have supported TVCC for many years, and we are so pleased to be able to honor Mr. Johns and his wife with this landmark clock tower that will beautify the Athens campus for years to come."