Beef Cattle Show Team Brings Home First Place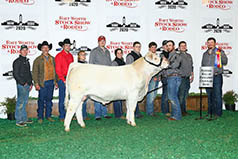 The Trinity Valley Community College Beef Cattle Show Team brought home a number of awards and class placings from its visit to the 2020 Fort Worth Stock Show on Feb. 1.
TVCC competed in the Open Charolais Cattle Division. The team brought home a first-place ribbon in the Junior Bull Calves class, shown by Rusty Condry of Cameron. In that class, TVCC's DDC Smart Revolution was named Junior Calf Division Champion Bull.
In addition, the show team brought home three second-place ribbons. BHSC TVCC Mamie's Boy, shown by Michael Sanchez of Rusk, was awarded second place in the Early Spring Bull Calves class. TVCC Revelation, shown by Caton Grahn of Clarendon, took second place in the Junior Bull Calves class. TVCC received second place in the Group of Five class as well.
"The competition at Fort Worth is always challenging," TVCC Show Team sponsor Marc Robinson said. "Our show team members proudly represented our Agriculture and Ranch Management program at the college in a very professional way."
Awards received include:
DCC SMART REVOLUTION 1903
Co-owned with Doonan Cattle Company of Midlothian
Shown by Rusty Condry of Cameron
Class: Junior Bull Calves
Award: First place in class, Junior Calf Division Champion Bull
BHSC TVCC MAMIES BOY 11G
Bull donated to TVCC by Big House Show Cattle of Iola
Shown by Michael Sanchez of Rusk
Class: Early Spring Bull Calves
Award: Second place in class
TVCC REVELATION 1915 P
Shown by Caton Grahn of Clarendon
Class: Junior Bull Calves
Award: Second place in class
Class: Group of Five
Award: Second place in class
TVCC LAST STAND 1853 P TW
Shown by Pierson Garner of Ben Wheeler
Class: Senior Bull Calves
Award: Fourth place in class
TVCC MS CAROLINE 1810 P
Shown by Ali Blake of Houston
Class: Junior Yearling Females
Award: Fourth place in class
TVCC MS LEGEND 1905 P
Shown by John Hughes of Orange
Class: Junior Heifer Calves
Award: Fifth place in class
TVCC MS ASHLEY 1919 P
Shown by Caton Grahn of Clarendon
Class: Early Spring Heifer Calves
Award: Sixth place in class
TVCC MS MADISON 1912
Shown by Brett Grahn of Lovelady
Class: Junior Heifer Calves
Award: Sixth place in class
BJCF 3082's MISS BAR J G43 P
Shown by Jaymie Duke of Eustace
Class: Early Spring Heifer Calves
Award: Eighth place in class
TVCC MS LEGACY 1843 P TW
Shown by Quinten Cherry of Webster
Class: Senior Heifer Calves
Award: 11th place in class