TVCC announces five HODA honorees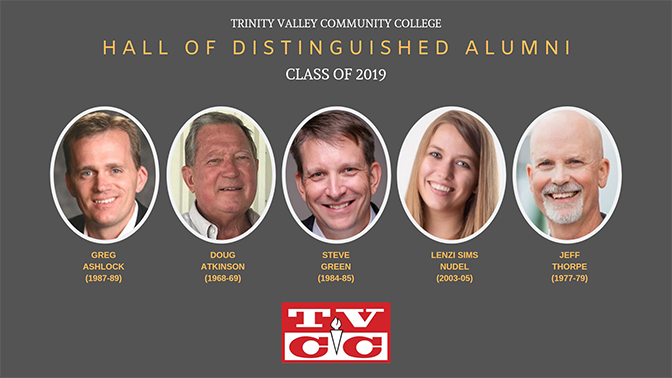 Five former students, including two former athletes, a former Miss Athens, a former trainer for the Dallas Mavericks and a prominent local attorney will be honored.
"I want to express my sincere enthusiasm for this year's HODA Class of 2019," Said TVCC Vice President of Institutional Advancement Kristen Bennett. "Our inductees are truly accomplished on all levels and exhibit all that it means to be a forever Cardinal."
The ceremony is scheduled at a 9:30 a.m. brunch Saturday, Oct. 12, at Athens Country Club. Admission is free, but RSVP is required by Friday, Oct. 4, by calling 903-670-2620.
Here is the Class of 2019:
Greg Ashlock
(1987-89)
The power of positive thinking has carried Greg Ashlock a long way.
From his humble beginnings as a child in Malakoff and star basketball player at Cross Roads High School, he is now president of iHeartMedia Markets Group. Currently, 858 brands/stations across 150-plus markets in the iHeartMedia portfolio are within his management responsibilities.
iHeartMedia is one of only three companies (alongside Facebook and Google) to reach more than 200 million people in the United States each month.
Among the other positions Ashlock has held since graduating with an associate's degree from TVCC, a bachelor's degree from Northwestern State University and master's degree (distinction) from USC Annenberg School for Communication and general manager for Clear Channel Communications and director of sponsorships for the Los Angeles Dodgers.
He is currently on the board of directors for the Los Angeles Sports and Entertainment Commission, which is responsible for attracting major events to Los Angeles, like the Super Bowl, the Grammy's, World Cup and Final Four.
At TVCC, he played basketball for NJCAA and Cardinal Hall of Fame coach Leon Spencer. He also was also a member the student government association, serving as president during the 1988-89 school year.
Residing in California, Ashlock has been married 24 years and has five children.
Doug Atkinson
(1968-69)
Life in the big leagues doesn't compare to the simple life for Doug Atkinson.
After spending over three decades as a trainer in both Major League Baseball and the National Basketball Association, he is now living such a life in Murchison as owner of Scott's Crossing Feed Store and as a rancher.
Becoming a trainer at Pine Tree High School in Longview because of his mother's reluctance to permit him to play sports worked out for Atkinson. After his college years, he went on to work for the Los Angeles Dodgers and California Angels before eventually joining forces with Dick Motta and the Chicago Bulls. He was there for six years until the opportunity arose to become a member of the expansion-franchise Dallas Mavericks. He was with the Mavericks for 16 years.
Atkinson was twice named NBA Trainer of the Year and was twice selected to serve as trainer for the NBA All-Star game.
At TVCC (Henderson County Junior College back then), Atkinson served as trainer for all athletic teams. He continued his training career and education at the University of Texas at El Paso, where he received his bachelor's and master's degrees.
Atkinson and wife Elizabeth have two grown children, Tommy and Holley, who works at TVCC.
Steve Green
(1984-85)
Steve Green has spent much of his life in defense of others.
As a prominent East Texas defense attorney, he is a member of The National Trial Lawyers – Top 100 Trial Lawyers, Lawyers of Distinction, National Association of Criminal Defense Lawyers, Texas Criminal Defense
Lawyers Association, Texas Municipal Courts Association, Henderson County Bar Association and he is a Fellow of the College of the State Bar of Texas.
Upon graduation from Mabank High School in 1984, he attended TVCC (Henderson County Junior College back then). He then served in the Air Force from 1986-90, providing security support to such dignitaries as Pope John Paul II, President Ronald Reagan, Vice President George H.W. Bush and Senator Lloyd Bentsen.
After serving his country, Green attended the University of Texas at Tyler where he graduated in 1991 with a Bachelor of Science degree in Criminal Justice. He then worked as a probation officer in Smith and Henderson counties from 1991 to 1997. While working as a probation officer, Steve attended law school at night at Texas Wesleyan University School of Law from 1994 to 1997 where he graduated with a Doctor of Jurisprudence degree.
He has officiated football at the high school and college level since 1999. During this time, he has officiated a junior college national championship game and two Texas high school state championship games. He currently works as a football official in the Southeastern Conference, the Sun Belt Conference, and the Mid-Eastern Athletic Conference.
His wife Janet is the director of student pathways at TVCC. They have a daughter, Lauren, a 2014 TVCC graduate.
Lenzi Sims Nudel
(2003-05)
Giving back to the community is a big part of who Lenzi Sims Nudel is.
As a student at Athens High School, she created a fundraiser called "Operation Cinderella," which provided girls in need with beautiful prom dresses. Now, as an adult with a successful professional career in Los Angeles, California, she and her husband create bags to hand out to the homeless, which include necessities often taken for granted. The bags also include pamphlets as to how to get help with food shelter and transportation.
Before attending TVCC, where she was a member of Phi Theta Kappa and a nominee for homecoming queen, she graduated from Athens High School with a 3.8 GPA. She also represented her city as Miss Athens in 2004.
After TVCC, she attended and graduated from Savannah College of Art and Design in Savannah, Georgia.
Nudel spent six years at BCBG, a renowned fashion company. While there, she was named the company's first-ever Employee of the Month.
She is currently senior designer for Halston, the acclaimed women's apparel company created by fashion legend Roy Halston. Her gowns and jumpsuits have been seen on the likes of Amy Schumer, Famke Janssen, Anna Chlumsky and Beth Leavel.
Jeff Thorpe
(1977-79)
Teaching others how to become leaders is what drives Jeff Thorpe.
He is currently on the executive team for the Flippen Group, which is the largest trainer of educators in North America. His responsibilities include training teachers, coaches and administrators across the United States, as well as working with Flippen Group training staff.
Thorpe and his team most recently had the opportunity to host a leadership day for over 6,000 students in Dallas and 5,000 in Houston called "Leadworthy Live."
A graduate of Trinidad High School, he attended TVCC and played basketball for NJCAA and Cardinal Hall of Fame coach Leon Spencer. He went on to receive his bachelor's degree in education from Baylor University in 1982.
Thorpe has been in education for over 37 years, serving 12 years as high school varsity basketball coach, five years as athletic director and eight years as junior varsity basketball coach. As a head boys basketball coach, he had highly-successful tenures at Cross Roads and Cypress Creek. He led Cypress Creek to the state semifinals in 2003.
He lives in Houston with his wife, Robbin, a former TVCC cheerleader. They have two grown children and one grandchild.
In his travels across the country, Thorpe remains a great ambassador for TVCC.