TVCC Adult Education Program Recognizes 16 GED Graduates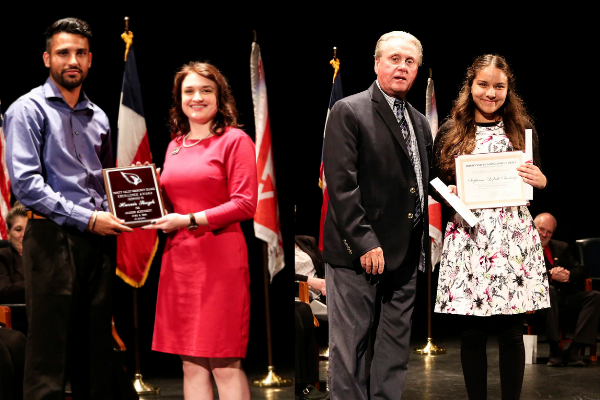 Trinity Valley Community College's Adult Education program recognized 16 GED graduates in a ceremony held Thursday, Jun. 6 at the Pauline Knight Perkins Performing Arts Center on the Athens campus. TVCC President Jerry King, Ed.D. welcomed the graduates, families and guests, and Paul McKinney, Senior Pastor at First Baptist Church of Eustace, provided the invocation. Ruby Laney, Education Coordinator at The Library at Cedar Creek Lake gave the commencement address.
Harvir Singh of Malakoff was recognized as a success story, and shared his journey about achieving his goals of learning English, becoming a U.S. citizen and obtaining his GED. He will now enroll in college courses at TVCC.
Guidance Associate Natalie Brown presented the TVCC Excellence Award to Mr. Singh, and the President's Scholarship was awarded to Stephanie Lizbeth Santiago by President Jerry King, Ed.D. for achieving the highest GED score during the 2018-19 program year.
Vice President of Institutional Advancement and Executive Director of the TVCC Foundation Kristen Bennett, Ed.D. awarded the new Alan & Kristen Bennett GED General Scholarship to Rosa Maria Garcia for achieving the second highest GED score during the 2018-19 program year. Bennett also shared details about the new Pauline K. Perkins Scholarship available for GED program graduates to attend TVCC.
TVCC Director of Testing Diane Milner and Associate Vice President of Workforce Education Kristin Walker presented diplomas to the following individuals, listed alphabetically by hometown:
CANTON: Scarlett Lee
CHANDLER: Jessica Dunn
ELKHART: Alexis Bree Turner
EUSTACE: Cayleigh Johnson
MABANK: Amanda Smith
MALAKOFF: Harvir Singh
MURCHISON: Bailey Bayes
OAKWOOD: Stephanie Lizbeth Santiago
PALESTINE: Lorena B. Flores, Rosa Maria Garcia, Ashley Nichole Lomax, Jeanette Garza Miranda, Kylie Brean Neal, Sylvana Kathleen Taylor, Stephanie Thomason
WILLS POINT: Candace Munoz