Spring 2019 Honors Announced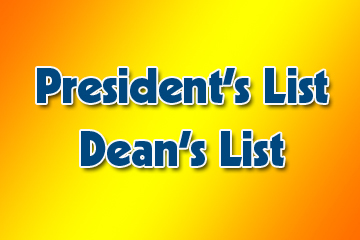 Trinity Valley Community College announces the honors list recipients for the spring 2019 semester. Students must be enrolled in at least 12 semester hours, make no failing grades and secure an average of at least a 4.0 GPA for the semester to be included on the President's List, and at least a 3.5 GPA to be included on the Dean's List.
Recipients are listed alphabetically by hometown:
President's List
ABILENE: Danielle N. Ruot.
ATHENS: Leslie R. Alsobrook, Trevor J. Baumgartner, Ahaja T. Baxter, Trinity M. Beck, Chandler R. Beeson, John R. Benge, Melissa J. Boister, William P. Boyd, Makayla R. Coffman, Tomoki Den, Olivia M. Grissom, Emelia M. Guerra, Abigail A. Harris, Jadyn L. Harris, Andrew S. Hoffman, Alexis N. Jacobs, Jarod C. Jenkins, Mari Kishiguchi, Madeleine E. Kitchens, Tomoka Minamizawa, Jessica A. Moreland, Takeo Okochi, Gabriella J. Ramirez, Noemi Rodarte, Brenda Ruvalcaba, Takuto Sakaemura, Valeria Sanchez, Brianna N. Shultz, Kara A. Smith, Eliza K. Spurling, Taylor M. Stiles, Cortne M. Stratton, Ziqi Sun, Glenna C. Tyndell, Shoto Uno, Patrick L. Vandercolff, David P. Viator, Anapaula Zandona.
BROWNSBORO: Courtnie B. Byford, Sharone X. Caines.
BULLARD: Ceilie A. Crawford.
CANTON: Chandler B. Bass, Alexis N. Box, Audrey E. Jeanes, Jacob A. Johnson, Bryce A. Satterfield, Jorgina E. Strojek.
CAYUGA: Nicole S. Lackey.
COMBINE: Jeremiah J. Hight, Ronin L. Hight.
CRANDALL: Kristen N. Bailey, Abigail J. Cauley, John W. Garvin, Conner R. Hill, Maria D. Jimenez, Joshua E. Noe, Kristin S. Taylor.
DALLAS: Netanya A. Bravo, Veronica Olvera.
DENTON: Brandon R. Coleman.
EDGEWOOD: Lisa M. Rose, Krista M. Whitney.
EDWEWOOD: Quinton R. Locke.
ENCHANTED OAKS : Gracie K. Woodland.
EUSTACE: Katelyn E. Schaefer, Makenzie E. Skiles, Mary J. Usmiller.
FORNEY: Sylvie N. Awongu, Katelynn N. Hill, Nathan J. Magness, Jessica Morales, Carl B. Morgan, Aaliyah L. Summers, Haley A. Swaggerty, Yvonne J. Whalen, Rachael E. Zavadil.
FRANKSTON: Abbie M. Hale.
FRISCO: Alexandra N. Jenkins.
GRAND SALINE: Kayla B. Rubio.
GRAPELAND: Haley A. Darsey, Edie K. Meinardus, Holly L. Musick.
GREENVILLE: Heaven L. Coberley.
GUN BARREL CITY: Delia S. Carson, David R. Chitty, Madalynne L. Scherer.
IRVING: Christina M. Jarvis.
KAUFMAN: Jennifer Cordero-posada, Alonzo Fraire, Alexis I. Guerrero, Derrian Hernandez, Katie L. Hopkins, Molly K. Joyner, Sarah M. Mcmahan, Robbin D. Miller, Kaylee M. Roberts, Erik W. Schneider, Sophie L. Schneider, Jazmin E. Shelton, Amy M. Watson.
KEMP: Shellye A. Anderson, Sidney M. Gomez-torres, Allison C. Kent, Andrea M. Mullins, Bibianna V. Pena, Krista L. Sterling, Lauren N. Thomas, Lindsey G. Thomas.
KERENS: Juddson W. Miller.
LANCASTER: Joshua P. Sanders.
LARUE: Jacob C. Dunn, Zachary L. Solis.
LITTLE ELM: Oluwaseye G. Akinwale.
LIVINGSTON: Neil Parchuri, Stacie R. Sosa.
LUFKIN: Mackenzie L. Foley.
MABANK: Brittany D. Esparza, Jacob L. Keltner, Justin E. Legel, Jessica L. Miller, Maddison N. Park, Seth A. Potter, Angela L. Reedy, Christopher T. Rich, Summer L. Tobar.
MADISONVILLE: Tradayja C. Smith.
MALAKOFF: Jessica A. Abbe, Nicholas S. Mckenzie, Jessica E. Neill, Paton M. Willbanks.
MESQUITE: Morgan L. Lowry.
MONTALBA: Whitney D. Elkins, Mackenzie A. Leopold, Ian K. West.
MURCHISON: Ainsley Arnold, Anna M. Fulcher, Lesa Hendrix.
NECHES: Josey R. Sumpter.
NORTH ZULCH: Emma R. Baker.
PALESTINE: Noah P. Alexander, Eric M. Arceneaux, William D. Birchfield, Barbara L. Coy, Nicolas D. Dominguez, Tyler S. Eckert, Grant M. Foster, Mayra L. Gonzalez, Ronald E. Howell, Josiah L. Klingsporn, Hannah E. Konecny, Kristen R. Lewis, Jennifer J. Luce, Stephanie L. Santiago, Alexander J. Shiller, Rachael T. Shokabi, Katherine M. Walker, Lexie A. Witte.
PASADENA: Alexis Flores.
QUINLAN: Alexis M. Pearcy.
SAGINAW: Julianna L. Lake.
SCURRY: Jennifer H. Bohling, Allegria D. Lindsey, Lara N. Maag, Caryn E. Weaver, Hunter P. Word.
SEAGOVILLE: Jeremy A. Morris.
SEVEN POINTS: Jodi L. Costlow.
TENN COLONY: Wilford M. Hanson.
TERRELL: Ryleigh E. Compton, Sharhonda Ewins, Avery N. Fain, Matthew A. Fields, Alexandrea G. Gobert, Tauriana D. Grant, Maritza Hernandez, Elizabeth Martinez, Jessica Olvera, Donyell R. Prince, Karina P. Salazar, Blayne W. Townsend, Michael T. Whitfield.
TOOL: Brenna M. Dixon, Laurie L. Johnson.
TRINIDAD: Tehya C. Adair, Robin L. Muthig, Nickolas R. Woodlee.
TYLER: David W. Hulsman, Karmen A. Miller, Genaro A. Quiroz, Ashley N. Rokosz, Julie A. Wiggins.
VAN: Keiya D. Mack.
WICHITA: Aveon M. Hodge.
WILLS POINT: Chelsea M. Breland, Lorrie Herrera, Kaylee D. Laymon, Leslie C. Lide, Brittany M. Littrell, Jose Montano, Keilah R. Nelson, Brandon S. Petty, Sarah A. Powell, Sabrina L. Redding, John-wesley P. Shelton, Clarisse E. Turner, Leticia B. Venable.
Dean's List
ANDERSON: Moriah J. Hill.
ATHENS: Brenda Aguilar-garcia, Jorge Camargo, Jennifer Castillo-padron, Eric M. Cerrillo, Wilson L. Coats, Kaitlin E. Costlow, Samantha J. Crim, Daisy C. Delafuente, Emma R. Dingledine, Fatou-kine A. Diop, Willeana S. Ditmars, Ryan J. Donet, Chandler L. Earley, Grant A. Echols, Ruby E. Espinoza, Ector R. Gomez, Isabel Gonzalez, Bailey A. Graham, Tyler N. Greene, Josue Guevara, Michaela D. Horn, Ramona L. Hutson, Natalia Y. Johnson, Subaru Kikuchi, Livia M. Kimura, Dylan M. Lindsey, Harleigh B. Lodato, Cindy Lopez, Majok Madol, Jacie L. Mascorro, Josephine E. Miles, Hiroyuki Mishima, Juan S. Morales-vargas, Stephanie M. Moreno, Mackenzie R. Morris, Maria L. Nicolau, Ethan L. Pace, Vladimer Purtskhvanidze, Bravin K. Rutto, Samantha Salazar, Rion Sato, Alec M. Scott, Anna R. Sifers, Heather L. Thornton, Bobby L. Tucker, Amelea F. Varos, Leo J. Varos, Juliana Vaz, Hallie G. Williams, Irma S. Zepeda.
BEN WHEELER: Tracy A. Gore, Lisa K. Robinson.
BLOOMING GROVE : Hannah H. Hagle.
BURTON: Victoria E. Bryant.
CALDWELL: Victoria G. Pineda.
CANTON: Latrevian D. Fitzgerald, Anthony S. Lewis, Roxanne N. Stone, Luseana H. Taloa.
CHANDLER: Codi T. Arndt, Gregory R. Holcomb, Brittany D. Pearson.
COMBINE: Allyson M. Jones.
CONVERSE: Kristina M. Sanchez.
CORPUS CHRISTI : Hailey M. Avalos.
CRANDALL: Avery S. Cary, Samuel T. Pollock, Savannah L. Renfrow, Baileigh L. West.
CYPRESS: Emily Rader.
DENTON: Chloe M. Taylor.
DESOTO: Jairus K. Roberson.
EDGEWOOD: Haylee D. Allen, Keaton A. Seale.
ELKHART: Jeremy B. Lewis, Kaitlyn L. Mcclellan, Sarah M. Neal, David C. Taylor, Darren B. Watson.
EUSTACE: Jaci B. Gray, Kendall E. Lowry, Kyla Morris, Elijah Q. Newbury-kimball, Britne M. Painter, Victoria R. Wansley, Caitlin E. Westmoreland.
FATE: Hannah R. Cottar.
FORNEY: Arron Z. Allmon, Maggie L. Carson, Tyler Copeland, Hannah D. Davis, Grayson C. Elam, Kimberly Foster-delapena, Marianna Garcia, Ashley Garner, Elijah M. Gremp, Crystal L. Kunde, Jaylen K. Mcgee, Rebekah A. Pasquinelli, Stone W. Phillips, Kennedy R. Rowland, Larry P. Sudduth, Niza A. Taliaferro, Raymond Witcher, Abigail Woodall-prince.
FRANKSTON: Karley A. Erickson, Jesse N. Newman.
GEORGETOWN: Mckenna C. Kahanek, Reilly P. Lawrence.
GUN BARREL CITY: Sarah Elliott, Ariana A. Else, Mackenzie N. Fowler, Harley L. Taggart.
HEARTLAND: Shakuira D. Garrison, Aman J. Hogan-bailey, Jessica M. Lutat, Christopher L. Nunnally, Michael Owens.
HEATH: Rachel S. Foree, Mckenzie L. Hughes.
HOUSTON: Sadarya R. Brown, Qeiron R. Burton.
KAUFMAN: Brianna E. Archer, Alicia R. Bixler, Tristan N. Brewer, Andrea L. Davis, Kylie R. Doss, Christian J. Dulgher, Kailey N. Fagan, Christine E. Fernandez, Peyton O. Gilreath, Amya M. Miles, Spencer S. Murrey, Jaci A. Pfeifer, Laural E. Sartain, Colton R. Sipes, Cessie V. Strutton, Taylar E. Terranova, Britnie L. Townsend, Jacob D. Walker.
KEMP: Alesa Q. Baker, Kasey M. Beauchamp, Tammy D. Cheshier, Hannah Lindsay, Dean A. Massa, Janice E. Nelson, Joshua T. Summerhill, Mercedes Zapien.
LANCASTER: Kerrion L. Fields.
LAREDO: Roxsanna I. Segura.
LARUE: Sydney L. Briggs, Andrew J. Lewis.
LEAGUE CITY: Ryan H. Jackson.
LEONA: Cody J. Oden.
LINDALE: Taylor B. Farnham.
MABANK: Kaley M. Bullock, Kristen Grimes, Sherry M. Hawes, Abigail L. Holt, Jaden L. Lopez, Taylor N. Merritt, Kylie M. Neighbors, Paris L. Nelson, Gene H. Olsen, Hannah B. Patterson, Laura R. Sandlin, Sheryl A. Stephens, Kylee R. Thomas.
MALAKOFF: Daja D. Barron, Erika Cardenas, Josilen K. Driskell, Ashley N. Hurt, Annette F. King.
MESQUITE: Logan K. Norris, Tyler J. Norris.
MONROE: Curtessia J. Dean.
MONTALBA: Kendal Henry, Amber N. Karnes, Quinn A. Nguyen.
MURCHISON: Emma N. Lawson, Christine A. Middleton.
NAPERVILLE: Jnaya S. Walker.
OAKWOOD: Lindsay J. Jackson.
PALESTINE: Malick J. Absy, Kojo Anebo, Mary O. Arigbabu, Cristina M. Barrientez, Edward H. Chavez, Denise R. Delgado, Samuel M. Dellinger, Raheal A. Egbe, Anthony A. Festus, Elizabeth Gamboa-vasquez, Veronica A. George, Chanylla C. Gibson, Vianey Gloria, Makayla D. Gonzalez, Corey D. Green, Melody R. Hamlett, Kristi I. Haynes-weikel, Jonathan E. Humber, William F. James, Omalara T. Kolawole, Lydia J. Lively, Camryn R. Lupo, Jesus Marquez, Easton D. Musil, Joseph S. Parrack, Alexis L. Rodriguez, Salma Ruiz, Citlali S. Soto, Sherri L. Tramble, Samuel A. Veneris, Adrian Villalobos, Ricky A. Williams, Alicia M. Wright, Desirae N. Yarbrough.
PFLUGERVILLE: Daysha L. Simpson.
PRINCETON: Amber N. Krings.
QUINLAN: Conner W. Harwell, Christy R. Rupert.
RICHARDSON: Juliet Tran.
ROCHESTER: Ariel D. Johnsen.
ROCKWALL: Emily A. Panchalk.
ROYSE CITY: Justin A. Murphy, Ashley N. Smith.
SAN ANTONIO: Destiny D. Hernandez, Caitlin M. Mora.
SCURRY: Alexis P. Barnes, Kyle W. Kelly, Seth A. Maxwell, Kendall R. Silvers, Nicole M. Smith, Marleigh A. Stephens, Cailey A. Suarez.
SPRING: Deven M. Anderson, Kentre Lackey, Brannon S. Morrison.
TENNESSEE COLON: Molly E. Loftin.
TERRELL: Abigail L. Beck, Lara A. Castillo, Crystal D. Crane, Mally Delgadillo, Michael A. Earnest, Rosemary A. Hanford, Dylan R. Heathcock, Misty D. Hogue, Michael B. James, Chance C. Knapp, James D. Masters, Sierra L. Mckenzie, Samuel C. Musser, George J. Palin, Jessica A. Palma, Kayli B. Patterson, Angela R. Pittman, Litzy D. Puebla, Drew B. Rosa, Heather A. Shilling, Sydney A. Sims, Jason T. West, Jack T. Young.
TOOL: Claudia A. Becerra, Autumn N. Graham.
TYLER: Destiny L. Miller.
VAN: Casey Pickrell.
WAKE VILLAGE: Riley G. Russell.
WAXAHACHIE: Delta L. Marshall.
WILLS POINT: Emma Ellington, Madeline P. Hayden, Vanessa N. Oswald