Fall 2018 Honors Announced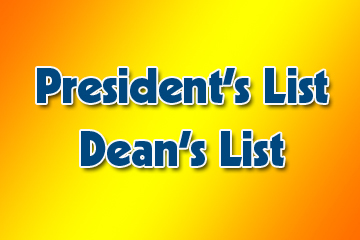 Trinity Valley Community College announces the honors list recipients for the Fall 2018 semester. Students must be enrolled in at least 12 semester hours, make no failing grades and secure an average of at least 4.0 grade points for the semester to be included on the President's List, and at least a 3.5 grade points to be included on the Dean's List.
Recipients are listed alphabetically by hometown:
PRESIDENT'S LIST
ABILENE: Danielle N. Ruot.
ALBA: Jason Angler.
ATHENS: Celia Banuelos-martin, Trevor J. Baumgartner, Ahaja T. Baxter, John R. Benge, Caitlin E. Bomer, William P. Boyd, Tye M. Bratton, Christopher L. Carroll, Jennifer Castillo, Oudom P. Chan, Madeline L. Clay, Alberto J. Cleto, Willeana S. Ditmars, Ryan J. Donet, Hunter L. Fain, Isabel Gonzalez, Emelia M. Guerra, Natalie M. Harrell, Jadyn L. Harris, Sarah E. Herrington, Andrew S. Hoffman, Jonathan S. Huddle, Alexandra N. Jenkins, Jarod C. Jenkins, Melissa K. Kaiser, Livia M. Kimura, Cauane O. Krainski, Carolina P. Leite, Dylan M. Lindsey, Hiroyuki Mishima, Halee E. Mitchell, Stephanie M. Moreno, Ethan L. Pace, Noemi Rodarte, Brenda Ruvalcaba, Valeria Sanchez, Alec M. Scott, Riku Shibata, Holly L. Shumate, Eliza K. Spurling, Taylor M. Stiles, Cortne M. Stratton, Bobby L. Tucker, Glenna C. Tyndell, Shoto Uno, Patrick L. Vandercolff, Susana Vazquez, David P. Viator, Jordan M. Wood.
BEN WHEELER: Kailey M. Dent, Brandon Mitchell.
BLOOMING GROVE : Hannah H. Hagle.
BROWNSBORO: Courtnie B. Byford, Aleigha K. Strickland.
CANTON: Chandler B. Bass, Alexis N. Box, Latrevian D. Fitzgerald, Benjamin A. Hayes, Grant T. Lein, Anthony S. Lewis, Charity N. Roberts, Cade A. Shaw.
CAYUGA: Nicole S. Lackey.
CHANDLER: Travis E. Barnes, Lesley D. Bates, Lindsey M. Maronge.
COMBINE: Dalton E. Bramhall, Jeremiah J. Hight, Misty R. Merciers.
CRANDALL: John W. Garvin, Conner R. Hill, Megan D. Holland, Maria D. Jimenez, Joshua E. Noe.
DALLAS: Netanya A. Bravo.
EDGEWOOD: Savannah D. Hollaway, Lisa M. Rose, Keaton A. Seale, Krista M. Whitney.
EDWEWOOD: Quinton R. Locke.
ELKHART: Sarah M. Neal.
ENCHANTED OAKS : Brooke K. Mcatee.
EUSTACE: Miranda B. Fontenot, Jaci B. Gray, Gloria G. Hudson, Kyla Morris, Ashley E. Purselley, Tucker A. Reeve.
FORNEY: Toni J. Adams, Haley M. Duncan, Emma Ellington, Katelyn N. Hammack, Maranda G. Haralson, Weston K. Hill, Shayla Stone.
FRANKSTON: Alyssa I. Elton, Jesse N. Newman, Skylie Stringer, Julie A. Wiggins.
GRAND SALINE: Taylor J. Chitty.
GRAPELAND: Edie K. Meinardus, Whitney L. Musick.
GREENVILLE: Misty D. Hogue.
GUN BARREL: Allie R. Hall.
GUN BARREL CITY: Delia S. Carson, David R. Chitty, Sarah Elliott, Taylor M. Morris, Harley L. Taggart.
HEARTLAND: Aman J. Hogan-bailey.
KAUFMAN: Tristan N. Brewer, Kylie R. Doss, Alonzo Fraire, Peyton O. Gilreath, Derrian Hernandez, Molly K. Joyner, Alayna L. Martin, Mackenzie M. Mcbride, Joshua T. Mcmullen, Daisheoniah B. Prox, Kaylee M. Roberts, Erik W. Schneider, Colton R. Sipes, Shannon K. Spradling, Cathleen R. Tijerina.
KEMP: Lena M. Ayers, Alesa Q. Baker, Tammy D. Cheshier, Sidney M. Gomez-torres, Allison C. Kent, Sydney Martin, Andrea M. Mullins, Mercedes Zapien.
KENNEDALE: Priya A. Messersmith.
KERENS: Juddson W. Miller.
LAKESIDE CITY: Audry L. Lopez.
LAREDO: Roxsanna I. Segura.
LARUE: Sydney L. Briggs, Jacob C. Dunn, Crystal L. Reynolds, Zachary L. Solis, Lesley A. Young.
LINDALE: Taylor B. Farnham.
LIVINGSTON: Stacie R. Sosa.
LOG CABIN: Christian Bivins.
MABANK: Kaley M. Bullock, Brittany D. Esparza, Jacob L. Keltner, Justin E. Legel, Sean A. Reeves, Christopher T. Rich, Sheryl A. Stephens.
MADISONVILLE: Tradayja C. Smith.
MALAKOFF: Jessica Cardenas, Juan J. Garcia, Jonathan P. Hutchison, Annette F. King, Paton M. Willbanks, Megan A. Yoder.
MESQUITE: Rogers Kipruto, Kylen I. Watkins.
MONTALBA: Whitney D. Elkins, Quinn A. Nguyen.
MOUNT PLEASANT : Thomas A. Spann.
MURCHISON: Malek Alwedyan, Emma N. Lawson.
NAPERVILLE: Jnaya S. Walker.
NECHES: Josey R. Sumpter.
NORTH ZULCH: Emma R. Baker.
PALESTINE: Kojo Anebo, Eric M. Arceneaux, Courtney J. Baldwin, Nicolas D. Dominguez, Raheal A. Egbe, Grant M. Foster, William C. Fuchs, Chukwudi F. Godwin, Makayla D. Gonzalez, Ronald E. Howell, William F. James, Olu A. Kayode, Josiah L. Klingsporn, Herman L. Linam, Suzanne G. Mills, Easton D. Musil, Alexandra J. Rocha, Heidi I. Rodriguez, Katherine M. Walker, Lexie A. Witte.
QUINLAN: Silvia Olvera.
ROCHESTER: Ariel D. Johnsen.
ROCKWALL: Ariana M. Campos.
ROYSE CITY: Kacia B. Barrington.
RUSK: Shintevia Foreman.
SCURRY: Kaitland B. Duke, Lara N. Maag, Nicole M. Smith, Darla L. Templeton, Mikayla Young.
SEVEN POINTS: Jodi L. Costlow, Tristan M. Worrell.
SPRING: Brannon S. Morrison.
TENN COLONY: Matthew B. Burk, Ryan C. Byrd, Jose Morales, Daniel Torres.
TENNESSEE COLON: Tamber A. Gilpin.
TERRELL: Alexandria Cockrill, Ryleigh E. Compton, Sharhonda Ewins, Matthew A. Fields, Tauriana D. Grant, Dylan R. Heathcock, Maritza Hernandez, Jacob B. Jackson, Kara M. Langford, Crystal R. Lee, Angela R. Pittman, Addison R. Prather, Blayne W. Townsend, Jason T. West, Jack T. Young.
TOOL: Brenna M. Dixon, Laurie L. Johnson.
TRINIDAD: Holly G. Johnston, Robin L. Muthig.
TYLER: Mckenzie L. Baskin, Destiny L. Miller, Ashley N. Rokosz.
VAN: Morgan L. Maier, Jordon E. Raglin.
WILLS POINT: Chelsea M. Breland, Kaitlyn M. Davis, Shayla G. Gandy, Katherine A. Garcia, Lorrie Herrera, Keilah R. Nelson, Brandon S. Petty, Sarah A. Powell, Leticia B. Venable.
DEAN'S LIST
ACWORTH: Jada L. Wooten.
ARLINGTON: Jasmine R. Cooper.
ATHENS: David K. Adkins, Rafael Aguilar, Trinity M. Beck, Jayden M. Blain, Joshua K. Blankenship, Melissa J. Boister, Lydia B. Burns, Shawn C. Butler, Grayson G. Cain, Jorge Camargo, Daisy C. Delafuente, Fatou-kine A. Diop, Chandler L. Earley, Ruby E. Espinoza, Brandy L. Gandy, Bianca Y. Garcia, Maria E. Garcia, Felicity R. Gleason, Katelyn B. Hanson, Abigail A. Harris, Solmilena A. Herrera, Subaru Kikuchi, Majok Madol, Allison J. Martinez, Lacey R. Mcbride, Raymond A. Mcdaniel, Josephine E. Miles, Antonio Miranda, Maria L. Nicolau, Vladimer Purtskhvanidze, Shae J. Rimpel, Bravin K. Rutto, Yasmim P. Silva, Jared B. Snyder, Heather L. Thornton, Juliana Vaz, Taylor J. Vincent, Nolan D. Whitley, Brandon L. Wilson, Anapaula Zandona.
BEN WHEELER: Sarah R. Munns.
BROWNSBORO: Emily P. Womack.
BULLARD: Ceilie A. Crawford.
CANTON: Michael T. Broyles, Corey O. Green, Leah M. Hughes, Audrey E. Jeanes, Jacob A. Johnson, James C. Moore, Charles D. Spencer, Jorgina E. Strojek.
CEDAR HILL: Cyrik D. Ransom.
CHANDLER: Codi T. Arndt, Ashely E. Barreiro, Mackenzie E. Hughes, Brittany D. Pearson.
CIBOLO: Juan L. Henry.
CLEBURNE: Bekka R. Castillo.
COLLEGE STATION: Tony D. Williams.
CONROE: Cory M. Stevens.
CRANDALL: Jazmin Dominguez, Dakota S. Dye, Chuntami Garcia, Ryleigh R. Lee, Jessica M. Magallon, Payton N. Roberts.
CROCKETT: Marquita T. Beasley.
DENTON: Brandon R. Coleman, Chloe M. Taylor.
EDGEWOOD: Haylee D. Allen, Trent A. Smith.
ELKHART: Biff K. Knight, Kaitlyn L. Mcclellan, Benjamin L. Sharp.
EMORY: Saylor M. Barrios.
EUSTACE: Jacob L. Beam, Chelsey D. Callaway, Brenda P. Carrillo, Celeste S. Carrillo, Weslyn D. Davis, Llia C. Guevara, Miguel R. Ramirez, Katelyn E. Schaefer, Trenton W. Thrower, Mary J. Usmiller, Victoria R. Wansley, Caitlin E. Westmoreland.
EUSTACR: Mackenzie M. Nolen.
FAIRFIELD: Christina R. Snell, Kelsey N. Waltmon.
FERRIS: Emily R. Miller.
FORNEY: Britney H. Bryan, Michelle J. Duffy, Kailea M. Floyd, Max M. Folks, Elijah M. Gremp, Alyssa M. Gutierrez, Kierstyn A. Harris, Tyler W. Hudson, Aziza J. Kibet, Ryan S. Kirkwood, Crystal L. Kunde, Austin T. Lindler, Jaylen K. Mcgee, Mason E. Peabody, Anthony C. Pickens, Demi A. Pyle, Veronica Roman-diaz, Raina C. Schleifer, Celeste B. Wright.
FORTWORTH: Morgan M. Ham.
FRANKSTON: Ryan L. Adams, Emily J. Brown, Karley A. Erickson, Lauren K. Lacey, Alicen R. Nolen.
FRUITVALE: Marci L. Foster.
GBC: Wendy M. Chitty.
GEORGETOWN: Mckenna C. Kahanek, Reilly P. Lawrence.
GRAPELAND: Ricki G. Baker.
GUN BARREL CITY: Chance B. Abrahamson, Hannah L. Bales.
HEARTLAND: Arturo A. Cindo, Christopher L. Nunnally.
HONOLULU: Kayce C. Demello.
HOUSTON: Sadarya R. Brown, Ty A. Taylor.
IRVING: Christina M. Jarvis.
KATY: Kenneth H. Pleasant.
KAUFMAN: Grace L. Adams, Megan J. Cheney, Jennifer Cordero-posada, Andrea L. Davis, Lexi J. Gardner, Joycelyn Garnica, Alexis I. Guerrero, Sarah A. Jones, Sarah M. Mcmahan, Amya M. Miles, Colton M. Mitchell, Wendy E. Mitchell, Rodrigo D. Rodriguez, Laural E. Sartain, Erica A. Vanderslice, Jacob D. Walker, Adam D. Werner.
KEMP: Kasey M. Beauchamp, William T. Bell, Jaeleigh E. Bull, Cameron B. Clamon, Shelby R. Griffin, Samantha Jimenez, Cody W. Perez, Haylee R. Scott, Kevin B. Turner, Sierra D. Weber.
KYLE: Isabella Estrada.
LARUE: Anessa B. Leonard, Andrew J. Lewis, Cassandra R. Partanen, Kameron J. Roberts.
LAS VEGAS: Dajaah L. Lightfoot.
LUFKIN: Mackenzie L. Foley.
MABANK: Edward W. Davis, Alexander G. Dupree, Teresa C. Franklin, Teagan A. Guy, Masson L. Henderson, Rosalia Hernandez, Jorgann L. Holgersen, Matt E. Kirkpatrick, Jaden L. Lopez, Taylor N. Merritt, Hannah B. Patterson, Ryan R. Perry, Seth A. Potter, Laura R. Sandlin.
MALAKOFF: Eva Barcenas, Josilen K. Driskell, Dianna Garcia, Ashley N. Hurt, Angela M. Jackson, Christian R. Karstendiek, Jacqueline Lopez, Nicholas S. Mckenzie, Bayleigh C. White.
MAUMELLE: Amber N. Hawkison.
MESQUITE: Tyler J. Norris.
MIDLOTHIAN: Jack A. Ellis.
MINEOLA: Kevin D. Hawkins.
MONTALBA: Amber N. Karnes.
MOUNT ENTERPRIS: Andre D. Phillips.
MURCHISON: Aimie R. Mcallester, Ashton K. Milner.
NEEDVILLE: Dane E. Mcelrath.
PALESTINE: Cynthia A. Baker, Cristina M. Barrientez, Seth W. Blackwell, Edward H. Chavez, Barbara L. Coy, Tyler S. Eckert, Anthony A. Festus, Jesus O. Garcia, Jessica A. Garrett, Veronica A. George, Chanylla C. Gibson, Vianey Gloria, Megan E. Grayson, Keevon Jackson, Tiara C. Jefferson, Sarah T. Kelly, Sebastian Landaverde, Kristen R. Lewis, Leena S. Lewis, Lydia J. Lively, Camryn R. Lupo, Bruce D. Marrero, Deadra Martin, Caitlin M. Medina, Lesly Olguin-rodarte, Joseph S. Parrack, Zoey S. Perry, Jordyn A. Pope, Jacy L. Rogers, Brianna B. Samford, Sierra B. Scroggins, Rachael T. Shokabi, Citlali S. Soto, Joshua D. Soto, Alicia M. Wright.
PASADENA: Race Moser.
POINT: Taylor N. English.
POINT BLANK: Jaquavian D. Curtis.
POTTSBORO: Misty M. Brown.
QUINLAN: Mackenzie G. Arnold, Hannah K. Honeycutt, Christy R. Rupert.
RICHARDSON: Juliet Tran.
ROCKWALL: Adriana Sanchez.
ROWLETT: Alicia L. Wigfall.
ROYSE CITY: Ashley N. Roberts.
SAGINAW: Julianna L. Lake.
SAN ANTONIO: Destiny D. Hernandez.
SCURRY: Avery E. Babovec, Melody N. Drake, Dakota K. Frantum, Angela C. Hernandez, Lindsey P. Miller, Angel S. Moore, Mia N. Redman, Jose R. Silva, Hunter P. Word.
SEATTLE: Marquan T. Williams.
SEVEN POINTS: Ruby S. Tye.
SPRING: Brooke A. Longoria.
TEAGUE: Shanna L. Hansen.
TENN COLONY: Wilford M. Hanson, Charles D. Hill, Scotty W. Lytle, Jesse G. Munoz, Justin L. Wilson.
TENNESSEE COLON: Erin S. Dorman.
TERRELL: Caitlynn B. Bishop, Robert G. Butler, Lara A. Castillo, Matthew C. Cech, Crystal D. Crane, Tanner A. Diggs, Michael A. Earnest, Hannah J. Farrell, Manuel A. Garcia, Alexandrea G. Gobert, Jonathan Gonzalez, Rosemary A. Hanford, Alexis D. Hedgeman, Rylan H. Maghan, Elizabeth Martinez, James D. Masters, Grant C. Munn, George J. Palin, Karina P. Salazar, Marissah A. Swift, Lisa Vega, Guadalupe Velazquez, Mary K. Williams.
TOOL: Claudia A. Becerra, Rachel S. Reed.
TYLER: David W. Hulsman.
VALLEY VIEW: Briley L. Phillips.
VAN: Vyrak Chek.
WAXAHACHIE: Delta L. Marshall.
WILLS POINT: Kathryn J. Bell, Ashli N. Burton, Kaylee D. Laymon, Jose Montano, Vanessa N. Oswald, Maegann A. Porter, Sabrina L. Redding, Summer N. Reschke, Ty H. Salisbury, Clarisse E. Turner, Shelbi D. Walser.