TVCC building Ethel May & Frank Johns Tower on Athens campus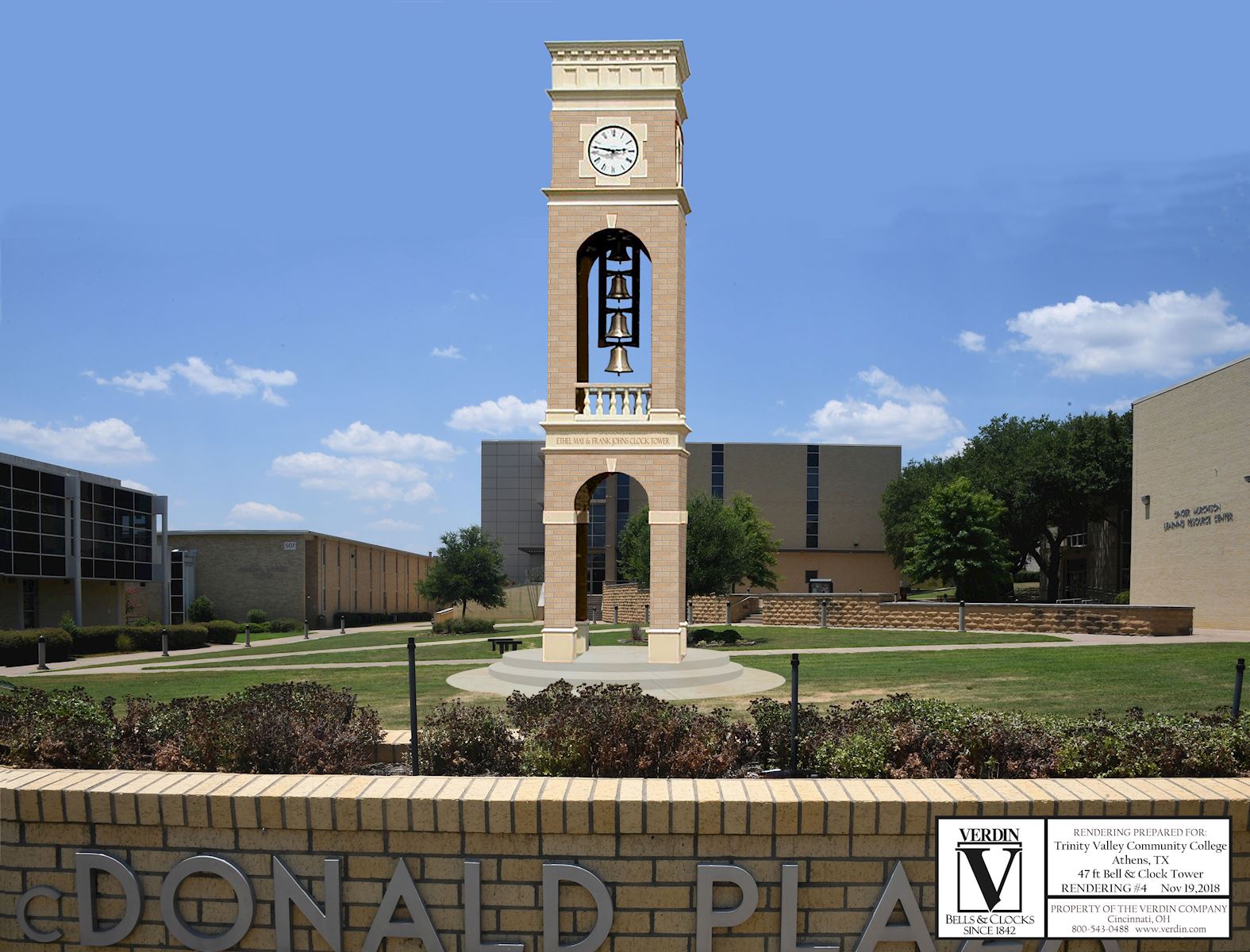 A 47-foot clock tower will stand tall in the Bob McDonald Plaza at Trinity Valley Community College in 2019, thanks to financial support from a generous donor.
"My wife and I have enjoyed supporting scholarships and programs at Trinity Valley Community College for many years," said donor Frank Johns. "My loving wife, Ethel, passed away in May this year, and donating the funds to build this beautiful clock tower is a tangible way that I'm able to honor her memory. My hope is that the clock tower becomes an icon on the TVCC campus for many years."
The custom designed Ethel May & Frank Johns Tower, designed and built by Verdin, will include four ornamental bell shells and an electronic carillon system providing the ability to program a variety of different chimes, tolling bells and hour strike tones. The clock tower will have four-sided illuminated dials, allowing the time to be visible from all sides.
"We are grateful for the support of a generous member of the Athens community, Mr. Frank Johns," said TVCC President Dr. Jerry King. "He and his late wife, Ethel, have supported TVCC for many years, and we are thrilled to be able to honor Mr. Johns' and his wife with this landmark clock tower that will beautify the Athens campus for years to come."
"We are honored to receive this selfless gift from Frank and Ethel to construct the clock tower," said Vice President for Advancement and Executive Director of the TVCC Foundation Kristen Bennett. "We are deeply grateful for their support. Their act of generosity is truly inspiring and will leave a legacy forever."
Mr. Johns donated $350,000 for the project that is planned to begin in early 2019, with an estimated completion in late spring or early summer.