TVCC Phi Theta Kappa Inducts New Members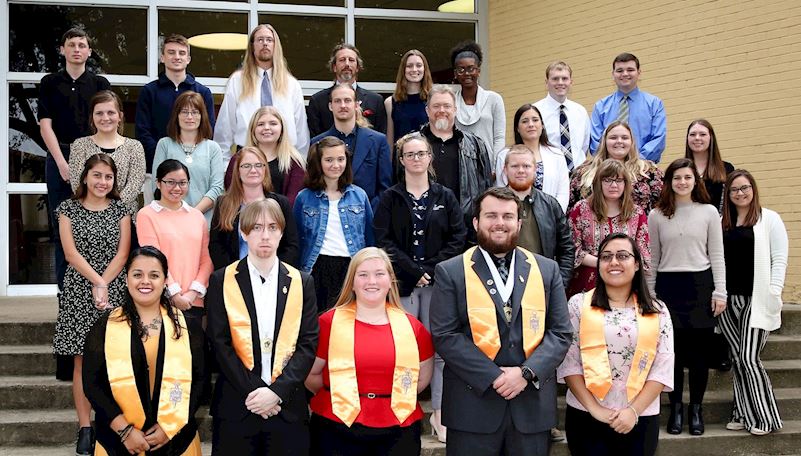 Trinity Valley Community College's Iota Alpha chapter of Phi Theta Kappa, the international honor society for two-year colleges, recently inducted 38 new members in a ceremony held in the Student Union Ballroom on the Athens campus on Sunday, November 11. Chapter officers were installed and Texas Phi Theta Kappa district three vice president Daniel Gray spoke to inductees before they officially took the oath of membership.
New members include Ahaja T. Baxter, Melissa J. Boister, Christopher Carroll, Jesse E. Giles, Katelyn B. Hanson, Abigail J. Johnson, Dilah A. Reed, Landrey L. Rogers, Eliza K. Spurling and Hallie G. Williams of Athens; Stephanie L. Hatton of Brownsboro; Bryson C. Waynick and Skylette M. Wolf of Canton; Ashley N. Hoffmeyer of Chandler; Austin J. Sarraf or Crockett; Annelise Corona of El Paso; Tamara L. Schaefer of Eustace; Hannah D. Davis of Forney; Emma M. Raines of Grapeland; Lori M. Knight and Codi B. White of Gun Barrel City; Kaelyn G. Black, Chelsey Renee Hall and Erica A. Vanderslice of Kaufman; Joshua Finecy of Kemp; Damion L. Hall of LaRue; Jacob V. Dancy, Alyssa D. Hall and Emily N. Rodriguez of Mabank; Quinn A. Nguyen of Montalba; Robyn R. Johnson, Lauren H. Kaudelka and Lexie Witte of Palestine; Shannon Duncan of Quinlan; John G. Croy and Joshua A. Croy of Scurry; Sabrina Reyes of Terrell; Haven G. Thompson of Trinidad.
A reception with snacks and punch followed the ceremony.
To be eligible to join Phi Theta Kappa, a student must be currently enrolled, have completed at least 12 semester hours of college credit at TVCC, have successfully completed any required developmental courses, and have at least a 3.50 GPA on all college work attempted at TVCC.